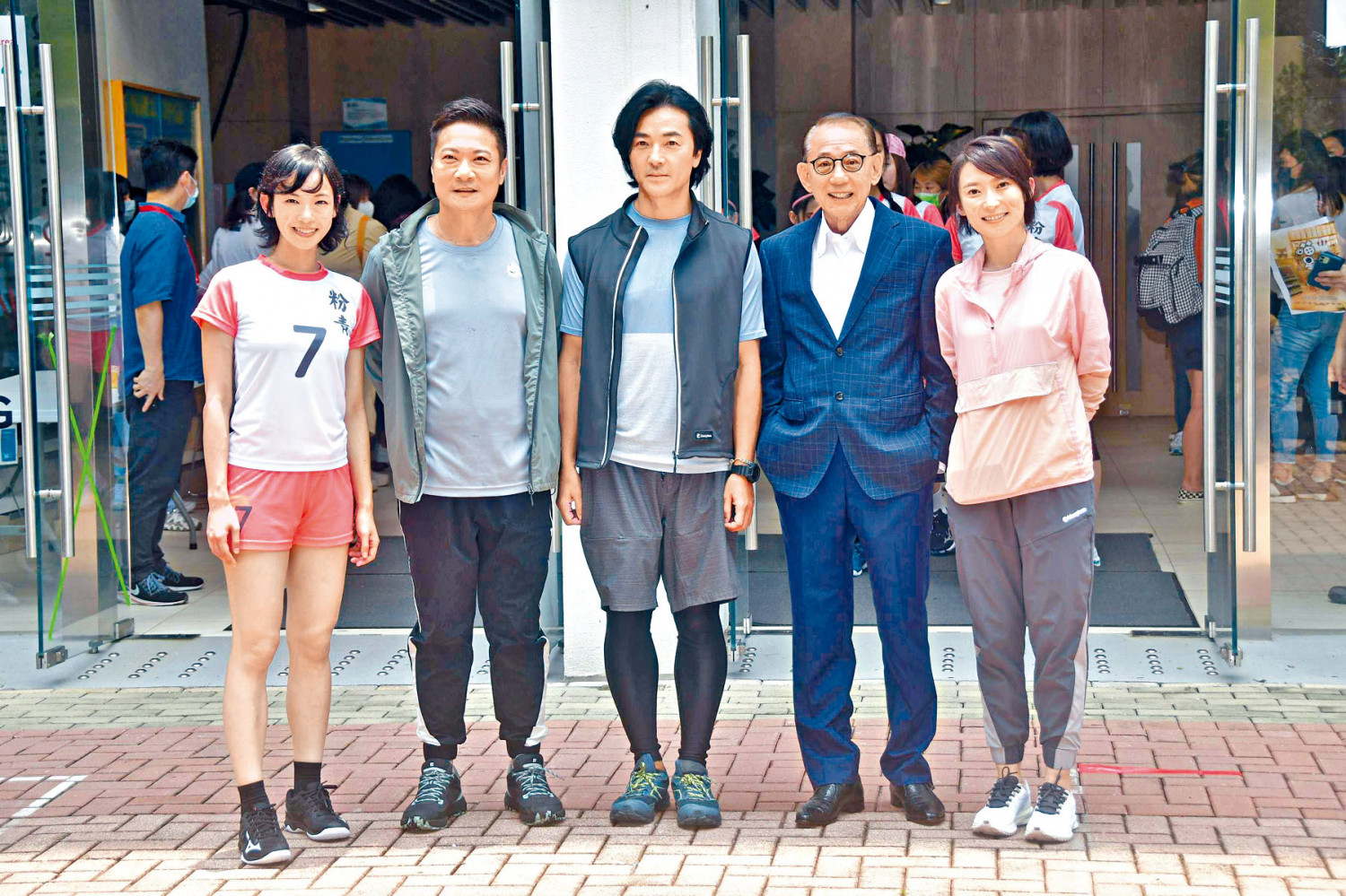 Gladys Li, Chin Kar Lok, Ekin Cheng, Albert Yeung and Catherine Chau
courtesy of singtao.com
courtesy of on.cc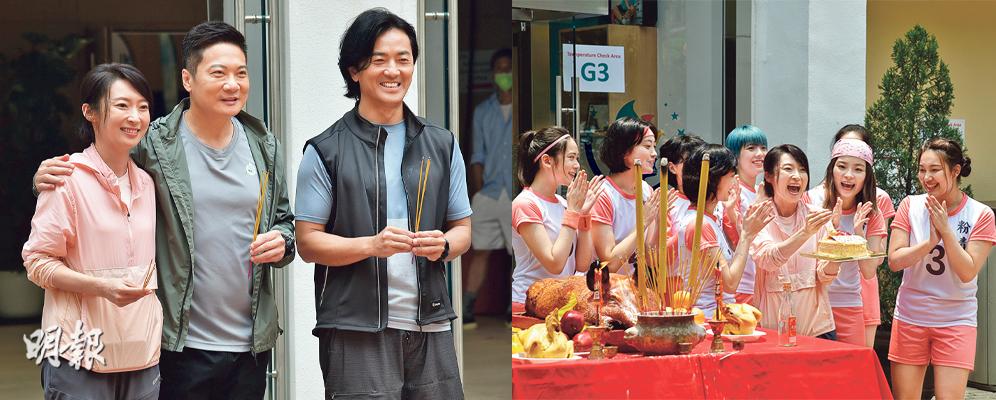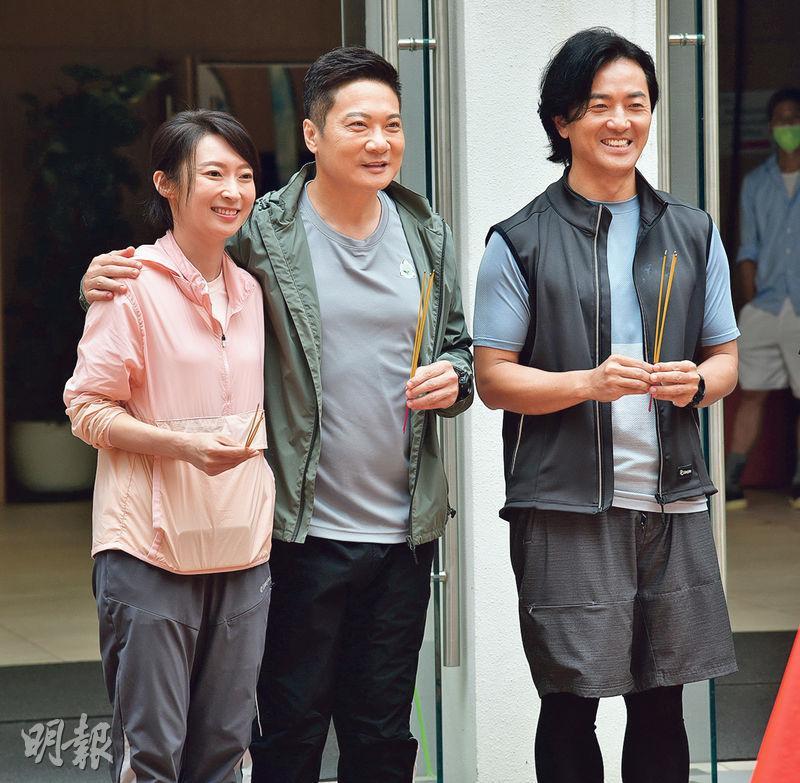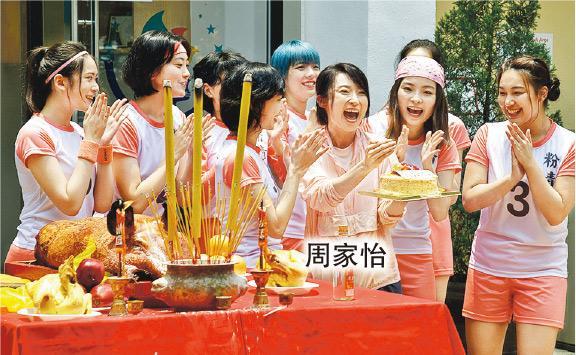 courtesy of mingpao.com
The Dior Cheng Yi Kin, Catherine Chau Ka Yi, Chin Kar Lok, Gladys Li Ching Kwan and others starred Emperor Motion Picture SUM SIU SIM BEI KAU (LATE NIGHT DODGEBALL) yesterday held a production start ceremony. Emperor boss Dr. Albert Yeung Sau Sing paid a special visit and brought a birthday cake to celebrate Chau Ka Yi's birthday last week. Young actresses kissed the birthday girl. Yeung Sau Sing even called Chau Ka Yi "Emperor Top Sister", which embarrassed her so much that she hoped the media would not write about it. Ekin and Kar Lok in the film would work with many young actresses. They both joked that they would have a generation gap. Ekin even admitted that he could not keep up with how the trendy lingo is used now.
Cheng Yi Kin and Chin Kar Lok worked together again after THE GOLDEN JOB (WONG GUM HING DAI). They said that in the film they played coaches. They would have no rivalry, only positive competition. Speaking of choosing the alternative sport of dodgeball as the subject, Ekin joked, "I too only found out about it from video games. Before work we asked the Hong Kong women's team to teach us. Their throws were very powerful." Ekin said that the film wanted to bring out the message that life would always have problems, no one should dodge them in response. In real life, Ekin said that he definitely has run into things that he wanted to dodge, but because it was resolved very quickly he already forgot what it was.
Working with many young actresses in the film, Ekin and Kar Lok both joked that they would have generation gap. Kar Lok said, "We would have a generation gap but it wouldn't be a death sentence. We would be able to adapt very quickly. On the first day of work they were scared when they saw us, but after getting familiar we got along very well. We used to play with the elder actors too." Ekin joked that he could not caught up to the usage of the trendy lingo, even the food changed. "We were treated to milk tea and custard tarts, now they like cheese cake and bubble tea." Speaking of Team Hong Kong's success at the Tokyo Olympics, Ekin who currently has property investment in Japan said that due to the pandemic he has not been to Japan for a very long time. He cancelled his original plan to attend the games. "I don't like to go to places with a lot of people. Originally I wanted to see what new technology Japan would have during the Olympics, but I didn't get to go. I could only pay attention to the games between takes."
Turning 42, Chau Ka Yi hoped to absorb even more youthful energy. Has she planned any major event in life? Ka Yi joked, "The funeral? I am not dating now, if I say I have no suitor I would sound very weak. Maybe I am about the feeling when dating, at this age I don't think about it too much. Maybe when I turn 60 I would be in more of a panic." The Yeung Sau Sing dubbed "Emperor Top Sister" said that she did not dare to accept the title and scare other people. She hoped that the media would spare her and not to write about it. Team Hong Kong again performed well at the Olympics. Chau Ka Yi felt that it proved young people now are very powerful, Hong Kong will certainly be in luck in the future.
Li Ching Kwan and other young actresses saw Ekin as a god, joking that she was already ahead with just one glimpse of Ekin. On breaks she would say Ekin's hits to cheer him up.