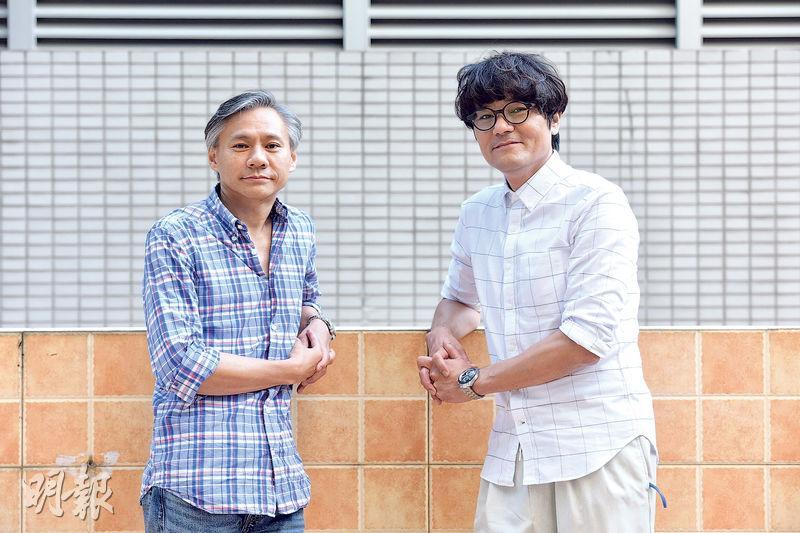 Assistant director Ko Chi Bun thanks Gordon Lam for giving him the opportunity to direct TIME and officially become a director.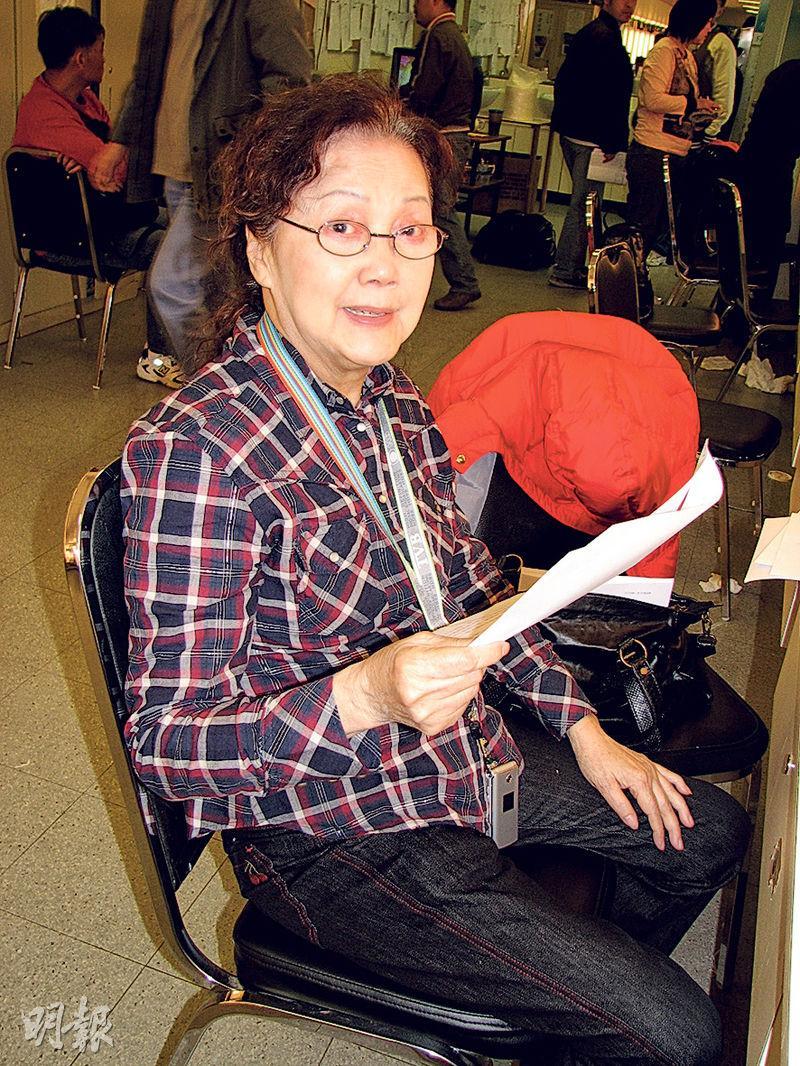 Gordon Lam remembers the details of his relationship with godmother Ha Ping and has even more in depth knowledge about seniors who live alone.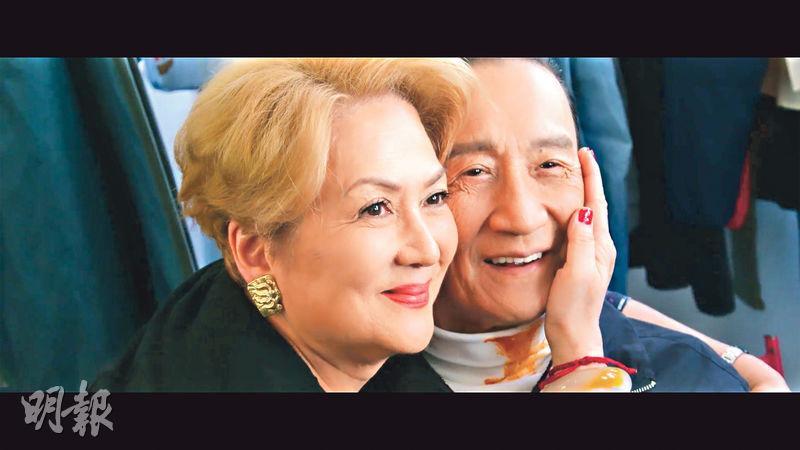 Petrina Fung and Patrick Tse work together again after 60 years, which is able to bring back memories for older viewers and hopefully introduce them to new ones anew.
Patrick Tse and Petrina Fung were already working together during the black and white Cantonese film era
courtesy of mingpao.com
TIME (SAT CHOOK GOR WONG FUN)'s director Ricky Ko Chi Bun and producer Gordon Lam Ka Tung hoped that the film would bring attention and care for seniors from the government and the general public. Lam Ka Tung revealed as early as working as a child worker at a cafe at age 12, he already sensed that seniors were being neglected -- which made them feel they have lost their value of existence. He never considered making the senior problem into a film, until he started working on television and saw many elder actors being disrespected and left to their own devices. During his days with godmother Ha Ping, he strongly experienced the variety of problems that seniors who lived alone faced. Thus in 2014 he already had the idea that was brewing until 2020, when he began production TIME within his abilities. Ka Tung said, "The government not only needs to have more assistance for seniors, everyone should also care about seniors around them more. Just a greeting like 'Did you eat', 'What have you been doing?', 'Do you feel all right?' is already enough."
Ko Chi Bun has been in the business for 22 years. Started as a TVB assistant director, he then made the jump to film and worked as assistant director on Herman Yau Lai To directed films. Late to the director's chair, Ko Chi Bun said that it was a problem of luck. He said, "Among assistant directors, many have more experience than me, more skilled and qualified to direct. However nowadays making a movie in Hong Kong really isn't easy. Who would trust a new director? I was very lucky to have run into Ka Tung, who gave me an opportunity."
He revealed that he and Ka Tung have already known each other since TVB. When Ka Tung guest starred in THE WHITE STORM 2 (SO DUK 2), he asked whether Ka Tung had any script that they could work together on. Ko Chi Bun said, "At the time I said I had one. When we met, before looking at my script he wanted me to look at the TIME script. I finished it on the spot and said that I was interested in directing it. In recent years many directors have made social subject films. TIME is one too, but it uses a dark humor method to express it. I personally feel that film is entertainment, while bringing out a message it also has to entertain viewers. A balance needs to be reached between them. If it is just about social topic, you can just watch SUNDAY REPORT and Hong KONG CONNECTION."
Ka Tung loved to cultivate new directors, liked their fire and new ideas. He said, "I would be outdated too. They have new ideas, which cannot be better. The film industry really needs new blood. Ko Chi Bun and I have known each other for years. We haven't seen each other in awhile, but I know that he has been with Director Yau for so long that he has handled movies both big and small. Basically he has absolutely no problem with control on the set. I believe TIME would stump him, and he wants to try to direct. The most important is he has fire. Over a decade go, I asked a new director to make a movie. He said, "Come find me when you are done." I thought if it was done I wouldn't need to find you. You would only be executing."
Ko Chi Bun's directing debut was instantly selected to compete for the Udine Far East Film Festival New Director Award. Would he like to win? He said that he never thought about it, not even about a nomination. His heart was set on making a movie for the Hong Kong audience. Thus when Ka Tung informed him of the selection, his mind went blank. He did not dare to believe it, but he was very happy to be recognized by an overseas film festival. Ko Chi Bun said, "When I went to film festivals before and watched big and new directors' films from around the world, I never thought that my movie would also have a chance to be released on the international stage. I am very happy."
Ka Tung revealed that TIME had the script before deciding on casting. After reading the script, he and the director both felt that for the over the hill killer Tin Lap Chau and partner Choi Fung, Patrick Tse Yin and Petrina Fung Bo Bo were the only choices. He said, "After looking at the entire show business, Sei Gor is the one who is able to master the mysterious over the hill killer Tin Lap Chau. Because Sei Gor constantly wore sunglasses, the audience felt very distant from him -- which was perfect for the character's mysteriousness. Of course we had to think of how to bring him back to the ground and make him even more relatable."
Ka Tung said that Sister Bobo in recently rarely had any performance. The last time was already LA LEGENDARY ROSE NOIRE (92 HAK MUI GWAI DUI HAK MUI GWAI) 29 years ago. He said, "Years later, Sister Bobo also grew and probably had a different type of experience. She and Sei Gor haven't worked together for 60 years, when they do sparks may fly again. This was where I started to convince them to perform."
Ka Tung felt that this team of Sei Gor and Sister Bobo for the group of old viewers was absolutely memories of their youth, but for the new generation of viewers they were new actors. He once asked some young people, "Do you know who Sei Gor is?" Their answer was "Sure, (Nicholas) Tse Ting Fung's Papa." They had no idea how famous and popular Sei Gor was in his time.