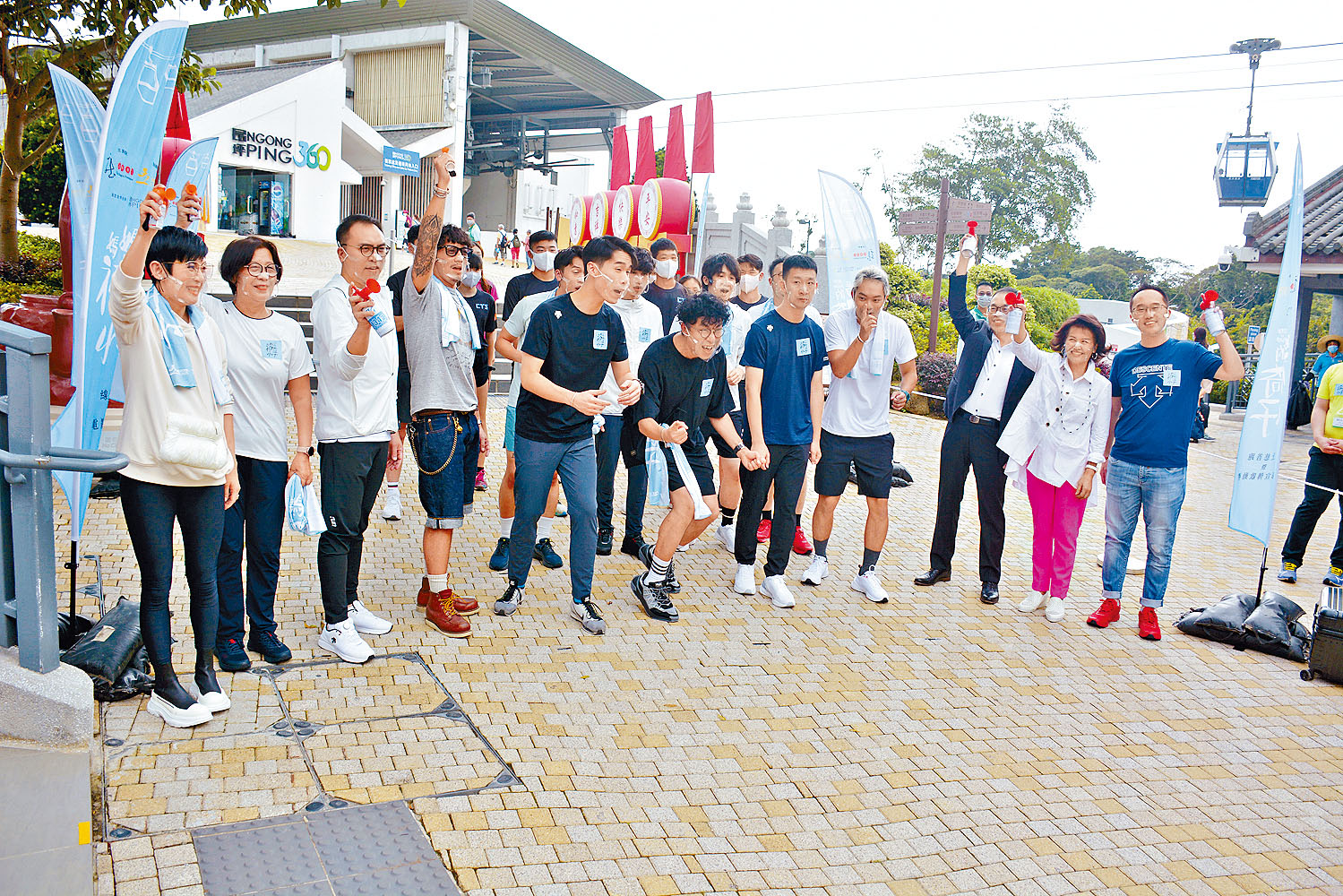 So Wa Wai, his mother and the cast started a race
courtesy of singtao.com
Louis Cheung, Leung Chung Hung
courtesy of on.cc
So Wa Wai's mother, Sandra Ng, So Wa Wai, Leung Chung Hung and Fung Ho Yeung attended a charity race to promote the film
courtesy of mingpao.com
The film ZERO TO HERO (MA MA DIK SUN KEI SIU JI)'s virtual charity run and film promotion launch ceremony took place yesterday. The film's producer and star Sandra Ng Kwan Yu, Louis Cheung Kai Chung, Leung Chung Hung, Fung Ho Yeung, Tony Wu Tsz Tung, Ng Siu Hin and the film's protagonist and Paralympics Games gold medalist So Wa Wai and his mother Han Siu Jing attended. Ng Kwan Yu in the film played So Wa Wai's mother, who praised her performance as convincing. Leung Chung Hung played So Wa Wai, and his acting was also said to be superb.
So Wa Wai's mother was asked whether Ng Kwan Yu's portrayal of her was convincing? She praised Kwan Yu for studying her down to the minor gestures in order to be convincing. "I have been younger too, through the camera many memories were brought back......those were all my personal experience." So Wa Wai felt that Leung Chung Hung resembled him exactly. He realized that the actor after studying the character put a lot of effort into the performance. He too was very moved to see the film and hoped that everyone would make their own dreams come true.
The film due to the pandemic was postponed for a year to coordinate with the Olympic Games for its release. As the producer Ng Kwan Yu admitted that she was very nervous, because the film took over half a year to prepare and a year for post production. "Because of the pandemic the film was unable to be released. Last year the world was very tragic, no one in their wildest dreams would even imagine this pandemic would make a year disappear from the world, or that even the Olympics would be postponed. However it enabled us to make the post production even more perfect. This is all destiny!"
Kwan Yu pointed out that this time she auditioned many actors before finding Fung Ho Yeung and Leung Chung Hung to play the young and adult version of Paralympic Games gold medal athlete So Wa Wai. Their performance was also very convincing. Kwan Yu said, "Fung ho Yeung during the shoot was only 14 or 15. He had to recite the lines in a school uniform while running, which resulted to him getting hurt. Luckily he did not neglect his homework. Leung Chung Hung has been on the stage, after work he still came for training runs and work outs. He also got hurt!" Kwan Yu even said that lately she again worked with ZERO's sound engineer. He mentioned that during the shoot he really thought Leung Chung Hung was handicapped. Leung Chung hung admitted that playing So Wa Wai was a challenge. The most difficult was grasping the way he talked, imitating his physical movement and finding a balance in between. He also had training runs to get into an athlete's shape. However now he has already returned to his original form.
Louis Cheung Kai Chung in the film played a coach who trained So Wa Wai and had the most scenes with Leung Chung Hung. On the first day at work he already felt this Performing Art Academy junior colleague's awesome skills. He stated that he felt very lucky. Aside from sports he was also able to discover his other potentials.