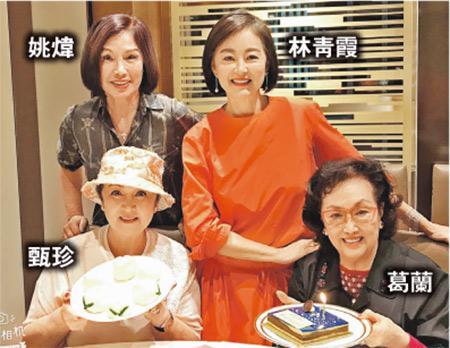 Back left: Kelly Yao, Brigitte Lin, Chen Chen and Grace Chang
courtesy of mingpao.com
Great Beauty Brigitte Lin (Lam Ching Ha) earlier with Chen Chen, Kelly Yao Wei and veteran media person Wong Man Ling celebrated Grace Chang (Got Lan)'s 88th birthday. Known for her "acting, singing, and dancing", Grace Chang starred in many famous Chinese musical films like MAMBO GIRL, SPRING SONG, and A WILD WILD ROSE.
Wong Man Ling shared a photo from the party on social media. Earlier revealing that she lost 26 pounds from active exercising, Lam Ching Ha was dressed in red and looked great. Grace Chang also appeared to be well, holding Lam Ching Ha's hand during the photo. Lam Ching Ha kept praising, "Aunt Grace Chang is the prettiest." Chen Chen celebrated her birthday on the 17th. Everyone prepared birthday peaches and cakes to celebrate with her and Grace Chang.