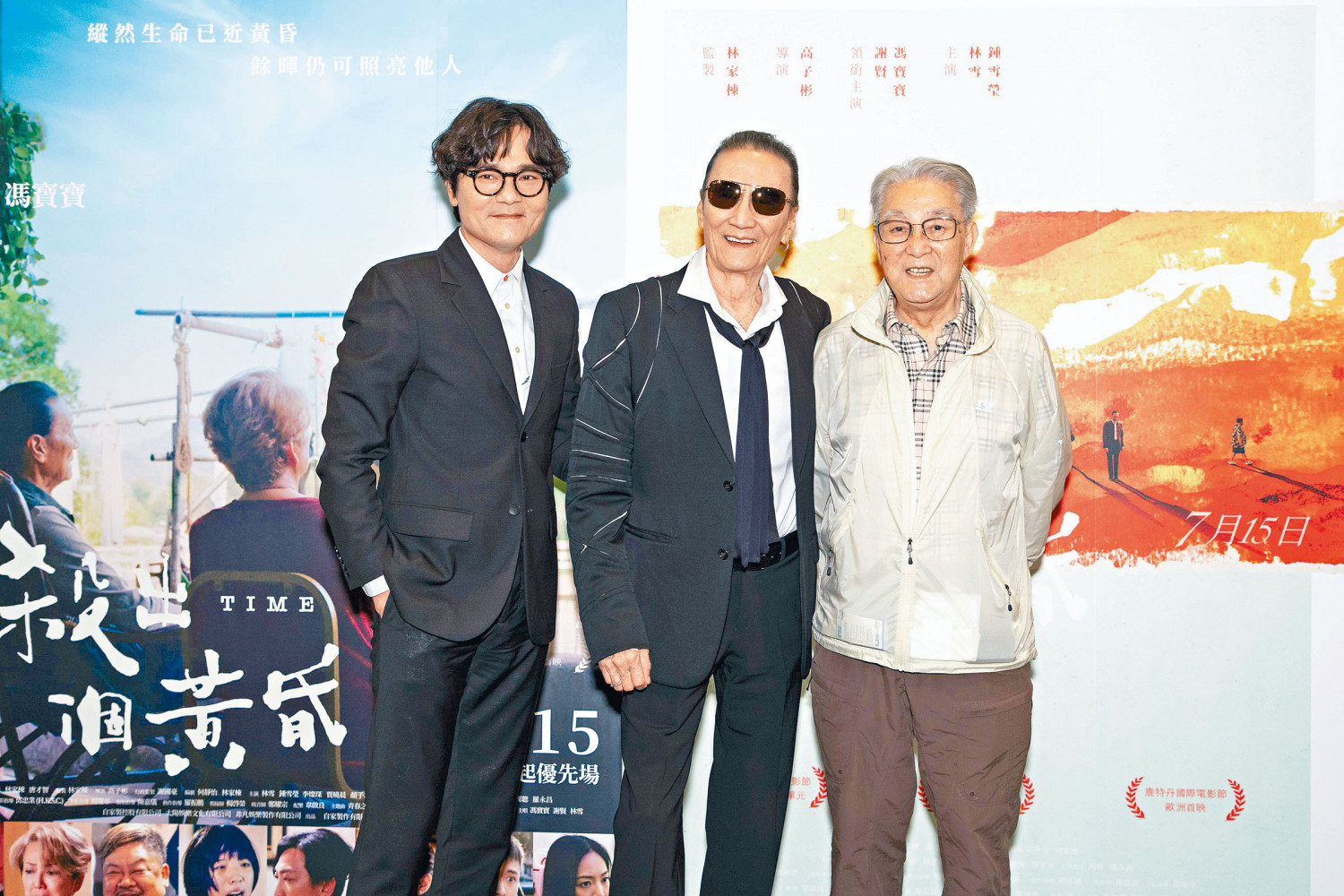 Patrick Tse and Chow Chung get the rare opportunity to work together again after several decades.
courtesy of singtao.com
courtesy of on.cc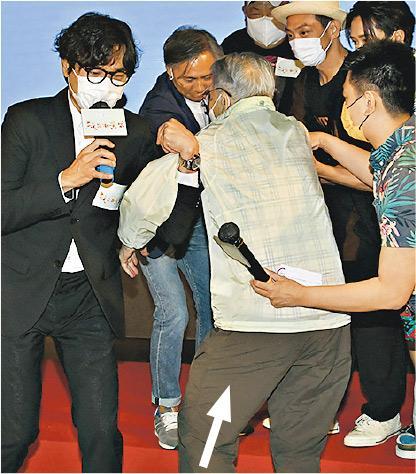 The 89 year old Chow Chung almost falls.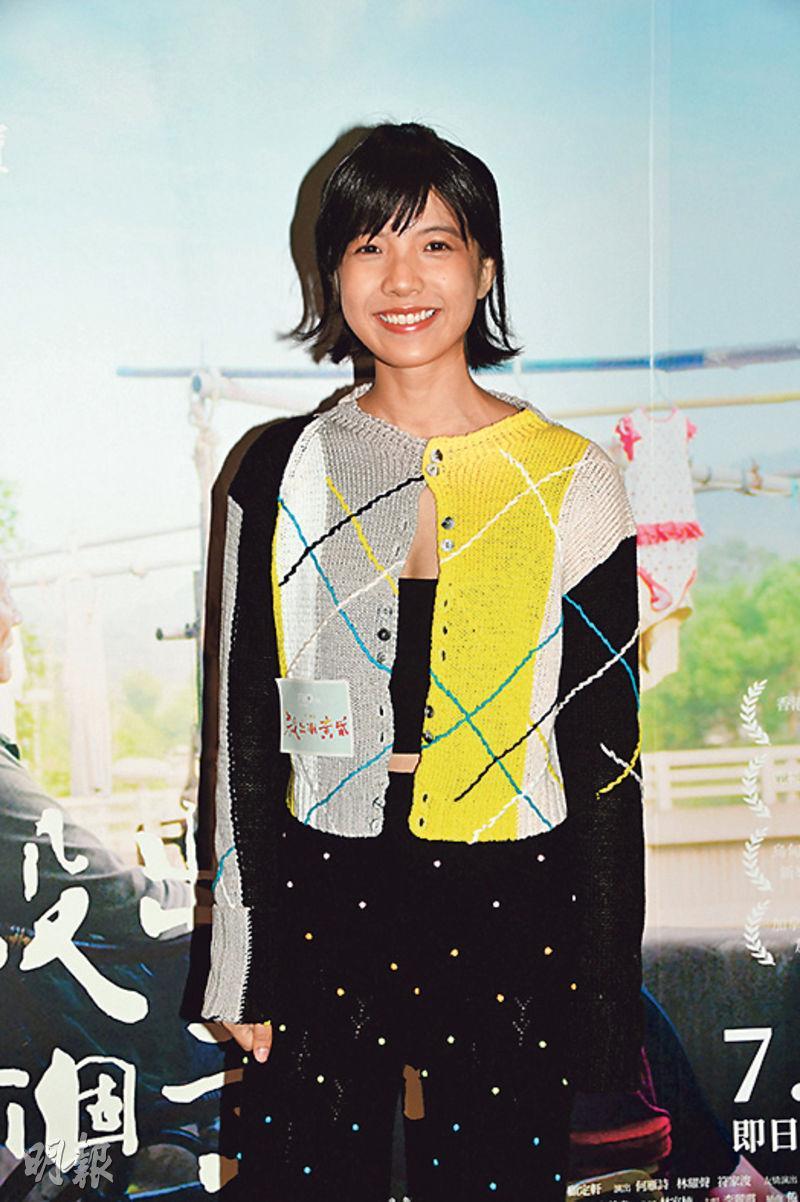 Chung Suet Ying plays Patrick Tse's "granddaughter" in the film and says that he is easy to get along with
courtesy of mingpao.com
Patrick Tse Yin and Chow Chung worked together countless times during the Cantonese film era. This time in the Gordon Lam Ka Tung produced film TIME (SAT CHOOK GOR WONG FUN) they had the chance to work together again. Two nights ago they appeared at the premiere and could not stop chatting. Uncle Chung still appeared to be calm, when he saw Sei Gor he was all smiles. He praised the already 84 year old Sei Gor as forever young and always having many fans, which made Sei Gor very happy. Lead actress Petrina Fung Bo Bo due to the pandemic was unable to return from Malaysia to Hong Kong to promote, but she still cheered for the team via a video.
Sei Gor, Chow Chung, Lam Ka Tung, Chung Suet Ying, Lam Suet, Belinda Yan Zifei and others attended the premiere two nights go. Stephanie Ho Ngan Sze also attended with her husband Fred Cheng Chun Won. Has Sei Gor caught a glimpse of his own performance? He joked that he only watched his part, he did not need to watch the rest. Ka Tung then revealed that earlier the new film was sent to Sei Gor's home. After watching the corners of Sei Gor's mouth went up. Sei Gor nodded, "If he didn't send it to me, I wouldn't come. Ultimately if I am not satisfied I wouldn't accept the goods, but I never imagined that I would be this pleased. When I met Ka Tung he was still a kid, now he is already an actor and a producer. He has become the big brother, I am only Sei Gor." Ka Tung joked, "I am amazing, I work all night, like 7 Eleven! I remember when I was in THE NEW BUND play, I had to play Sei Gor. When I saw Sei Gor visit the set I didn't dare to get close to him. I never expected Sei Gor to come over and say Kid do a better job with the impersonation, then he walked away. I never guessed that we would be able to work together so many years later." Sei Gor said without any taboo, "I deliberately didn't die in order to work with Ka Tung. (Has Ka Tung asked to work together again?) I won't, I would retire. When I retire they would ask me, if I don't retire they wouldn't." Ka Tung said, "When I asked him, he said he was retired; but after seeing my contract he couldn't help himself. Acting is like being poisoned." Would Sei Gor hope to work as a "father and son" team in the next one? He declined. "No, I don't want him to get all the spotlight. I won't work with him. (Have you seen you daughter Ting Ting?) She isn't in Hong Kong, but earlier I already met my granddaughter."
Currently in Penang, Malaysia, lead actress Fung Bo Bo was unable to return to Hong Kong due to the pandemic. However Sister Bo Bo was rather thoughtful, as she shot a video from home to cheer on the team. "I actually really want to come back and watch with all of you. I hope in the future on a special day, I would be able to ask the cinema to show it again. That way I can watch with my friends. This is my wish. I feel that to be able to be a part of this movie is very exciting and very fortunate, I can work with 'Daddy' Tse Yin once more. I remember the first time we worked together I played his son. This time I can sit next to him and have a chat together." Sister Bo Bo even gave special thanks to Ka Tung. "This time left me with such beautiful memories, for which I have to thank producer Lam Ka Tung. Thank you for inviting me to play the female lead in TIME."
As for the new comer who had many scenes with Sei Gor, Chung Suet Ying revealed, "At earlier advanced screenings, I saw how enthusiastic the audience response was and I breathed a sigh of relief." Speaking of working with Sei Gor, she admitted that at first she only observed sei Gor from the sideline and did not dare to get close. Later Sei Gor had to take off his sunglasses for the performance, took the initiative to chat with everyone and treated everyone to custard tarts and soft drinks. Did Sei Gor yell at her? She said no, but Sei Gor would notice everyone. He would also praise them for improving from earlier, which to her was already a shot of confidence.