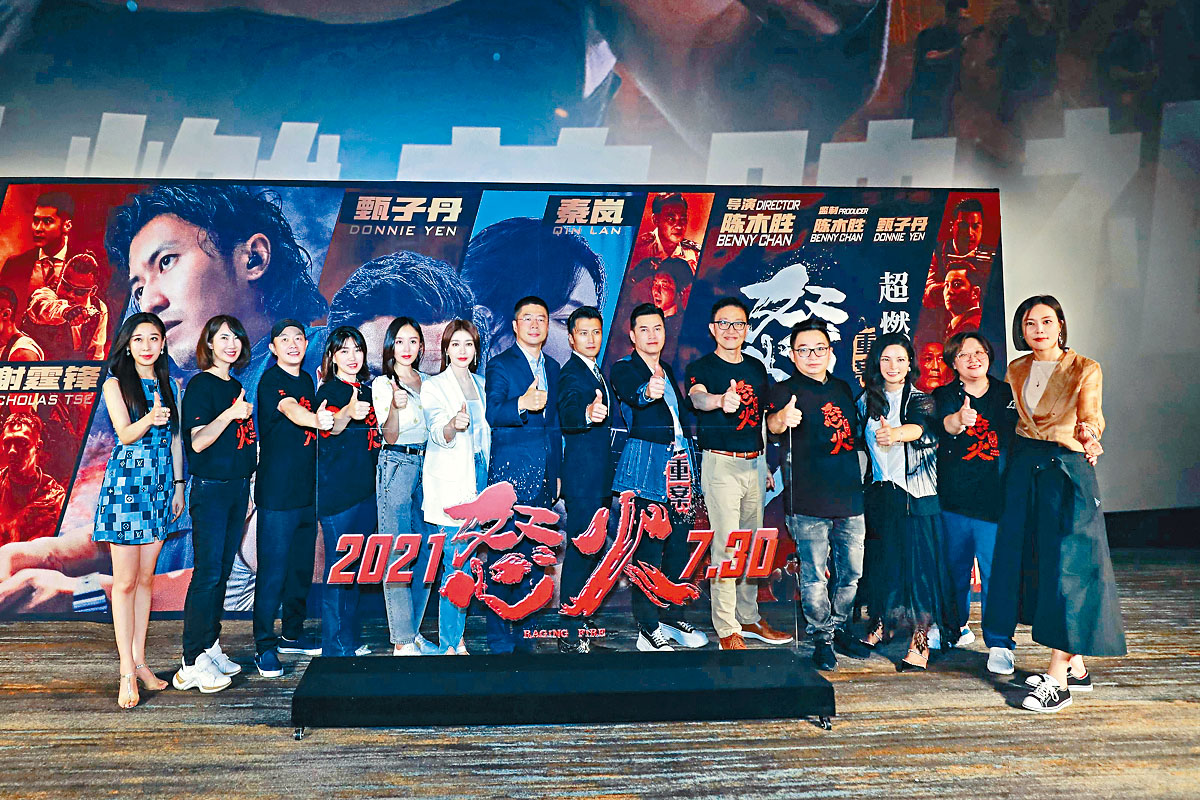 courtesy of singtao.com
Nicholas Tse gets his fill of fighting and acting
Jeana Ho remembers Benny Chan's smile at the production wrap banquet
courtesy of on.cc
The late director Benny Chan Muk Sing's film RAGING FIRE (NO FOR) two nights ago held a Beijing premiere. Currently working on JOHN WICK 4 in Germany, Donnie Yen Chi Tan was unable to appear in person but still took time to thank the audience for its support online. Nicholas Tse Ting Fung, Qin Lan, Ray Lui Leung Wai, Jeana Ho Pui Yu all neatly lined up. As director Chan Muk Sing's close colleague, Jackie Chan led 8 famous directors to stand on the stage for RAGING FIRE as a salute to the action film master class director of a generation Chan Muk Sing.
Director Chan had friends far and wide. At the RAGING FIRE Beijing premiere a rare sight appeared. Big Brother Jackie Chan led Dante Lam Chiu Yin, Raymond Lee Wai Man, Wong Jing, Lau Ho Leung, Li Shaohong, Yu Baimei, Zhang Luan, Song Haolin to salute Director Chan on the stage. Jackie Chan said, "As everyone would know, Muk Sing and I worked together on many films. Even if I didn't work with him, I would attend his every premiere. Today might be the only one that he isn't here for. So I represent him and take the stage!" Before Director Chan passed away, Big Brother Jackie Chan was still planning ROB B HOOD 2, NEW POLICE STORY 2 and DRUNKEN MASTER 3. Unfortunately before the movies were made, Director Chan passed away first. Big Brother sorrowfully said, "I knew about his entire (illness) process, including arranging for a hospital for him until that day when he passed......so it left a very deep mark. I really miss his smile and him as a person very, very much. On the set he wouldn't throw a tantrum, but the entire team would be afraid. He was a good man, a good husband, a good director and a good brother!"
Lam Chiu Yin revealed that he and Director Chan had history. "When he made his first movie, I was his assistant producer. Now I am making action film too. He of course was one of the action directors I liked. I constantly watched his movies to study, to steal ideas. I just finished watching RAGING FIRE. To be able to make action with this type of energy in Hong Kong, I feel he truly was a very amazing director. Seeing ample Hong Kong action power, I was very moved!" Wong Jing also worked with Director Chan on his first film A MOMENT OF ROMANCE (TIN YEUK YAU CHING). He already was planning with late director Ringo Lam Lan Tung. Wong Jing said, "If Director Chan was given a little more time to make several more movies like RAGING FIRE then it would have been great. Hong Kong film would also have an extra share of strength!" Director Lau Ho Leung as a junior remembered Director Chan. "Like everyone I was a Director Chan Muk Sing fan. I am very grateful to him for leaving so many films for us younger generations to keep learning from!"
Yen Chi Tan thanked the audience for its support online and was grateful that he was able to work with director Chan Muk Sing on this rare collaboration. "I madly love film, I also like to make movies with some people who madly love film and are of the same mind. Director Chan Muk Sing was this type of person. He not only in Hong Kong but also in the entire Chinese film community was one of the directors with the most contributions. I hope everyone who love movies would properly cherish Director Chan's final film!"
Ting Fung at age 19 already worked with director Chan Muk Sing on GEN X COPS (DUT GAING SUN YUN LUI). Since then Ting Fung has been determined to develop in action. "I didn't start as a stunt man, didn't accept any official training. However I am willing to use my life, my guts as wagers. The director and I experienced many very memorable life and death moments, like rolling down the Convention Center and throwing me out of the 41th floor. I remember I was tossed a dozen or so times!" Director Chan's passing naturally made Ting Fung very sentimental. "Losing him is like losing the right hand! He to me was a Hong Kong action film specialist. Of course the entire film industry has many very outstanding action directors, but none are in his field!"
Qin Lan came to Hong Kong to make a movie for the first time and already she was working with director Chan Muk Sing. She also played a couple with Yen Chi Tan. She admitted that RAGING FIRE was a production experience that she would never forget in her lifetime, especially that explosion scene. "This was my first explosion scene, luckily I had Big Brother Chi Tan. He was very experienced, told me how to run. Although it wasn't the first time I played a pregnant woman, but at the time Hong Kong was a little hot. My fake belly was a little heavy too. I thank Big Brother Chi Tan and the director for taking great care of me. The director at that time was already sick, but during the shoot he never gave us any impression that he was sick at all. Looking back now, I would always feel incredibly shocked and touched. He was actually able to persist under that condition and make his final movie!"
Looking back at the 80's, Lui Leung Wai already worked with director Chan Muk Sing on television. When Director Chan invited Brother Lui to guest star in RAGING FIRE, he gladly agreed and fought for ten full days in an abandoned shopping center. He was very professional.