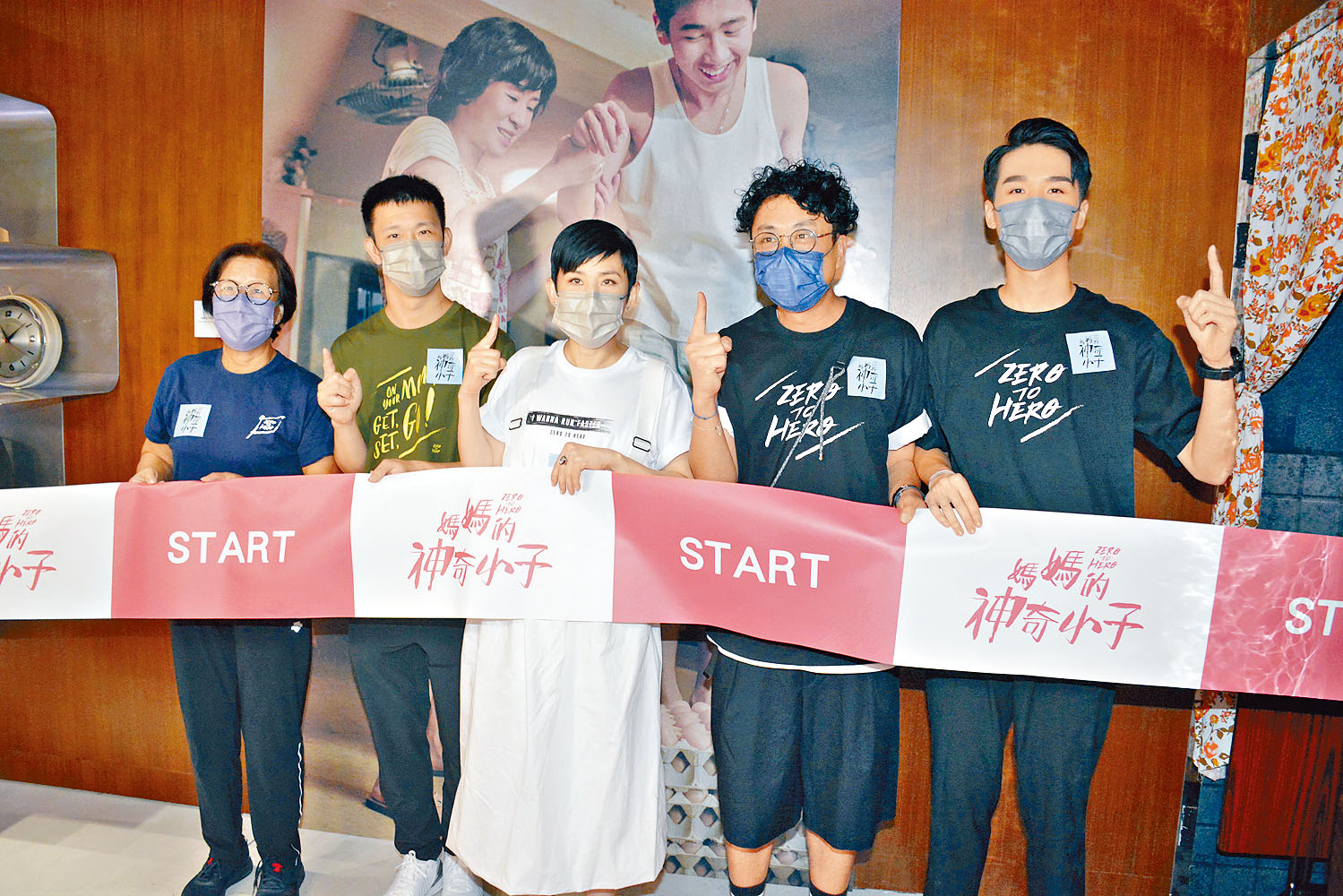 Sandra Ng along with So Wa Wai, his mother, Chu Pak Hong and Leung Chung Hang attend the ZERO TO HERO exhibit
courtesy of singtao.com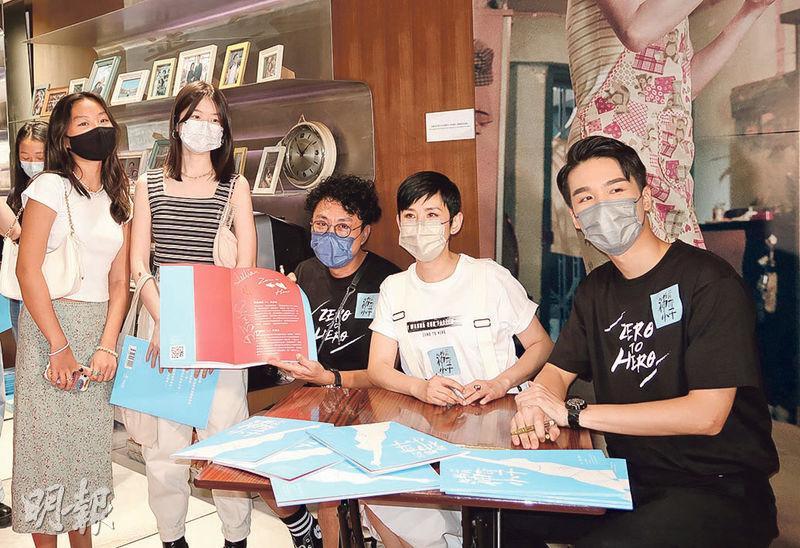 Sandra Ng's 15 year old daughter Chan Si Ji and niece show their support at the film's photo book charity sale
courtesy of mingpao.com
The Sandra Ng Kwan Yu produced and starred film that was based on the Paralympic Games gold medalist So Wa Wai's true story, ZERO TO HERO (MA MA DIK SUN KEI SIU JI), will open next month. Kwan Yu along with Leung Chung Hang who in the film played So Wa Wai, So Wa Wai himself and "So Ma" So Han Siu Jing, the director and the screenwriter Jimmy Wan Chi Man appeared at the film's exhibit and charity sale opening ceremony and conducted an autograph session for the film's photo collection. Kwan Yu's 15 year old daughter Chan Si Ji and niece also showed their support and bought books with money out of their own pockets for charity. Proud of them, Kwan Yu revealed that her daughter and niece made seconds long cameos in the film and received HK$ 1000 lai see for their compensation.
This exhibit displayed stills and scenes from the film, which made Kwan Yu very emotional as all the hardship and sweat from the production came rushing back. She described that she cried so much that her eyes were dry. "This film included a lot of blood and sweat, Hang Jai (Leung Chung Hang) had a tough time with the production, and I had a tough time with crying because of the numerous emotional scenes. The director said that if I couldn't cry I could use 'fake pretenses' (eye drops). As soon as she said that I was already crying from laughing hard, and was able to immediately start the shoot. Actually the story was very emotional." Kwan Yu has watched a lot of pre production from the film, but she has not seen it with the special effects and musical score. She was waiting to experience it officially on the big screen with So Wa Wai and his mother, as she believed that it would bring a wide range of emotions to them as well. Her daughter has not yet seen it either. Kwan Yu planned to go with the entire family to experience the excitement from the film.
Has it been rare for her daughter to see Mommy's sentimental side from the film? Kwan Yu joked, "In real life when I yell at my daughter I am even more sentimental. In particular when I discipline her for some behavior that would break my heart I would be very sentimental. Now my relationship with my daughter is like friendship. Each time when I disagree with what she does, she doesn't listen. I can't repeat myself either, as it would be very 'nagging'. So Ma had a golden quote, 'Don't be all goose and chicken'; in other words not to nag her. Thus I would observe her emotions and lightly brush over the problem. I would tell her that Mama has more experience. If she runs into another unpleasantness she could share it with me, not to take care of it herself. Usually age 15 is a rebellious period, I am afraid that if I yell at her she would leave home. Luckily she isn't considered rebellious. Our relationship is very close."
Speaking of Si Ji making the trip to support Mommy and being very obedient, Kwan Yu joked, "I forced her. I said that buying a book could help the Direction Association for the Handicapped. When she heard that it was for charity she gladly supported it, she even wanted to use her own money to buy the book. However when I asked to give her an autograph she said no, I told her show me some respect, ha ha." Kwan Yu revealed that in the film her daughter and niece both guest starred in a second long cameo, as they brushed shoulders with Hang Jai. "At their age they really want to act; this time they would appear for a second, next time they would appear for two. I would add by the second. If they keep working hard I might give them a line. My niece's desire to perform is greater than my daughter's. My daughter is curious about Mama's film production experience. I gave her a HK$ 100 lai see."