Producer Gordon Lam invited Patrick Tse to play a hitman and even arranged for action scenes for him
courtesy of on.cc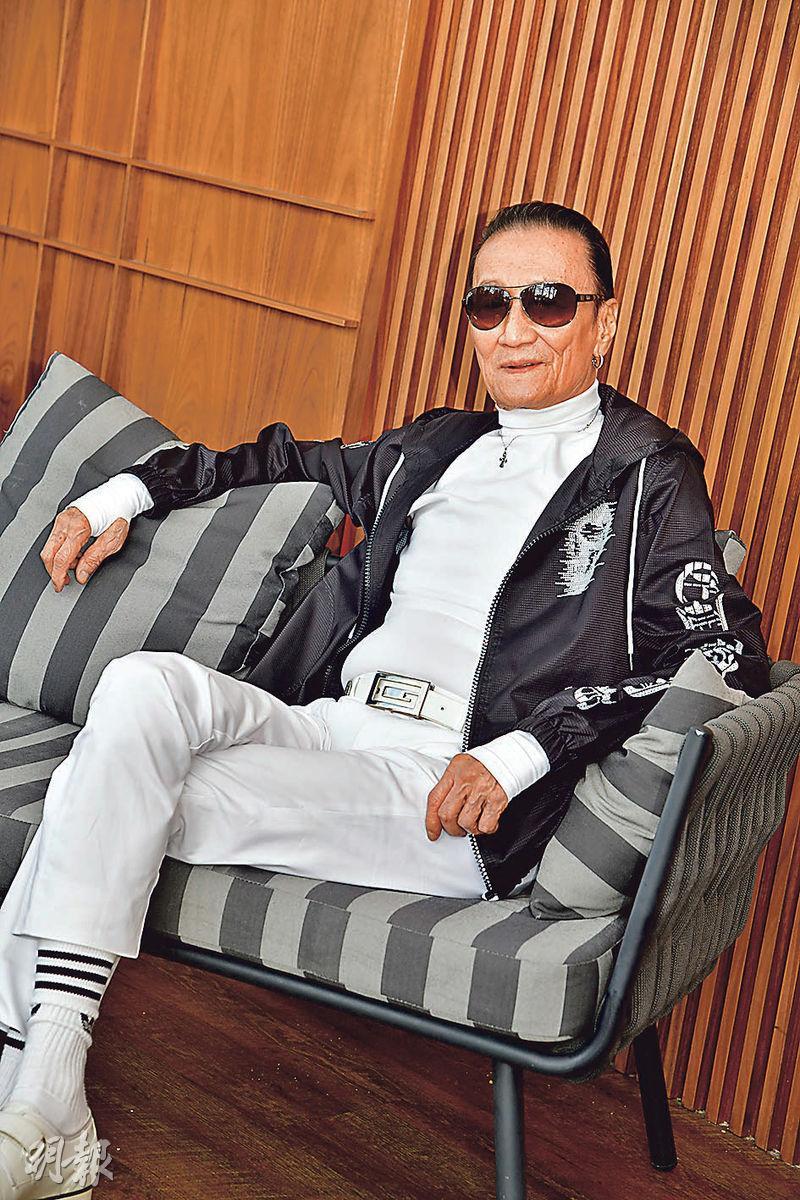 Patrick Tse has won two Lifetime Achievement Awards but never Best Actor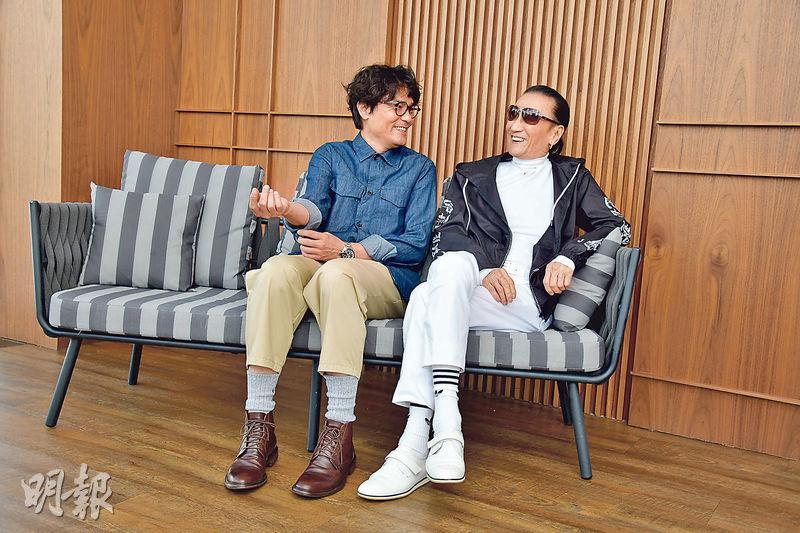 Gordon Lam revealed that Patrick Tse pretended to be poor. He even treated Lam to abalone at his home.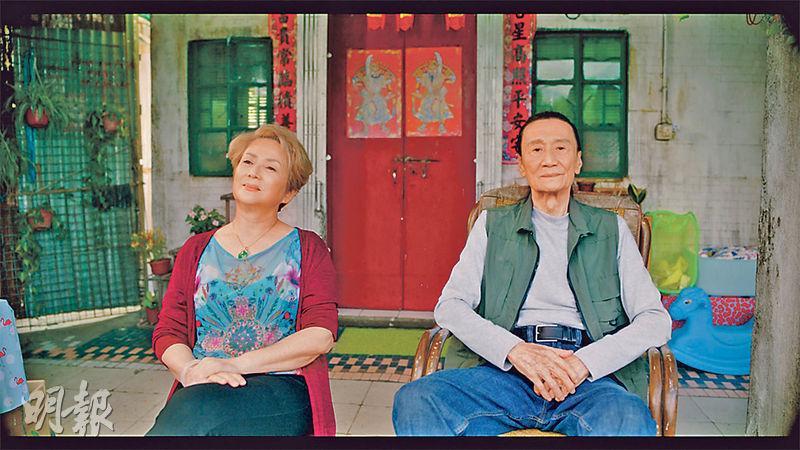 courtesy of mingpao.com
The 84 year old Patrick Tse Yin (Sei Gor) recently promoted his Thursday film release TIME (SAT CHOOK GOR WONG FUN). Sei Gor each time never came out looking sloppy, he was so sharply dressed that he almost walked on the edge of trends. During the photo shoot, Sei Gor naturally became "Tse Yin" possessed, subconsciously putting one hand in his pocket for the pose that made Sei Gor "cool" for life in the hearts of the audience. Yet this time in the film TIME, Sei Gor completely put himself go, shook off "Tse Yin" and fully got into playing a down and lonely twilight killer. He was so convincing that he received raves, qualifying for a Hong Kong Film Award Best Actor nomination. Sei Gor expressed that he would continue to make movies, because with a job he would have something to do. Then he would be happy.
As for having another film for release, Sei Gor said that he was not nervous. Ultimately he depended on this business to make a living. Sei Gor has not made a movie in a very long time. Returning this time, he joked that producer Gordon Lam Ka Tung did not "coax" him into but he "fell into the trap" himself. "At first I thought that kid wanted me? The result came out pretty well, but if something was wrong I would sense it. I would leave right way. I have been an actor for so long, you can't fool me." Sei Gor in the film had many grandparent/grandchild relationship scenes as well as some action scenes. Which scene was more memorable? He joked, "I don't remember, after the shoot I forget everything! I came to make movie at age 15 and had a living in this business until now, it is a lifelong career. Before I raised Grandpa, Grandma, 8 siblings at home."
Lam Ka Tung joked that he was an actual "money tree". Sei Gor said, "I really raised an entire family alone, but it wasn't tough. I am not saying I had a lot of money, but I had income!" Sei Gor admitted that back then he was able to make some money from making money, he almost worked with anyone who asked. He made so many that he forgot how many a year. He worked with so many actresses that he could not remember them clearly. The reporter named some of them, Ka Ling, Josephine Siao Fong Fong, Nam Hung, Kong Suet, Connie Chan Bo Chu, Liza Wang Ming Chuen, Louisa Lee Sze Kei......all the top ones have worked with him. Sei Gor joked, "I couldn't remember them. When I saw them again after the shoot, I would ask who are you, haha!" What about working with Sister Bo Bo Petrina Fung Bo Bo again in TIME after 60 years? Sei Gor humorously said, "I still don't remember what she looks like, I can't think of it. Yet when I see her I would recognize her, and know who she is. I have too many things in my brain!" Would he remember his daughter Jennifer Tse Ting Ting? Sei Gor joked, "Ting Ting I would be able to remember even less!"
Speaking of Sei Gor having been cool for a lifetime, when he used to make movies he was unwilling to remove his sunglasses. Even in the series CENTRAL AFFAIRS, he was still in a suit and sunglasses in what would become a "classic" bed scene. Sei Gor joked, "That time I didn't know why, maybe the girl wasn't too pretty!" When he was reminded that his co-star was Pinky Cheung Man Chi, Sei Gor tried to cover it up. "Cheung Man Chi? I really don't know, I really don't know what she looks like now. I haven't seen her in too long. I don't remember. Should I remember every lead actress I have worked with? I really don't know!"
Sei Gor is highly regarded in show business, but Ka Tung said that he was not hard to serve at all. As long as he got custard tarts, cola and beef stew noodles he was fine. The only hard part was in the film he got so mad at his "granddaughter" Chung Suet Ying that he cursed. Because Sei Gor questioned whether he needed to use "foul language", they ended up making two versions. In the end the "foul language" version was used. Sei Gor said that he made it sound very natural. Maybe because he was so in character that he said it he did not know it.
Sei Gor this time ignored past images and completely got fully into playing how a down and lonely old man faced his life in the future and affected people. He was seen as a favorite of the upcoming Hong Kong Film Award Best Actor. He asked, "No way? Really?" Ka Tung made fun of him for pretending to be humble. Sei Gor said, "It was really great? Maybe he drugged me!" Ka Tung joked that it was the "TIME drug". In the past Sei Gor only won the Hong Kong Film Award and the Golden Bauhinia Award for Lifetime Achievement. Would Sei Gor look forward to winning best Actor? Sei Gor joked, "Whoever would win I would hit, who would dare to accept it?" Ka Tung asked if he would dare to accept this award? Sei Gor said, "I hope!" Since Nicholas Tse Ting Fung has already won Best Actor, if he would this award too would he have no regret? Sei Gor repeated, "I hope!"
As for the release of Sei Gor's new film being in direct confrontation of his son Nicholas Tse Ting Fung's new film RAGING FIRE (NO FIRE), Sei Gor sid that he did not notice. After finishing the film and work he would not remember it. Would he meet Ting Fung to go to the movies together? He smiled and said, "He would shake his head when he sees me, but my son has been very good. He hasn't given anyone any reason to dislike him or to talk bout him, mightily good. I was able to be a role model. If I smoked, gambled, and womanized, he definitely would disown the Old Man. My son really is a very straight laced person." Ka Tung jokingly asked what about him? Sei Gor answer, "You aren't, I don't know you, not too well." Ka Tung pretended to complain about Sei Gor after finishing the movie and getting paid. "Very utilitarian the film industry is, hahaha!" Sei Gor struck back right away, "Did you think he would pay me a lot?" Ka Tung clarified that he put up the money to pay his salary. Sei Gor said, "Perhaps you pocketed it, but I would keep making movies. Work gives me something to do, otherwise I wouldn't know what to do. People have to be happy in life, hey, you are about to kick the bucket, but I am reluctant to leave so soon."
Although Tse Yin is age 84, he was in great shape. Sei Gor pointed out that he once was over 180 pounds and had to go on a diet to reduce his belly. Lam Ka Tung joked that he would go on hikes with him, but once they were at Sei Gor's home he would be treated to abalone. Ka Tung even revealed that Sei Gor was very vain, at home he had 8 closest, over 80 pairs of glasses, and a mechanical bed that would turn him upside down for physical training. Sei Gor admitted, "I am vain, when an actor comes out to see people, he is called a star. There is no reason to wear torn clothing and flip flops, you have to have a little style."
Speaking of Ting Fung's fondness for flip flops and ripped jeans, Sei Gor said that at first he did not know so he dressed like that. However he too have cut holes into several pairs of jeans. "It's the trend!" As for Tony Leung Ka Fai's impersonation of him at Wu Fung's concert, Sei Gor said that he heard but did not see. "Then I can retire from now on!" However everyone agreed that no one could replace Sei Gor. Sei Gor said, "Heavens no, I have no education and never worked in another industry." He joked that back then he was so "bad" that he was kicked out of school. However his aunt was on the school board. later he enrolled in a training class and got into the business. When he became famous, he was invited to speak at his alma mater. Only then he did not get some dignity back. "I owe my aunt a lot. She cried for me. Later at least I didn't disappoint!"