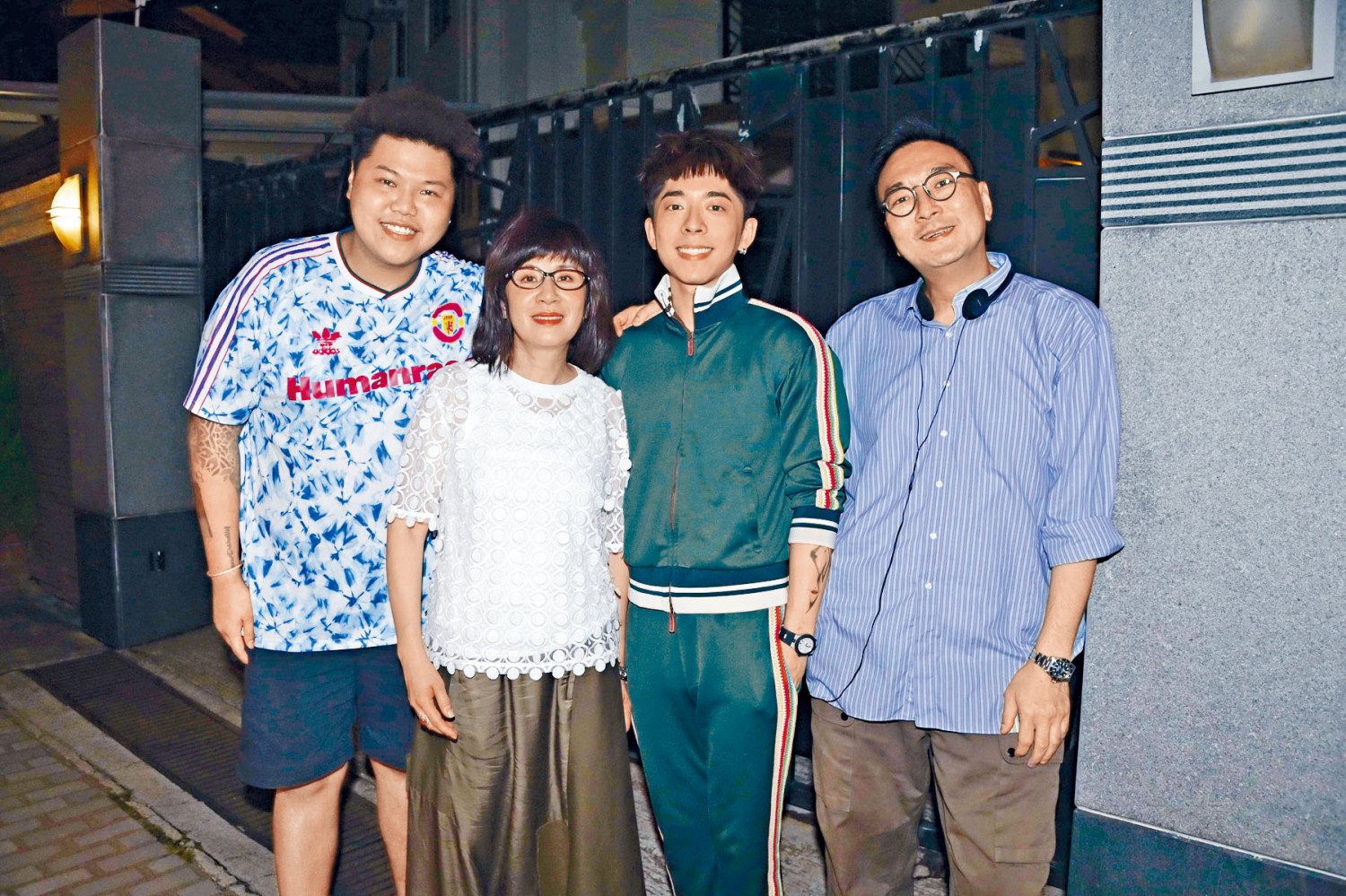 courtesy of singtao.com
As ViuTV's new series OSSAN'S LOVE became the talk of the town, Edan Lui Cheuk On's comedic genes have been recognized s well. Catching Sandra Ng Kwan Yu's eyes to be invited to work on the Lunar New Year film HAP GA LAT (SPICY WHOLE FAMILY), Edan due to many emotional scenes in the film was very worried about his big screen debut. Earlier when working on a scene in which Kwan Yu comforted him, Edan was so nervous that he had zero smile throughout. He was rather serious!
The Ng Kwan Yu produced and starred, new director Cheng Chun Hin directed and written, Matthew Chow Hoi Kwong executive produced Lunar New Year film HAP GA LAT (SPICY WHOLE FAMILY)'s production has already entered its final stages. Earlier Ng Kwan Yu and lead actor Edan worked together at a mini bus stop outside a housing estate. Edan with a slight perm, green athletic wear and yellow shoes looked cute. Before the shoot, Edan did not dare to lax off for his big screen debut as he rehearsed with Kwan Yu on a chair outside the mini bus. During rehearsal, Kwan Yu suddenly burst out, "Hurry up! I have to watch OSSAN'S LOVE."
Over 20 "Cheuk fans" appeared to support their idol. Some even bought cakes for Edan and the team. Because the location was near a residential area, many neighbors looked on.
Kwan Yu and Edan played a family. That night Kwan Yu kept holding Edan's hand and sang to comfort him; the film had its share of emotional scenes. With little acting experience Edan said that he was also very worried earlier while working on a major emotional scenes. He said, "Kwan Yu has been great. She has given me many methods to choose from. I don't dare to say I have performed very well, but at least during the performance I have been able to sense the emotions. This time I really have learned a lot." Ng Kwan Yu said that she did not know that Edan was worried about the emotional scenes before hand. Because the film would be a comedy, there would not be any need to cry. Yet Edan as the lead actor would need to have an explosive point. She said, "The director told me that Edan was afraid that he couldn't cry, I said no way! Let me give him some exercises, then he was OK! Edan immediately understood, and was already able to do it."
Speaking of working with numerous elders like Ronald Cheng Chung Kei, Gigi Leung Wing Kei and Kwan Yu, Edan admitted that he has learned a lot. Kwan Yu joked, "Don't be so humble! You should be more boastful! You say you did very well. Being humble isn't in anymore!" Edan joked that he could not afford to be boastful. Kwan Yu said, "When I say you can afford to be boastful, you can afford to be boastful!" The Edan starred OSSAN'S LOVE has been raved about, Kwan Yu said as the film's producer, "Edan has a special aura, this aura can work in a drama series or a comedy. On this day of this film's casting, I even thought that MIRROR is so popular now, who would pay you any mind? Despite being buried in work everyday, he was willing to come! After the audition, the role really was Edan's! No other choice."
In addition, Kwan Yu said that due to the pandemic she made the Lunar New Year film in hopes of everyone to have a little fun during the Lunar New Year at the movies. Edan joked, "Not only our movie would be celebrating Lunar New Year, even the set is. Kwan Yu has been treating like mad, everyday we would have a lot to eat. We have been very happy!" Constantly treating, Kwan Yu joked that she had to eat all throughout the 18 districts. Because it was a rare film production in Hong Kong, she of course had to find different cuisine in the 18 districts.