Louis Koo
Louise Wong
courtesy of on.cc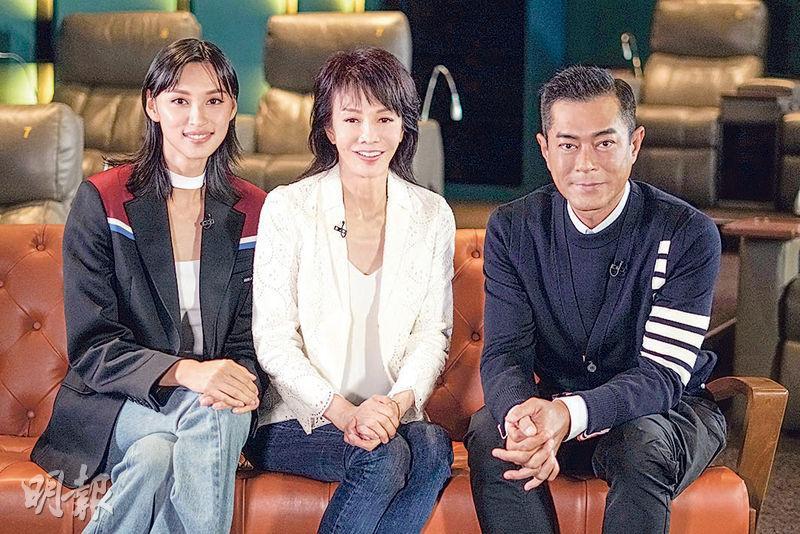 Carol Cheng interviews the stars of ANITA
courtesy of mingpao.com
The star of the film ANITA (MUI YIM FONG), Louise Wong Dan Nei has already the media focus before the new film is even released. As a new comer Louise has been very luckily. As her first film is about to be released, she already has the blessing and the praises from two heavyweight figures Louis Koo Tin Lok and Carol Cheng Yui Ling (Sister Do). Goo Jai even personally taught her acting skills.
Earlier the film company invited Sister Do to interview the film's two leads Koo Tin Lok and Wong Dan Nei. Seeing Louise for the first time, Sister Do even praised Louise as smart and charming. She wished her better and better performance in show business. Goo Jai felt that Louise was serious, fully prepared, during the shoot he even gave her acting advice.
Mui Yim Fong had a wish -- to marry the stage. In the film, Goo Jai played famous fashion designer Lau Pui Kei -- a mentor and friend who helped fulfill Sister Mu's dream. "I play Lau Pui Kei. Sister Mui grew up with him. For Sister Mui's final concert, she asked Lau Pui Kei to complete her dream and make her a wedding gown for her to marry the stage. Lau Pui Kei designed all of Sister Mui's past daring, innovative, forward costumes for her."
Goo Jai in the film had many scenes with Wong Dan Nei. He had very positive review of new comer. "At first glimpse of her appearance, honestly, I was very at ease. During the shoot I saw her hard work, preparing fully for every scene before hand. Whether her appearance, manner of speech she was very convincing." Koo Tin Lok praised her for being able to perform Sister Mui's spirit. He recalled at one shoot, "The location I work at was in an old building. I remember once when the cameras were cut and the lights were off, I was preparing to return to the break room. When I went to the stairway and turned the corner, under the dark light I saw Louise and I was frightened. You could tell how much she resembled her."
Although Louise put a lot of effort into the character, it was still her big screen debut. Goo Jai on the set personally gave her acting advice to help her get into character. Goo Jai said, "In one scene she had to cry. In order for her to get into the mood easier, she earlier shared her past with her father with me. I suggested for her to use that emotion into this scene. Then she would very easily release her own emotions." When Sister Do asked goo Jai about Louise's performance, he jokingly urged the 179 cm tall Louise, "Don't wear heels too much."