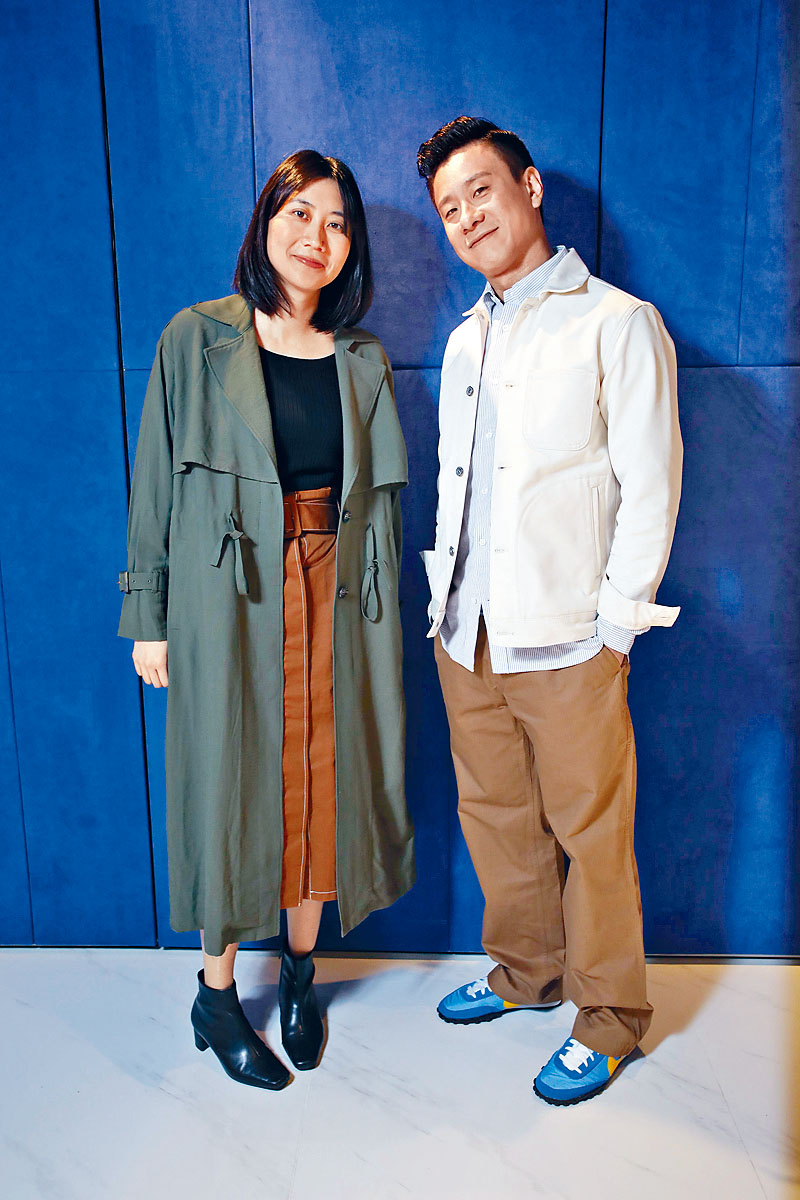 Norris Wong (left) with MY PRINCE EDWARD won Hong Kong Film Award New Director and Chu Pak Hong was nominated for Best Actor
courtesy of singtao.com
MY PRINCE EDWARD (GUM DOH) was Norris Wong Yi Lam's first written and directed feature length film. Starring Stephy Tang Lai Yun and Chu Pak Hong, earlier the film even won the New Director award at the Hong Kong Film Awards. However due to the novel coronavirus its release date was postponed time and again. Now finally it has been slated for a June 11th release. Although the pandemic and the social climate have affected every business and industry, Wong Yi Lam pointed out that she would not leave the creative journey because of them. She hoped that she would be able to bring even better work to everyone.
Located on Prince Edward Road in Hong Kong, the Golden Plaza is known for its affordable yet elegant wedding related merchandise. The idea for the Golden Plaza based subject arose because Wong Yi Lam lived right on Prince Edward Road. "The creative inspiration very often would come from everyday life. I have lived on Prince Edward Road since I was little. The Golden Plaza was a shopping center that features wedding related products that very affordable and accessible, with any impression of luxury or fantasy for weddings. Thus I have always been very interested in this shopping center. A part of the film also came from a previous relationship experience. My former boyfriend once proposed to me. I thought about getting married but in the end due to a variety of reasons we chose to end the relationship, which made me start to examine what the meaning of marriage was. I don't oppose to marriage, I look forward to the arrival of love very much. However the person has to be right for me, not getting married just for the sake of getting married."
MY PRINCE EDWARD was the 4th First Feature Film Initiative Higher Education Institution Group winner and received HK$ 3.25 million in production budget. However in order to make a movie with HK$ 3.25 million in Hong Kong, budget control had to be very stringent. Wong Yi Lam revealed that the cast all took a friendly rate. She thanked every actor and crew member for their understanding and effort, overcoming every difficulty together. She said that for a rainy scene, due to a lack of money to rent a water truck they used spray bottles to pretend and camera angles to accommodate. The result was great. However during the shoot everyone laughed until they could not breathe. Wong Yi Lam with MY PRINCE EDWARD won the New Director award at this year's Hong Kong Film Awards. She thanked every voter who cast a ballot. She would continue to make subjects that are closely connected to the community and hope that she would be able to bring everyone even better work.
Chu Pak Hong in the film played Stephy Tang Lai Yun's fiance, a typical Momma's Boy who constantly said, "Ma says......" The personality was very dependent. However in reality Chu Pak Hong felt that in a relationship, trust was very important. He said that he would not check on the whereabouts of his other half at all times, especially after a failed marriage. "She was from Taiwan. When we were dating we were in two different places. Even when we argued, often we would be able to put it aside. Yet after marriage when we lived together we had more arguments. When we had problems it was very hard to pretend not to see them." He pointed out that after a long time he was able to escape the darkness of divorce. He would also be more careful with relationships. Chu Pak Hong was nominated for the Hong Kong Film Award Best Actor with his first lead role, although in the end he lost to SUK SUK's Tai Bo. Last year he was also nominated for the Golden Horse Award Best Actor but in the end lost by a few votes to A SUN's Chen Yi-Wen. However he felt that the nominations were already recognition of him. He hoped even more filmmakers would know him and give him even more opportunities to perform.