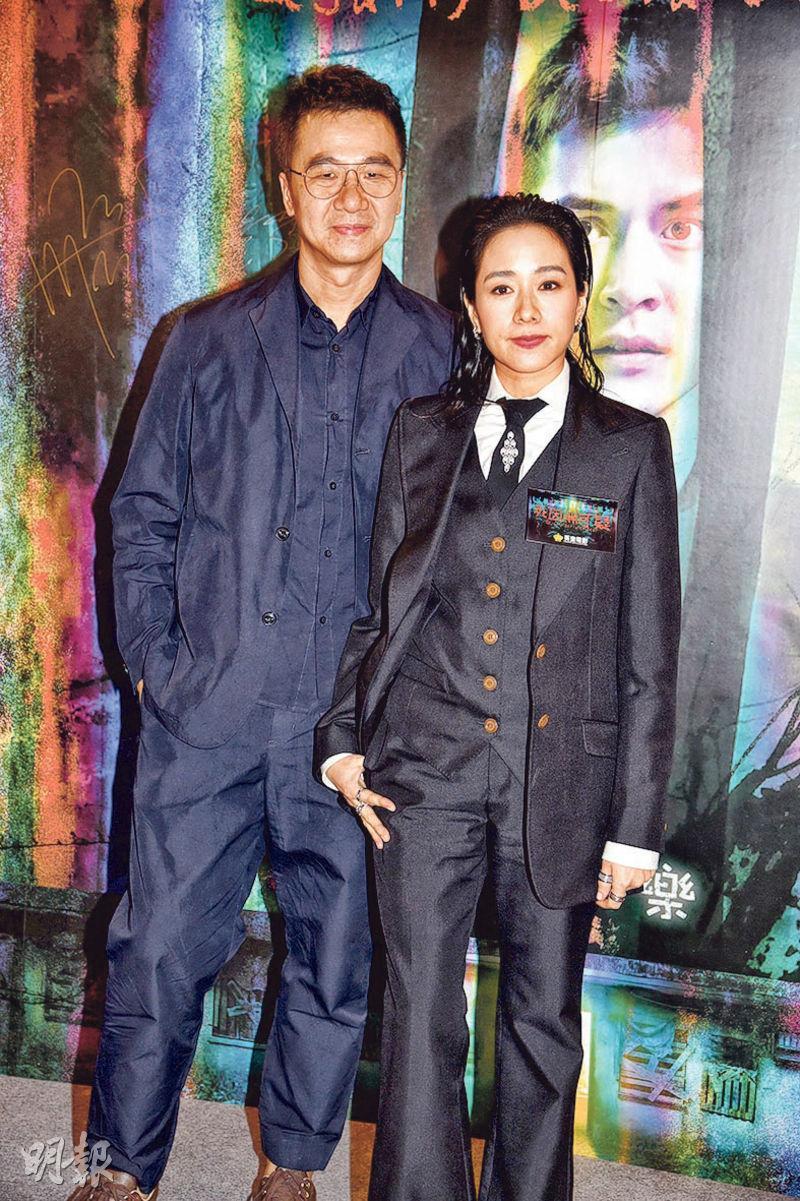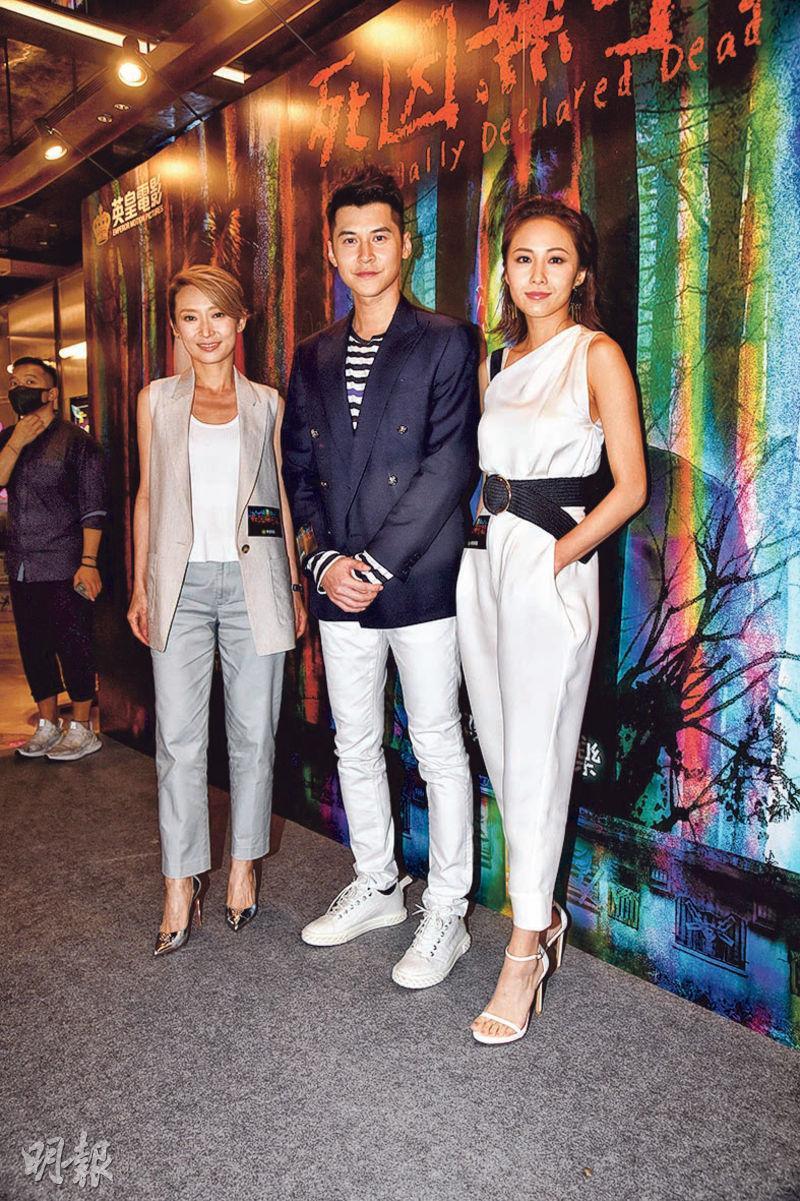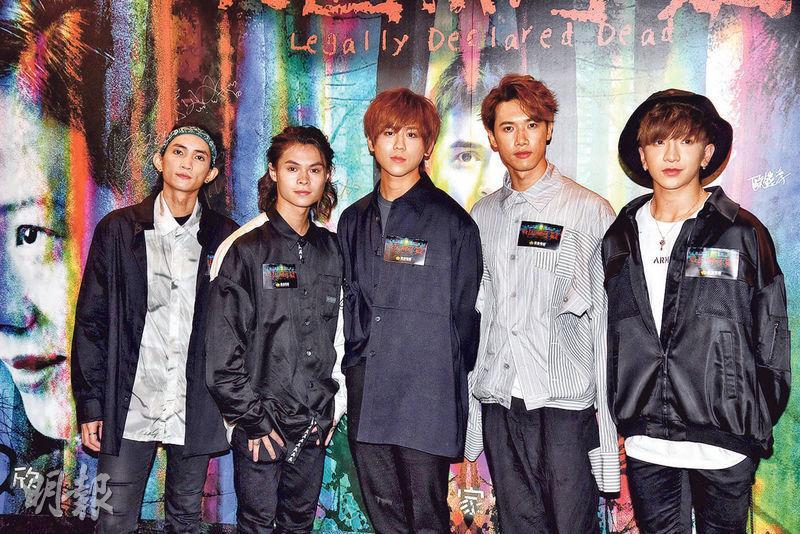 courtesy of mingpao.com
Catherine Chau, Carlos Chan, Kathy Yuen
courtesy of on.cc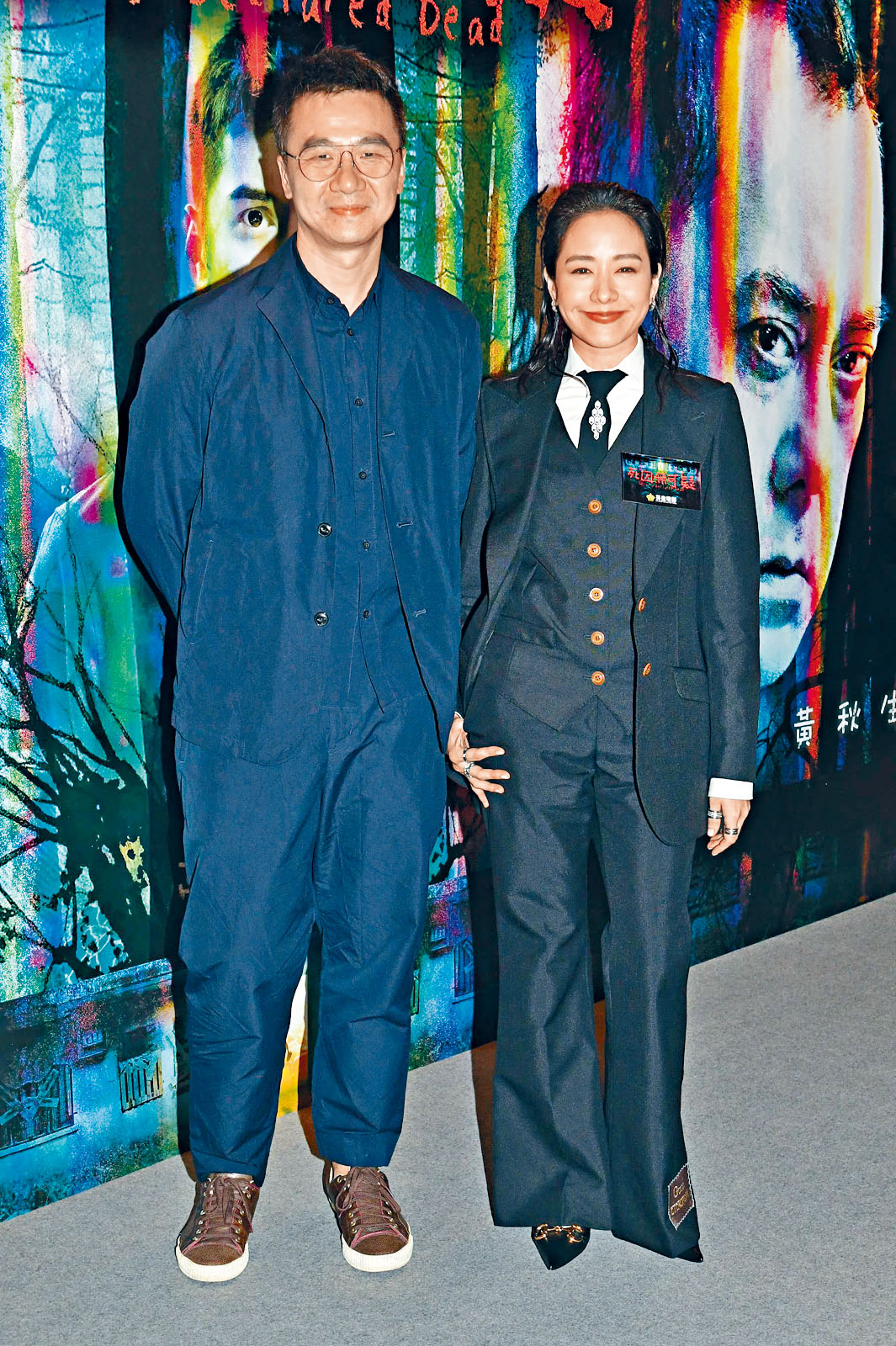 Husband and wife Steve Yuen and Karena Lam promote their new film as the director and the lead actress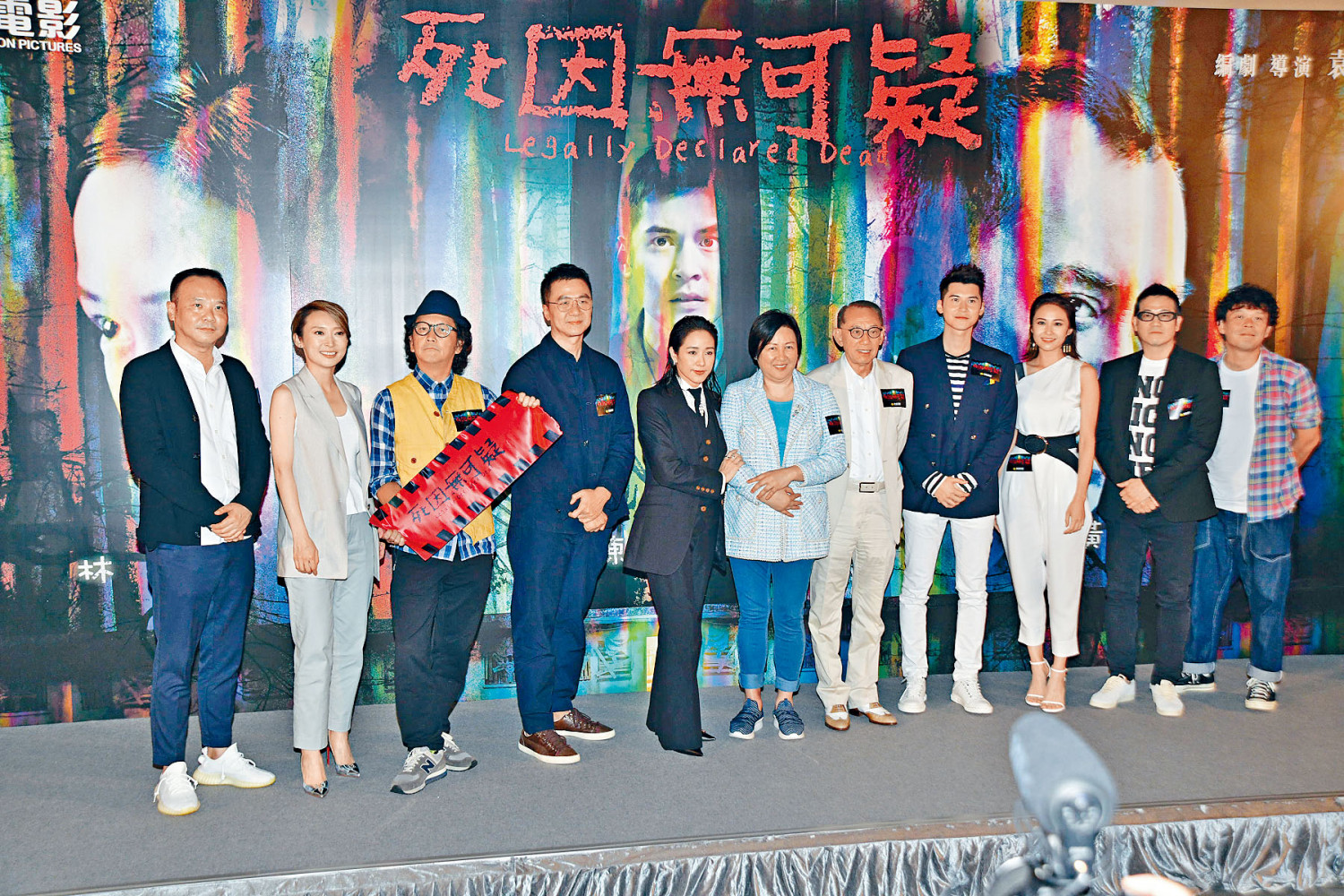 Albert Yeung and his wife (center) show support for the new film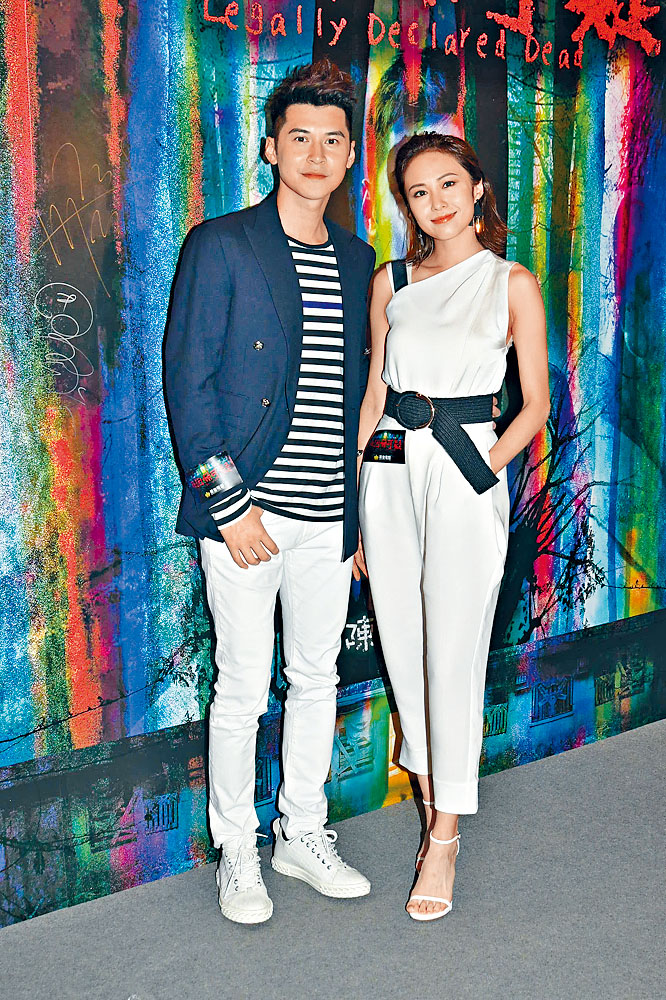 Carlos Chan, Kathy Yuen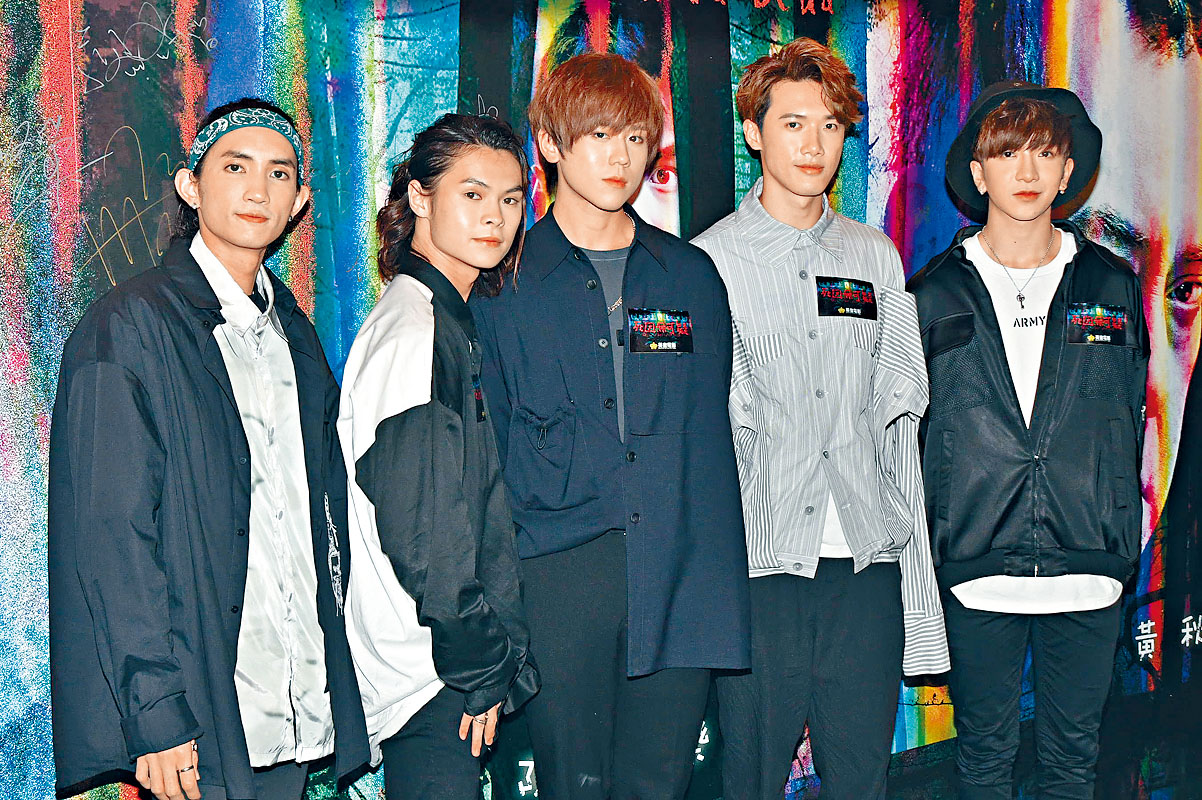 Mirror's latest music video has been accused of focusing on certain members only. Keung To (center) never thinks about the problem of stealing the spotlight.
courtesy of singtao.com
The film LEGALLY DECLARED DEAD (SEI YUN MO HOR YI) two nights ago held a premiere. Boss Albert Yeung Sau Sing, actors Carlos Chan Ka Lok, Catherine Chau Ka Yee, Kathy Yuen (Tong Yee) and Liu Kai Chi attended. Michelle Wai Sze Nga and Keung To also showed their support. Ka Lok earlier had to stop working due to the pandemic. Instead during the period he found his passion for work again and the direction became even clearer. As for major life events, Ka Lok who was recently rumored to be in love with Shiga Lin admitted that he has been saving for a wedding, hoping to be able to fulfill his marriage plan!
Chan Ka Lok said that since his Lunar New Year film premiere has not gone to the cinema for almost half a year. He truly got sentimental. "It was early during the pandemic then, when I came to the cinema I had to wear a mask and be completely disinfected. The atmosphere was very tense. Although now the 'gathering restriction order' was still in place, everyone felt much better. A few days earlier when I came to the cinema for audience appreciation, everyone was very happy and got into it." During the pandemic, Ka Lok stopped working and was able to get some rest. Earlier he only had his mind on work and lost himself. Was the biggest gain during the half year of suspension getting Shiga Lin? His face turned red as he said, "I found the passion for work again, the direction is clear!" Did he have to save for the wedding? He said, "I have always had savings, for the major life event I hope in the future to be able to fulfill it!"
Tong Yee also said that she has not been to the movies in several months. Friends went to the advanced screenings and said that normally "disconnected", reserved and rarely expressed too much emotion she finally performed very large mood swing in the film. She said that this time she played a spoiled girl and she was very happy that others had a different view of her. What kind of girls would Ka Lok like? He said that as long as he likes her he likes any and all type. Did he invite girlfriend Shiga Lin? He avoided the subject and only said that he invited many friends. Even if they were unable to attend he would recommend them to buy tickets and go on their own. However he said that earlier he had a few nights that he was able to eat at home, he was able to see his girlfriend's series. In particular he saw the very touching performance between Frankie Lam Man Lung and his on screen daughter and he even cried. Unfortunately he missed Shiga Lin and Priscilla Wong Chui Yu's moving on screen sisters performance.
Chau Ka Yee was asked about returning home to TVB as the leading actress for the series CHILDREN HOSPITAL with Kevin Cheng Ka Wing, Law Chung Him and Linda Chung Ka Yun. Ka Yee said that actually this time was completely because of director Fong Chun Wa and screenwriter Poon Man Hung. She caught their eyes back then and everyone was finally able to get to know her, thus she was very happy to work with them again. Did she feel like it was a successful homecoming? Ka Yee said, "Don't say that, I am not feeling too much, mainly I want to make something good." However she joked that in the past she would only play nurses, this time she was able to be "promoted" to play a doctor and go into the operation room.
Director Steve Yuen Kim wai and lead actress Karena Lam Ka Yun were on an official date as they attended the premiere as a couple. Lead actor Anthony Wong Chau Sun was working in Taiwan but still sent a video to show his support. He even told everyone to enjoy the film. Lam Ka Yun said that Wong Chau Sun was very cute. His character had a special quality so she had to coax him. Yuen Kim Wai said that he really missed Chau Sun, of course he wanted the entire team to participate in the premiere. As the pandemic continued, was he worried about the box office performance? Yuen Kim Wai admitted that he would do his best, attend audience appreciation events and promotions. Lam Ka Yun said that if Chau Sun was present it would be a lot more fun.
In order to attend the premiere, they had to ditch their daughters at home. Lam Ka Yun said that she had to explain to then they had to attend the premiere, but they asked whether it would have a red carpet walk like overseas premiere. She said, "I told my two daughters no! We are very low key."