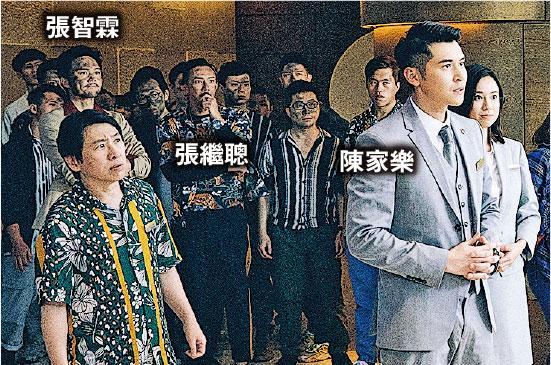 Julian Cheung, Louis Cheung and Carlos Chan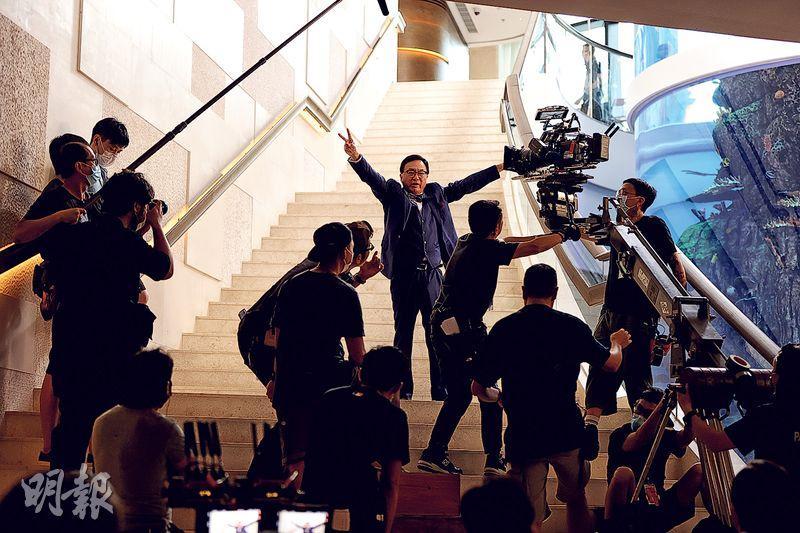 courtesy of mingpao.com
Do you recognize the guy with the dirty face in the back? Julian Cheung
Eric Tsang
courtesy of on.cc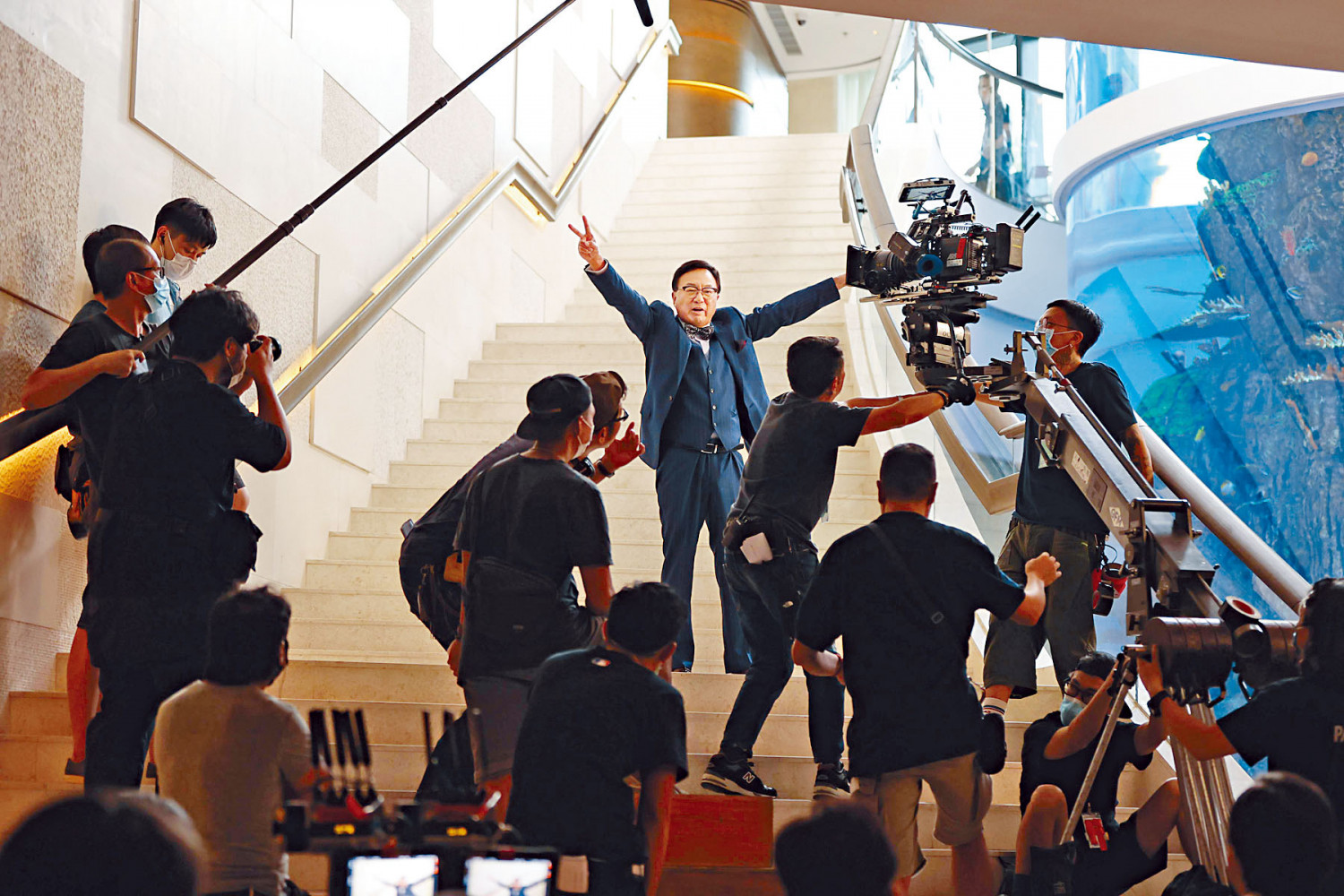 courtesy of singtao.com
Ten Hong Kong film companies included China Star, Edko, Emperor, Mandarin, Media Asia, Mei Ah, One Cool Film, Shaw Brothers, Sun Entertainment, Universe and the Hong Kong Film Development Council Film Development Fund Scheme for Financing Film Production teamed up to produce the pandemic relief film JUNG SI YAU OI JOI GAK LEI (THERE'S ALWAYS LOVE IN QUARANTINE), which is already nearing the end of its production. The entire film divided into three divisions that operate simultaneously. The cast and the crew worked night and day in order to make everything its fastest and best. The Hong Kong film industry that has been halted for many months began to gradually resume work, show signs of life, launch the film market anew and start a new page!
Aside from the ten major film companies and the government, the Lai Sun group chair Dr. Peter Lam Kn Ngok even fully supported the Hong Kong film industry as he loaned out the Ocean Park Marriott Hotel for the film's main production location. Making the entire production even smoother, he was able to contribute to everyone in a show of industry unity. The team said that since the production was in the heat of the summer, on weekends many visitors came to spend and swim at the hotel. Thus on weekends they would only be able to shoot indoors. However because of the ample air conditioning inside, the shoot felt even more comfortable.
Ten film companies teamed up for the film production JUNG SI YAU OI JOI GAK LEI (THERE'S ALWAYS LOVE IN QUARANTINE) has always kept its title or its cast confidential. From the latest still and on the set photos, actors like Michael Hui Koon Man, Eric Tsang Chi Wai, Chin Kar Lok, Carlos Chan Ka Lok, Cecilia So Lai Shan and Lok Wing could be seen. Other actors would follow as the film will be released this summer!
In addition, the Hong Kong Performing Artists Guild and the Hong Kong Federation of Film Workers started the Hong Kong Film Worker Pandemic Relief Project with its affiliated organizations and donors. Through the industry call for donations relief funding was raised for its basic level colleagues. The Hong Kong Performing Artists Guild distributed the donations to film basic level personnel to provide immediately relief.
Actually when the novel coronavirus erupted, every film company's productions were helplessly forced to halt completely. Without any way to operate, the film industry was affected for half a year. However with the pandemic stabilizing, many film companies have already gradually resumed productions and hoped to launch the film market anew and start a new page. Raymond Wong Pak Ming's Mandarin Motion Pictures early in the years was wrapping up production for the Louis Koo Tin Lok and Julian Cheung Chi Lam starred film G STORM (G FUNG BO), which as the pandemic grew severe was forced to halt production until this month when it resumed production for a major scene. Wong Pak Ming would continue to make another new film OBSESSED (FUN SUN) with Kevin Cheng Ka Wing, DaDa Chan Jing and Rebecca Zhu. Boss Wong said, "People behind the scene haven't worked for almost half a year. They don't eat if they don't work. Everyone has been resting for too long, it's time to start working!"
The Commerce and Economic Development Bureau CreateHK's 4th First Feature Film Initiative Higher Education section winning project, the Entertaining Power company produced, new director Chan Kin Long directed film HAND-ROLLED CIGARETTE (SAU GUEN YIN) also postponed its production start due to the pandemic. Yet due to the limited film funding it could not be delayed too long. It was forced to continue production with full preventive measures taken under the March and April "gathering restriction order". Fortunately Best Actor Gordon Lam Ka Tung, Chin Siu Ho and others supported the domestic production without worrying about the salary, so the film was completed. Actually Ka Tung in recent years has participated in many behind the scene jobs and as a producer. He understood that the current difficulty for Hong Kong produced films was the lack of investors, financing was also rather tight. Thus Ka Tung has always walked the walk and fully supported many small budget productions. In 2010 his low budget production GALLANTS (DA LUI TOI) won the 32nd Hong Kong Film Award Best Film.
Another film DUEN MONG (BROKEN NET) also started production earlier despite all the difficulties. The film would be Soi Cheang Pou Soi produced, Wong Hing Fan directed, two Best Actors Aaron Kwok Fu Sing and Gordon Lam Ka Tung reunited as its stars. Reportedly this time Kwok Fu Sing under the pandemic was willing to take a 30% salary cut to make the film. In addition the producer and crew members also took pay cuts in hopes of reducing the production budget and getting over the hard times together. Sing Sing has said in the past that he has always loved acting, so he in particular supported domestic films and new directors. As long as a sincere production was able to move him, his salary was absolutely negotiable; not to mention that under the pandemic Sing Sing wanted everyone to have a job.
Aside from Ka Tung not taking a salary and Sing Sing performing for 70%, reportedly Andy Lau Tak Wa would star in the Jingle Ma Chor Sing directed CHUK SING (SEVEN SAINTS). As the pandemic continued to stabilize, the production start has been planned for July. This time Wa Jai would play two roles in the film, including Sun Wukong. He would also produce the film. Wa Jai understood the difficulty of starting a production in the pandemic so he would not take additional pay as a producer. He would rather invest the producer salary on the production budget, so the film would have more resources to spend on the production. Wa Jai as both an actor and a film company has supported Hong Kong domestic productions for years. Wa Jai dared to try some movies that would be hard to make money and others would not be willing to invest in, to give new directors and new actors the opportunity to perform. Thus his company has made many sincere and award winning films like MADE IN HONG KONG and A SIMPLE LIFE (TOH JEH). In the face of the pandemic, Wa Jai kept his film colleagues in mind and hoped to be able to do his part in support.