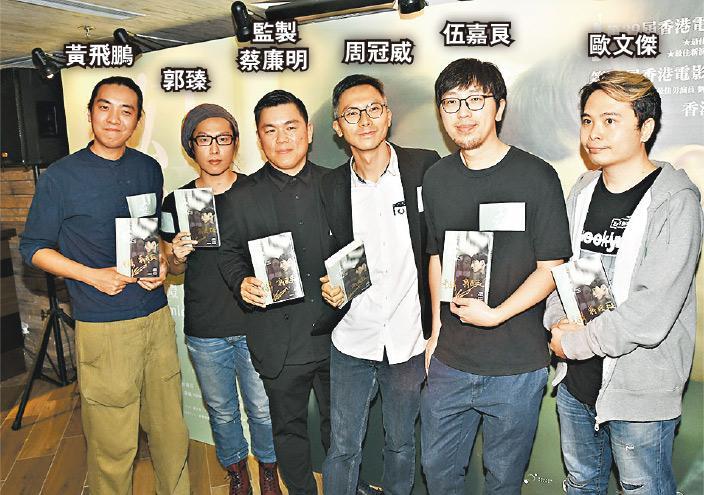 The Kiwi Chow directed film BEYOND THE DREAM held its premiere last night. His fellow TEN YEARS directors (left: Wong Fei Pang, Zune Kwok, producer Choi Lim Ming, Kiwi Chow, Ng Ka Leung and Jevons Au) show their support.
Terrence Lau and Cecilia Choi
courtesy of mingpao.com
One of the film TEN YEAR's directors Kiwi Chow Koon Wai attended the premiere of his new film BEYOND THE DREAM (WAN OI) last night. Aside from leads Terrance Lau Chun Him and Cecilia Choi Sze Wan's appearance as a couple, the other 4 directors of TEN YEARS Zune Kwok Chun, Wong Fei Pang, Jevons Au Man Kit and Ng Ka Leung showed their support as well.
Chow Koon Wai said that the TEN YEARS team have not gotten together for a very long time. Over the past 5 years they were working hard in different places. "I am very touched that everyone came to support me. I hope in the future we will work together again and continue to toil in the film industry." Speaking of the Hong Kong Region National Security Law, Chow Koon Wai lamented, "I don't know, like many front line brethren say, we have to cherish each and every time we see each other because it may be the last time. It seems very sad, but I would rather cherish every moment of seeing each other. I don't hope to be occupied by fear. I hope that we correctly choose to control the future." Producer Choi Lim Ming also believed that everyone would get together again and work together, continuing to demonstrate the power of film. Was he worried that the legislation would affect creativity after becoming a law? Chow Koon Wai said, "The environment is beyond our control, affecting our creativity is only our hearts. We won't forget our original intent!"
Lau Chun Him and Choi Sze Wan was no worried that their stardom would be affected due to making a film by TEN YEARS' director. Because BEYOND THE DREAM was a romance, the subjects had nothing to do with each other at all. They with the film won the Hong Kong Film Critic Society Best Actor and Best Actress. Lau Chun Him said that the offers have not increased as a result of it because many films have not resumed production. Choi Sze Wan said that Mommy saw that she has made some achievement and was much more at ease. They would not reject making money as a couple. He suggested that they could play rivals or work together on a comedy. "Actually privately she is very funny, she likes to run around, jump around and can't sit still."