Hins Cheung is performing concerts at the Hong Kong Coliseum but still gets Metro Hit Awards
All of MIRROR are present and accounted for, leading to screams
Vincy Chan wins two awards
Gigi Yim wins the first rookie award
Ophelia Chung was already not feeling ill at the event in the afternoon
Ophelia Chung faints on the stage and singers gather to help
Sukie S
courtesy of on.cc
Keung To says that he will continue to speak with his work
Chantel Yiu (right) becomes the youngest female singer to win the Hit Rookie award, which Gigi Yim also won.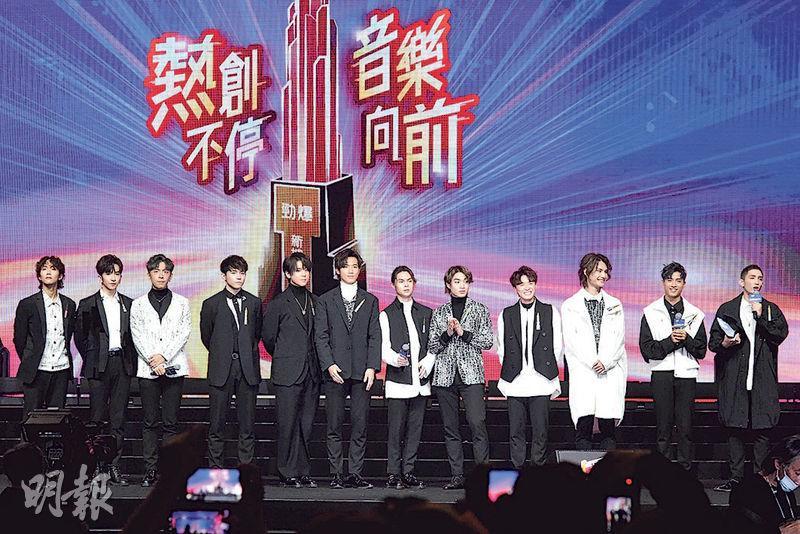 MIRROR has a full harvest this year, with 9 individual and group awards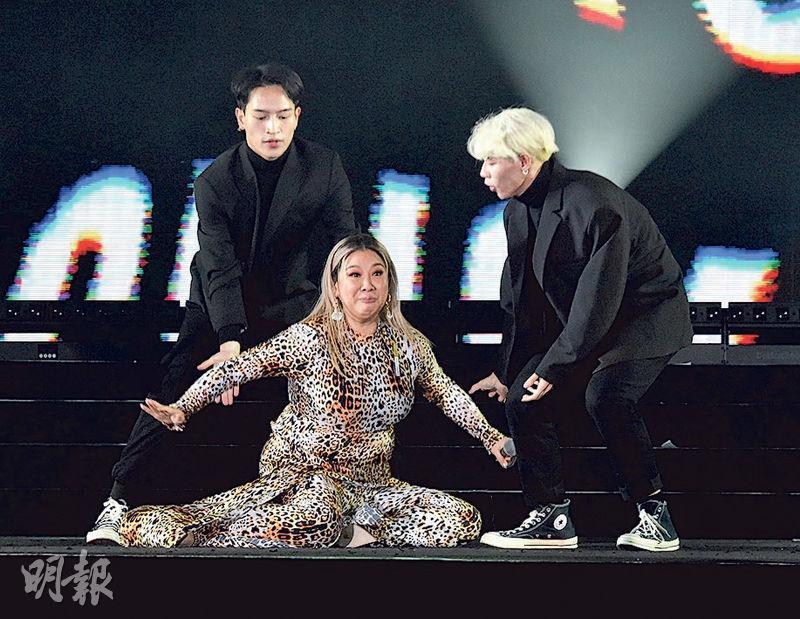 Joyce Cheng keeps smiling awkwardly as dancers help her up after the fall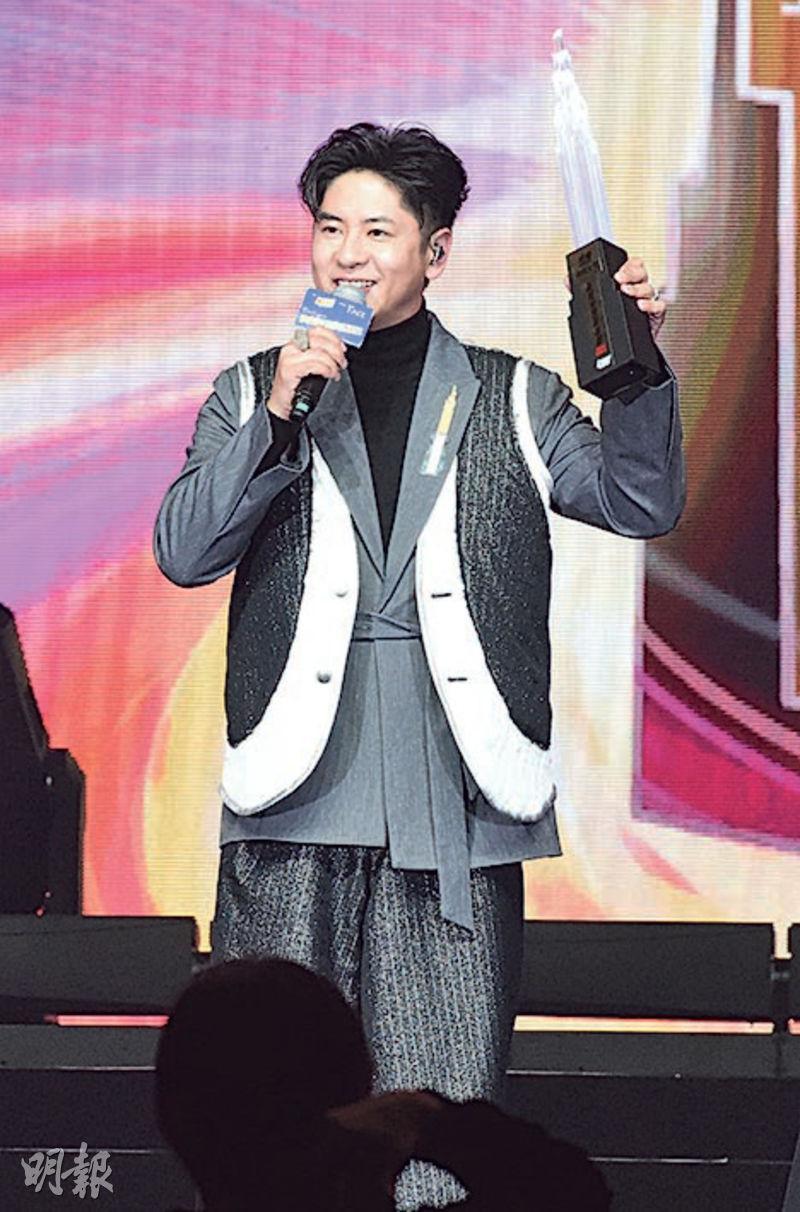 Alfred Hui is unable to repeat as Hit Male Singer but receives the Hit Performance and Hit Song Awards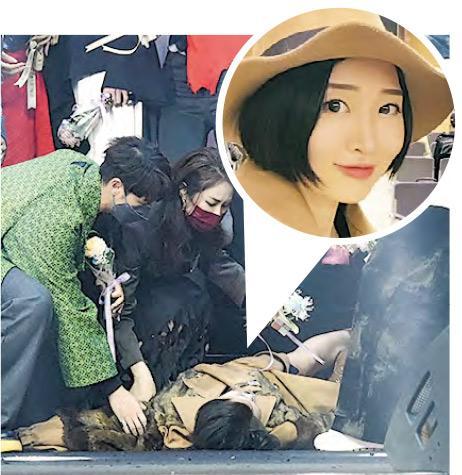 Ophelia Chung suddenly faints but is fine after a little rest
courtesy of mingpao.com
Metro Hit Radio due to the legislation amendment row and the pandemic has been unable to hold a physical award show. As the pandemic eased, last night the Metro Hit Awards 2021 finally returned at the Convention Center in Wanchai and presented the year's first report card in music as well as 62 awards. Hins Cheung King Hin won three awards to become the big winner. Joyce Cheng Yan Yee, Hana Kuk Chi Kiu and Vincy Chan (Wing Yi) shared the "Hit Female Singer" prize. Due to Metro Radio and HKRIA's three record companies Universal, Warner and Sony Music did not settle their song royalty issue until October this year, the companies did not send any singer representatives. Under the Warner label, Dear Jane's Howie accepted the Hit song writing award as an individual.
Currently performing concerts, Cheung King Hin last night was unable to attend the Metro Hit Awards. However he still was the big winner among male singers with three, including Hit Singer of the Year, Hit Airplay Index Song and Hit Album. Alfred Hui Ting Hung, Hubert Wu Hung Kwan, Jay Fung Won Him, and Terence Lam Ka Him split the rest with 2 awards each. Wu Hung Kwan and Fung Won Him aside from song awards also won Hit Male Singer. As for female singers Joyce Cheng Yan Yee, Hana Kuk Chi Kiu and Vincy Chan (Wing Yi) each won 2 awards. Cheng Yan Yee and Kuk Chi Kiu repeated as Hit Female Singers. This year the STARS Academy students Gigi Yim Ming Hei and Chantel Yiu Cheuk Fei both won Hit Rookie awards.
Last night attending singers included Cheng Yan Yee, Ruco Chan Jin Pang, Hui Ting Hung, Wu Hung Kwan, Kuk Chi Kiu, Vivian Koo (Kuk Ah Mei), Fung Won Him, Lam Ka Him, Jinny Ng Yeuk Hei, Wing Yi, Tsang Lok Tung, Stephanie Cheng Yung, Gigi Yim Ming Hei, Chantel Yiu Cheuk Fei, ANSONBEAN Chan Ngai Sun, Zaine Sze Hon Kiu, Sukie S (Shek Wing Lei), Ophelia Chung Yu Suen and Rowena Cortes (Lo Wan Na). The singers after gathering on the stage posed for a photo together. In the first row were Cheng Yan Yee, Wing Yi, Kuk Chi Kiu, Hui Ting Hung, Fung Won Him. Chaos ensued when Chung Yu Suen who originally was standing in the back suddenly fainted on the ground. Female singer Leanne Li Yin took off her pink coat and covered her. Chan Jin Pang and Deep Ng Ho Hong immediately took Chung Yu Suen off stage to rest.
After resting, Chung Yu Suen revealed that in the afternoon she was already not feel well at an event. With her heavy coat she fainted from the heat. She said that she was not injured and has not seen a doctor. She revealed that today she would continue to work on her music video. After resting for awhile she already returned to the stage to watch the show.
The award ceremony hosts were Eric Cheng Kai Tai, Si Man, Ricky Fan Chun Fung and Chris Lai Lei. Presented first was the Hit Rookie award. 15 year old Yiu Cheuk Fei even became the youngest female winner at the Metro Hit Awards. Just left TVB after her contract ended, Grace Wong Kwan Hing received the Hit Leaping Singer award. Returning to music years later, Chan Jin Pang with AGE ZERO won My Hit Song. Independent singer Shek Wing Lei's AGE 100 MEMO was one of the Hit Songs. She got emotional on the stage. "I never would have guessed that at this age I still would win this award, the most important is thanking my husband (Patrick Tang Kin Won). From the beginning to the end he believed in my voice, I love you."
"Hit Lyrics" winner Chow Yiu Fai last night did not attend, as the performer of the song SEA OF THORNS Wing Yi accepted the award. Wing Yi said, "I feel Brother Fai is a lyrics creator who put a lot of effort into Cantonese lyrics. I thank him for tailoring so many lyrics for me in the past three years, and I thank everyone on Brother Fai's behalf."
"Hit Producer" Schumann Lee (Shu Man) also did not attend, Cheng Yan Yee accepted the award. Yan Yee said that aside from thanking Metro Hit Radio on behalf of Schumann, she also wanted to thank Schumann herself. Because she picked things up slowly, she thanked him for spending the time to explain to her. Then Yan Yee saw many fans holding up signs to support her in the audience. She said, "Tonight there are so many lights I feel awesome!" When Yan Yee performed @princejoyce, near the end she fell. Yan Yee laughed it off as dancers helped her up. Yan Yee even joked, "I fell a little" as the audience applauded in encouragement.
At the award show, C AllStar, Cheng Yan Yee, Wu Hung Kwan, Wing Yi, Sze Hon Kiu, Yim Ming Hei, Lam Ka Him and others performed a new concept musical SING! OUR SONG! In it Carman Kwan, Odilia Chan, Gordon Ip and Kelvin Tang played four time travelers from 2038. They came to Hong Kong to find ten seeds who would persevere with their dreams and make good music no matter how many tragedies they face, how others abandon them, how full of obstacles their paths may be, how difficult life is. Four travelers encourage the seeds and in the end return with success to 2038. It was a story of Hong Kong new generation of music DNA continued to spread.
METRO HIT AWARDS 2021
https://metroradio.com.hk/Campaign/2021/997/HitAwards/home/result.html

HIT SONGS:
TRANQUILITY LIFE (Alfred Hui)
SEA OF THORNS (Vincy Chan)
I'M SORRY (Angela Hui)
FIRST TEAR LAST SALUTE (Joyce Cheng)
MISS SOMEBODY (Jay Fung)
FOR THOSE WHO STAY, FOR THOSE WHO HAD LEFT (C AllStar)
BOSS (MIRROR)
100 YEAR OLD MEMO (Sukie S)
A WORD BACK IN TIME (Terence Lam)
CLOSED TODAY (Hubert Wu)
HIT AIRPLAY INDEX SONG:
THE WAY WE WERE (Hins Cheung)
HIT SINGER OF THE YEAR:
Hins Cheung
HIT PERFORMANCE AWARD:
Alfred Hui
MY HIT ROOKIE:
Edan Lui
MY HIT SINGER:
Keung To
MY HIT SONGS:
X FACTORS (Deep Ng)
AGE ZERO (Ruco Chan)
FIRE AND MATCH (Jinny Ng)
HIT POPULAR IDOL:
Anson Kong, Anson Lo, Ian Chan
HIT MANDARIN POWER SONG:
STUBBORN (Vivian Koo)
HIT SONG WRITING:
DRINK MORE WATER (Howie@Dear Jane)
HIT LYRICS:
SEA OF THORNS (Chow Yiu Fai)
HIT SONG ARRANGEMENT:
MY STORY (Allan Lau)
HIT PRODUCER:
Schumann Lee (Shu Man)
HIT ALBUM:
THE BRIGHTEST DARKNESS (Hins Cheung)
HIT MUSIC PRODUCTION:
ANTHROPOCENE (Alan Kan)
HIT MALE SINGER:
Jay Fung, Jer Lau, Hubert Wu
HIT FEMALE SINGER:
Vincy Chan, Joyce Cheng, Hana Kuk
HIT BAND:
ToNick
HIT GROUP:
C AllStar, ERROR, MIRROR
HIT BREAKTHROUGH SINGER:
Zaine Sze
HIT NEW MEDIA SONG:
MISSING SOMETHING (Gladys Li)
I WOULD BE AFRAID (Hana Kuk)
DRINK MORE WATER (Stephanie Cheng)
HIT DUET:
CITY ~LONELY NIGHT~ (Delta T/Uka Yeung)
HIT ADAPTED SONG:

LOVE STORY (PART 1) (Elly)
MY STORY (Rowena Cortes)
DRAWING RAINBOW (Simon Au)
HIT CREATIVE SINGER:
Angela Hui, Terence Lam
HIT LEAPING SINGER:
Tsang Lok Tung, Feanne Wong, Grace Wong, Karen Kong, Kochun Tse
HIT ROOKIE:
Lag Chun, ANSONBEAN, Lokman Yeung, LaiYing@Pomato, Chantel Yui, Gigi Yim
HIT INDEPENDENT MUSICIAN:
MC Cheung, Ma King Hung, Ying Chi Yau