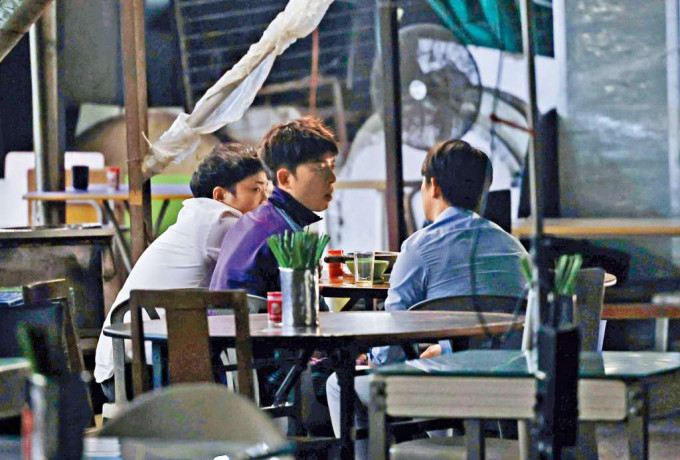 Dee, Edan, Locker work at the street stall for four hours
courtesy of singtao.com
The Sandra Ng Kwan Yu produced and starred Lunar New Year film CHILI LAUGH STORY (HAP GA LAT) already wrapped up production in July this year. The team earlier conducted additional shoots. Actors Ronald Cheng Chung Kei, Edan Lui Cheuk On, Dee Ho Kai Wa, and Locker Lam Ka Hei shot from morning to night. Kwan Yu's other half Peter Chan Ho Sun was also on hand for guidance. Louis Koo Tin Lok even guest starred!
The Lunar New Year film CHILI LAUGH STORY earlier shot four scenes. At 8 AM Cheng Chung Kei went to a Tsuen Wan shopping center's video game arcade and rented the claw machine shop next door for make up and dressing room. Around 11 AM, Edan and Locker appeared in make up, changed into school uniform for the next scene. Reportedly the additional shoots were mainly because of the addition of Edan and Angela Yuen Lai Lam's romance in hopes of giving new comers opportunities. In addition many mystery guests joined in, like Louis Koo Tin Lok and "Trial and Error's" MC $OHO and KidNey (Hui Yin).
Around 1 PM, the actors arrived at the Ting Kau parking lot. In this scene Cheng Chung Kei drove a taxi with Edan, Locker and Dee as his passengers. Matthew Chow Hoi Kwong and Chan Ho Sun could be seen giving directions on the set. After each take everyone watched the playback together. After that Edan pointed at his watch to signal the tight schedule, apparently they needed another take. During the shoot several fans waited for Edan but they did not interact. While not in a scene, the actors were very diligent. They often studied their scripts again. Aside from that, Cheng Chung Kei and Dee smoked during their break. When the crew realized the presence of reporters they reminded Dee, but he did not care and kept smoking. When he left he even waved at the reporters.
Then the team returned to Tsuen Wan to an old fashioned school uniform shop for a third scene. Only Cheng Chung Kei was in it so other actors would take a break. During the period Edan and Dee took the opportunity to watch their friend Anson Lo's new movie SHOWBIZ SPY (GA MO NUI TUEN) and even posted photos with Anson Lo's cardboard cut out on social media to support their friend!
Finally a scene was shot at a food court street stall with only Edan, Dee and Locker. In casual clothing they drank beer and chatted at the street stall. The scene got more and more emotional as they even stood up shoulder to should for a toast. This scene began around 7 PM and shot for 4 hours. Although more and more fans gathered, they remained orderly and did not hinder the shoot. After the shoot some of Dee's fans asked for photos. He immediately took the fans' phones and took selfies with them! When Edan left he also said goodbye to dozens of fans on the set.