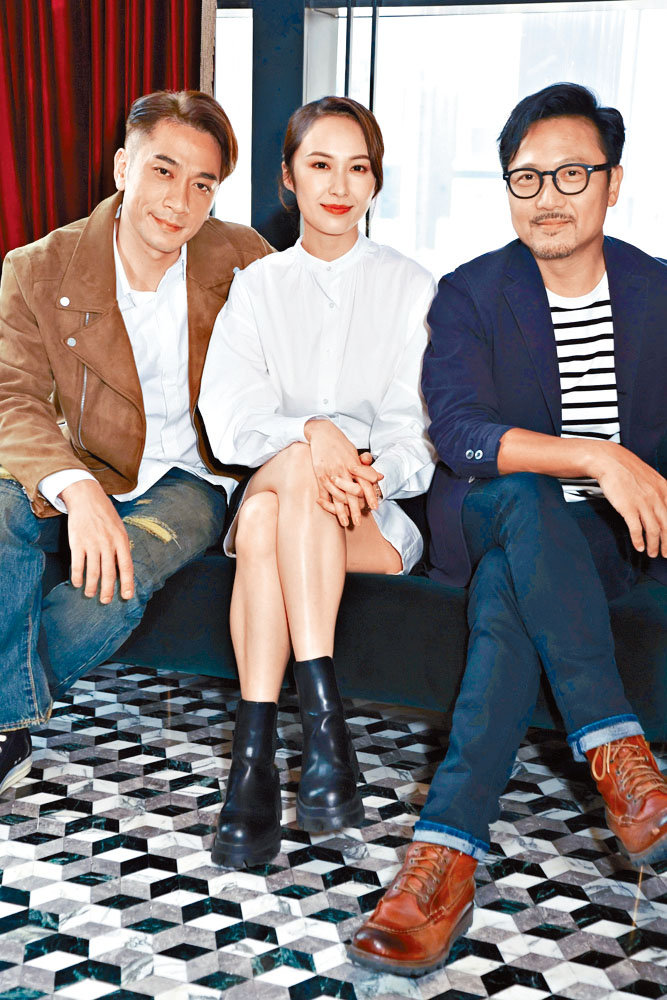 Rong Ng, Kathy Yueng, Poon Chan Leung due to LOVE IS BLIND, HATE TOO have become colleagues who trust each other
courtesy of singtao.com
For the Patrick Yip Lim Sum directed, Kathy Yuen (Tong Yee), Ron Ng Cheuk Hei, Poon Chan Leung, Jeana Ho Pui Yu starred Emperor Motion Picture LOVE IS BLIND, HATE TOO (JI MING 24 SI SIU), Tong Yee played a blind person for the first time. Before the shoot she went on location to a center for the blind for field research. Aside from being blindfolded to experience life at home, she also tried to cook. "Playing blind really is an enormous challenge. At first I would image that blindness had many types. In the end I performed with my eyes wide open." In the film she kept suffering tortures from Poon Chan Leung and was even slapped dozens of times. People felt bad for her even through the silver screen. "After the first day at work, after removing the make up I found burst micro blood vessels on my face. I had bruises on my arms and legs."
Playing the villain, Poon Chan Leung due to his on screen wife Jeana Ho Pui Yu's infidelity becomes a deranged killer. For revenge he tortured Tong Yee, slapping her, pulling her hair and even throwing her from the sofa to the ground. Even his wife Jeana suffered at his hand. Poon Chan Leung said that at first he would hold back. He worried that a good performance might injure his co-stars, but a not so good one would make the movie less entertaining and lead to several more takes. Luckily both female co-stars had confidence in him.
Ng Cheuk Hei in the film had many fight scenes with Poon Chan Leung. Although Poon Chan Leung was full of experience on the stage, he admitted that he did not have as much martial art experience as Ron and had to learn from him. Ron praised Poon Chan Leung for his strong acting presence. "I feel that being able to some very experienced actors, even when the co-star would be to absorb every line into the performance, would be very enjoyable for me as an actor! Delivering lines while acting opposite Brother Chan, I got goosebumps. I felt like I wanted to shoot even more, naturally I would think of adding action or expressions."