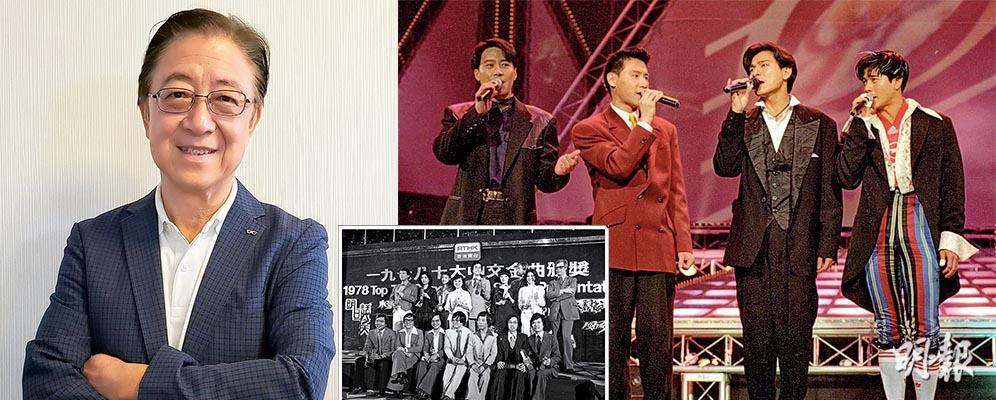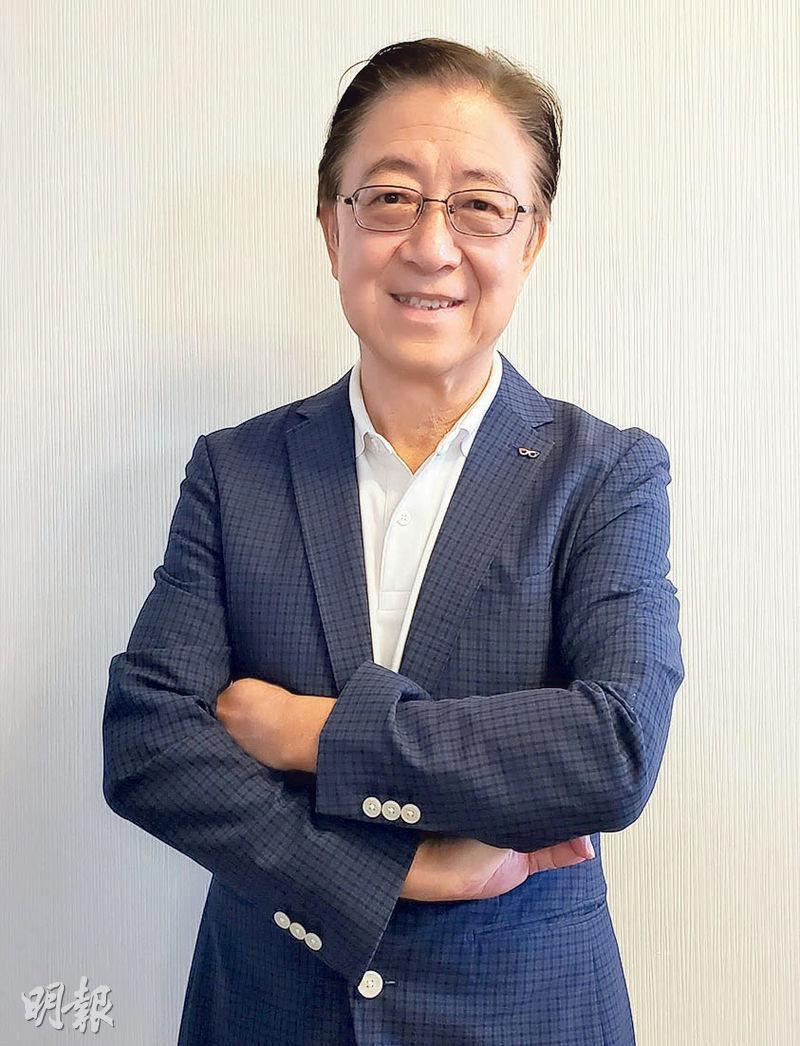 Former Radio Hong Kong assistant chief Cheung Man Sun says that the most important for a merger between Radio Hong Kong and TVB's music award would be credibility and public recognition, as long as it would promote music it would have no problem.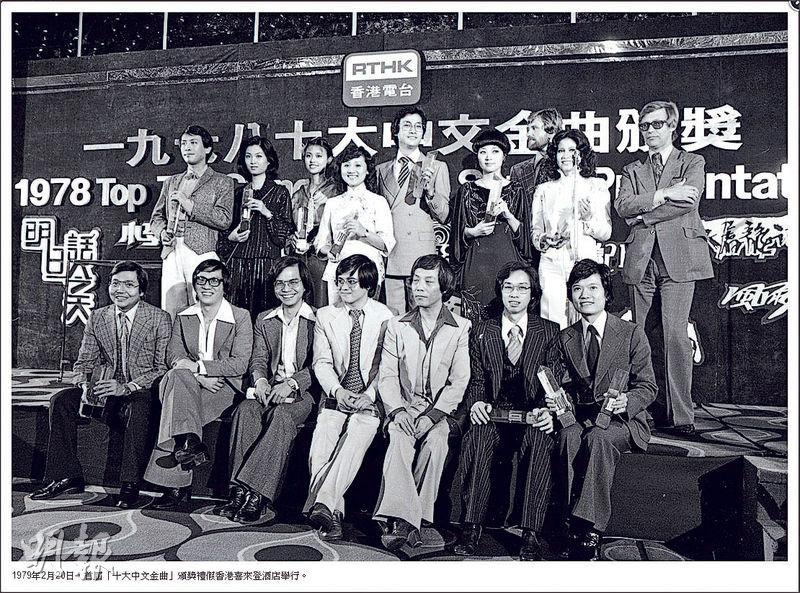 The first Top Ten Chinese Gold Song Awards took place at the Sheraton Hotel in Tsim Sha Tsui in 1979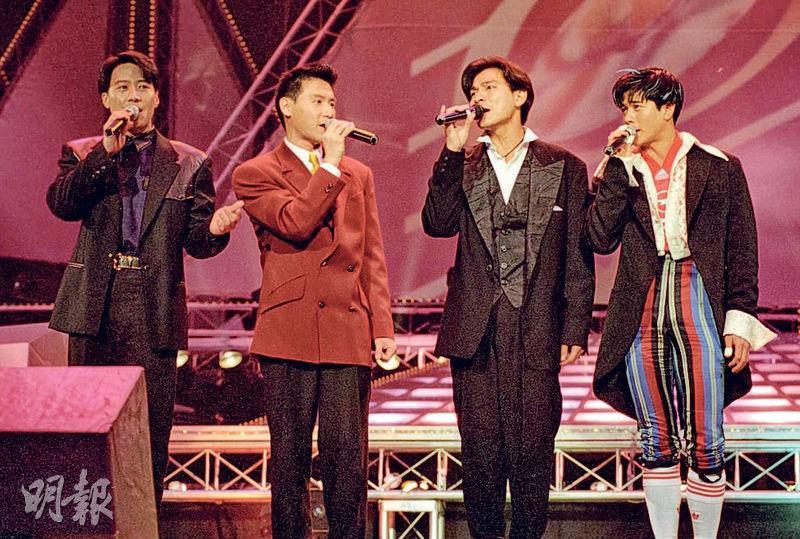 The Four Great Heavenly Kings Leon Lai, Jacky Cheung, Andy Lau and Aaron Kwok performed FRIENDS at the 16th Top Ten Chinese Gold Song Awards to thunderous applause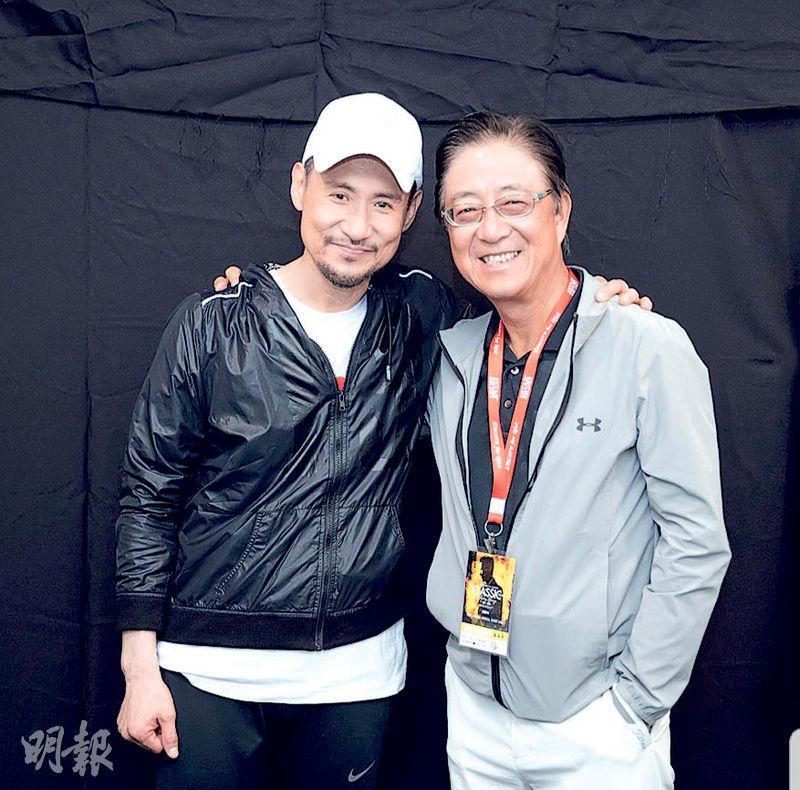 Jacky Cheung and Cheung Man Sun proposed a single music award in the past, but due to commercial reasons it did not progress further
courtesy of mingpao.com
Radio Hong Kong's Top Ten Chinese Gold Songs Awards is the oldest Hong Kong music award in history. After the 43th year, rumors surfaced that the Radio Hong Kong's Top Ten Chinese Gold Songs and TVB's Jade Solid Gold Award would merge with the news to be officially announced on January 5th. Radio Hong Kong's former Broadcasting Authority assistant chief Cheung Man Sun was the "Father of Gold Songs". He urged Gold Songs to never forget its original intent, Radio Hong Kong had to "keep its doors open" to promote music and welcome collaboration with different organizations.
Cheung Man Sun in 1975 founded Hong Kong's first Chinese song chart. The Radio Hong Kong program Chinese Song Chart was born. In 1979 the first Top Ten Chinese Gold Song Award took place at the Sheraton Hotel in Tsim Sha Tsui.
What did Brother Sun think about the two stations' award merger? He admitted that he has caught wind of the news. He was neither in support nor in opposition. Friends have asked him whether he worried that the Top Ten Chinese Gold Songs would disappear. He said, "Top Ten Chinese Gold Songs is only a name, the most important is to promote music. Everyone still has to look further ahead. I welcome change, as long as it preserves the 'Gold Song Spirit', including its credibility and recognition. It would need the support of music fans and record companies! In the 1970s, Cantonese songs rose. I founded the Chinese Song Chart. In 1979 I started what I dare say the firs global Chinese region gold song award, 11 years before Taiwan's Gold Melody awards. It was the glorious history of Radio Hong Kong. More people collaboration in this game would be good, so back then I brought in CASH, IFPI for assistance and increased the number of awards, like Best Song Writing, Best Lyrics, and the IFPI Grand Prize. Back then whoever's record sales were the strongest was the champion, the big winner."
Brother Sun revealed that early in the year Eric Tsang Chi Wai contacted him, saying that he would return to TVB and hope to improve its music programs. He would break the ice with record companies and the stalemate.
Brother Sun said, "I believe in Chi Wai's sincerity, now he has achieved results. An united music scene might not be able to reach the most glorious era of the 1980s, but at least it is a step ahead. As for Radio Hong Kong management and former colleagues in music, I believe they too want to have a breakthrough. I have a minor warning, TVB's music strategy has to be the presence of a major station. It's not just for the ratings of one night or supporting their own singers. Improving credibility is the general director of the music industry. Radio Hong Kong is a government operated broadcasting organization, its responsibility is even greater. Its election methods have to be singers and fan recognized as fair. Some felt that this collaboration was Radio Hong Kong helping TVB 'against' rival ViuTV, thus it must be handled even more carefully and avoid this storm. Radio Hong Kong should 'keep its doors open' to welcome all media, including collaborations with ViuTV, Commercial Radio, Metro or Mainland media."
He said that he did not know whether this Radio Hong Kong and TVB collaboration would be experimental or a long term project. He would not eliminate the possibility that it would work with other organizations or resume the individual Top Ten Chinese Gold Song event. New collaboration would bring spark and motivation inevitably, so there would be no need to feel regret over a name. The most important was the Gold Song Spirit. Radio Hong Kong Top Ten Gold Song's credibility came from its fairness. Back then award winning songs included TVB Joseph Koo Ka Fai's gold songs as well as RTV Michael Lai Siu Tin's award winning songs, so being gracious was very important. Radio Hong Kong's most recent airplay policy has also become controversial and accused of being less than fair. Brother Sun admitted that he has paid less attention to the song chart but heard people say that Radio Hong Kong played MIRROR songs less. He said, "If this really is the situation, I too would feel it is neither ideal nor healthy. Back then when I worked on the chart, Commercial Radio DJ Lo Yip Mei, daughter in law (Cass) Phang Ling also won a lot of awards at Radio Hong Kong. Only a music scene like this would have a full bloom!"
Years ago Brother Sun urged to have "one award show", an unification of various station's music awards. After brewing for years, it was unable to come to fruition due to each station's commercial factor considerations. Brother Sun said that Jacky Cheung Hok yau also suggested "one award show" to him, but in practice it would have a lot of difficulties. Executives of the four stations have met several times, but due to business issues they could not move forward. Brother Sun had another suggestions whether the Hong Kong music award could be half government promoted. In recent years the Hong Kong government has put a lot of effort into promoting sports activities. Actually Hong Kong creative industry included film and music, which also brought glory and financial benefit to the people of Hong Kong and would be very effective in uniting the people of Hong Kong. He hoped that the government would pay attention to the Hong Kong creative industry.