courtesy of singtao.com
courtesy of on.cc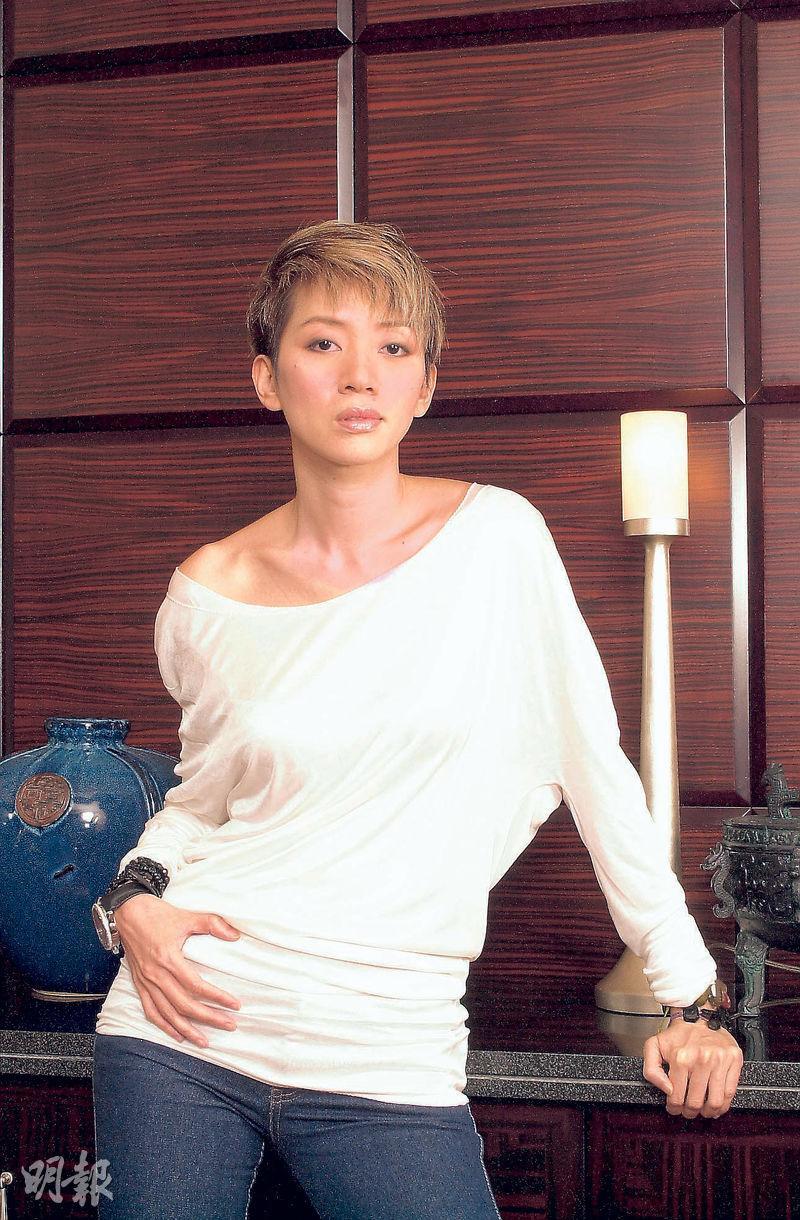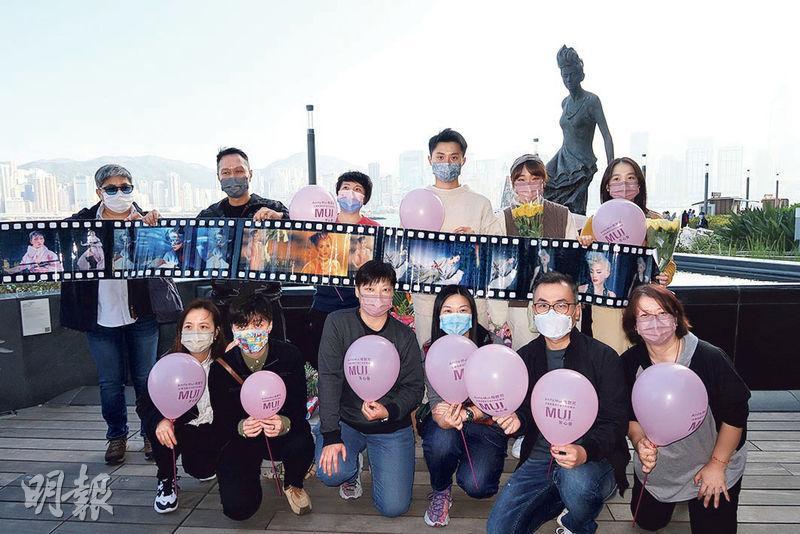 Anita Mui fans brought banners, balloons and flowers to remember their idol in front of her statue at the Avenue of Stars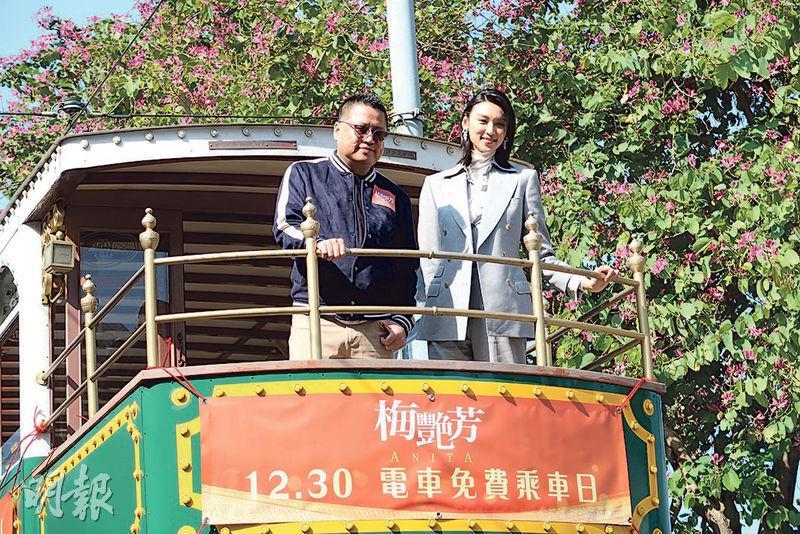 Director Longman Leung and star Louise Wong enjoyed the film company's free tram ride with fans
courtesy of mingpao.com
The Louise Wong Dan Nei and Louis Koo Tin Lok starred biographical film ANITA since its release has made over HK$ 60 million and the top grossing Chinese film of the year. Yesterday was the 18th anniversary of the late diva Anita Mui Yim Fong's passing, the film company Edko films in order to thank for viewers for their support paid for tram rides for everyone all day as a gift for the people of Hong Kong from ANITA.
Yesterday Wong Dan Nei, director Longman Leung and the film company boss Bill Kong Chi Keung also attended and rode the tram with a dozen or so fans. On the way Wong Dan Nei even sang many Sister Mui's classic songs and attracted many onlookers.
ANITA since its release has made over HK$ 60 million and set many records, including the top grossing Chinese film box office, the top Chinese film single day box office of the year and the top Chinese film opening box office and others. Director Longman Leung said, "I will continue to work hard, Hong Kong film really needs the support of Hong Kong viewers. Only with you would there be Hong Kong film."
Later he continued that he did not expect the film would perform so well. He also never thought about the story with the box office in mind, he worked hard on the story first. He pointed out that before the production he only had three goals. "The first was the hope that viewers who grew up with Mui Yim Fong after watching the film wouldn't yell at me too strongly. The second was for people of the same generation would miss Sister Mui. The third was for the Post 90s to know Mui Yim Fong from the film, so they would know that how exciting and brilliant Sister Mui's show business career was. I feel honored and fortunate that all three goals in the end were met."
As for lead actress Wong Dan Nei, how would she celebrate? She said that she would celebrate with dinner with her family. She felt that this time's tram ride was very meaningful. "It continued Sister Mui's noble heart of loving the community and everyone. I am very happy that I am able to ride the tram and sing with so many Sister Mui's fans." She also pointed out that the film was full of positive energy. She received many messages from fans, expressing that in the face of low points and difficulties in life they still were able to find confidence and original intent through the film and continue to work hard.
With an ideal box office performance with her first lead role, would Wong Dan Nei thus have more appearance opportunities? She said, "Like many foreign documentary film actors, I would move on to make other and different genre roles. I hope to become an actor with many different faces, and give people different impressions. After Christmas I would pick up modeling and advertising work again, I also have movies in negotiation but they would have to wait until next year."
Would the director work with Wong Dan Nei again? He praised her for having a lot of potential, but first and foremost her co-star would have to be as tall as Wong Dan Nei. Wong Dan Nei joked that Hong Kong has many very tall guys. Yesterday morning, Anita Mui fan club's secretary Candy went with fans to San Sin Chun Tong to pay their respect to Sister Mui. They brought their idols' favorite food and a photo of Sister Mui in a wedding gown. ANITA made Mui fans missed their idol especially. Candy admitted that this year the emotions have run greater, as she watched the movie seven times and cried all seven times. As memories flooded back, she praised that the film did not disappoint the fans.
Mui fan Winnie at firs was very resistant to the film, feeling that no one would be able to replace Sister Mui. Later when she watched it again she finally was able to get into it and praised the actors for their effort. She pointed out that many Mui fans who were already Mommy or Grandma would bring their next generations to enjoy the film, so they would understand why their parents would like and respect Sister Mui. They said that fans under Sister Mui's influence have quietly performed charity work over 18 years. The fan club this year would donate HK$ 50,000 to Doctors without Borders in hopes of continuing Sister Mui's charitable spirit.
Fan club "Mui Nation"'s vice presidents Eva and Connie yesterday afternoon presented flowers with a group of fans at Sister Mui's statue on the Avenue of Stars and sang WOMAN OF SONG for Sister Mui. At night they would watch DEAREST ANITA again at Causeway Bay and take the free tram ride. They said that ANITA was touching and said that a Post Millennial little girl fell in love with Sister Mui due to the movie. Mui Nation hoped to hold a large scale memorial event on the 20th anniversary of Sister Mui's passing. Connie revealed that they would considering having young people perform Sister Mui's work in a busking format, so Sister Mui's songs would ring throughout the 18 districts. They would try to ask artists to collaborate.
In addition, Sister Mui's friend Eddie Lau Pui Kei two nights ago shared many stage photos from Sister Mui's final concert, including the wedding gown that he personally tailored for her.