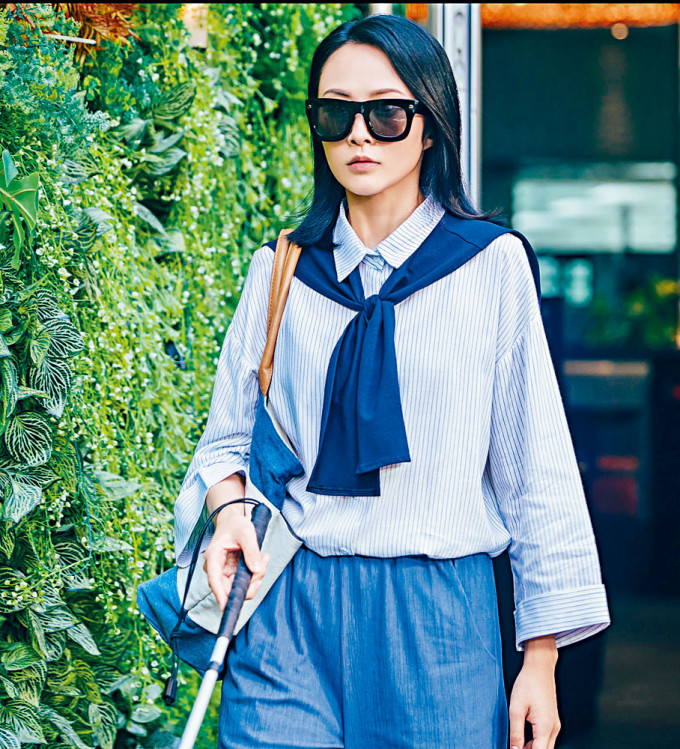 Kathy Yuen plays a blind woman for the first time
courtesy of singtao.com
Blinded in the film, Kathy Yuen has to hold on tight to Ron Ng as she walks
Great actor Poon Chan Leung gives Kathy Yuen acting advice
courtesy of on.cc
The Emperor Motion Picture LOVE IS BLIND, HATE TOO (JI MING 24 SIU SI) is Patrick Kong (Yip Lim Sum) directed, Kathy Yuen (Tong Yi), Ron Ng Cheuk Hei, Jeana Ho Pui Yu and Bob Lam Sing Bun starred. Its Hong Kong release has been slated for January 6th next year. Kathy in LOVE made a breakthrough performance. Aside from preparing for her vision impaired role in advance, she also suffered a variety of torture. In order to get into character she kept crying. Kathy was still shaken. "I still have a lot of trauma!"
Since the teaser poster was released, Tong Yi's tortured breakthrough image for LOVE immediately became a hot topic online. In the film Kathy played Ah Bo, who not only traversed between "fatal husband" Yeung Yiu Wa (Ng Cheuk Hei) and "avenging mad man" Cheng Man Dik but also played a blind woman for the first time. Kathy in order to play the role convincingly made advanced preparations before the shoot. She admitted although it was difficult, she felt rather enriched from the experience. "I went to some centers for the blind for research. There I learned how the blind handled everyday chore in life, liking using a mobile phone, cook, caring for themselves in their everyday lives." Kathy even tried to experience the actual condition of the blind with blindfolds. "Actually when people suddenly lose their eye sight, they indeed would have a type of fear. Even when you are used to cooking and cleaning fish, when you couldn't see, you really would especially scared. I felt that this performance's greatest challenge was, because I played a blind person, I didn't have any visual exchange with my co-stars. I couldn't use my eyes to sense their acting, but there was an advantage. Actually I would laugh easily, with less looks I instead had much fewer bad takes!"
Director Yip Lim Sum has always excelled in romantic films, with endless golden quotes that have been repeated spread. This time in LOVE although the female lead's name remained Ah Bo, it however was an unexpected thriller. At the moment when she received the script, Kathy felt both excited and nervous. She also had a strange thought. "The first thing I thought of was, whether my 'frightened' expression would have to have variety, be very ample to be enough?" Unfortunately, when the film officially began its production Kathy was no longer in the mood to joke. Everyday her emotions went on a roller coaster ride. "During the shoot, my emotions grew more and more tense everyday. The early parts were more relaxed, as it was very sweet to play a couple with Cheuk Hei. Then when I got to my scenes with Brother Chan (Poon Chan Leung) it became very extreme! Honestly, that home really created quite a trauma for me. Brother Chan had to torture me, hit me, drag me around, pull my hair, even threw me from the sofa to the ground. Even when the director yelled cut, I was unable to control my emotions in time. After work when I got home, my entire person was still sunk. Sometimes I even cried nonstop beyond my control, I had to sit in a corner and take deep breathes to gradually calm myself down."