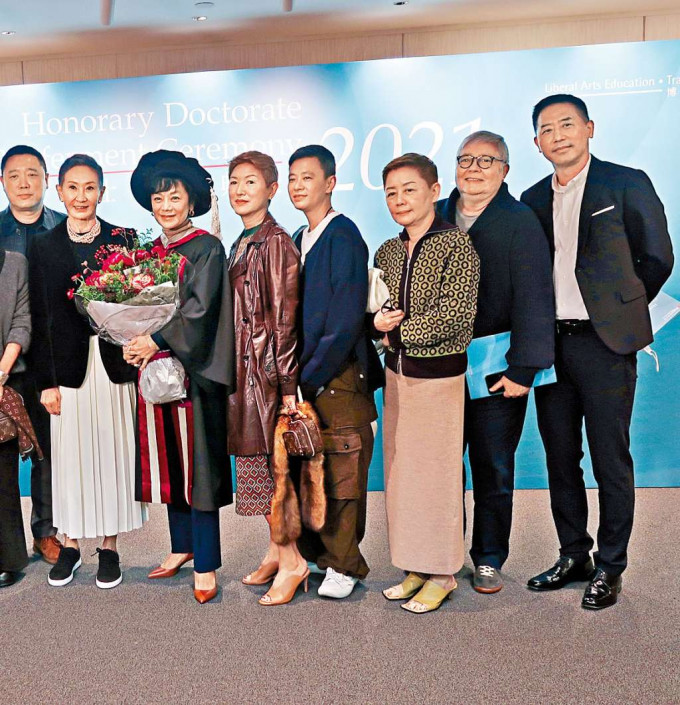 courtesy of singtao.com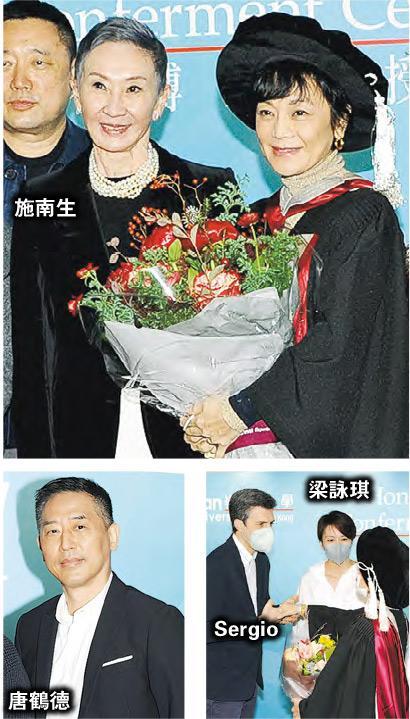 Sylvia Chang receives the Lingnan University honorary doctorate degree, friends Shi Nansun, Daffy Tong, Gigi Leung and her husband Sergio come to congratulate her.
courtesy of mingpao.com
Sylvia Chang yesterday received the Lingnan University Honorary Doctorate for her excellence and achievement in her profession and making important contributions to benefit the community. Friends Shi Nansun, Daffy Tong Hok Tak, Gigi Leung Wing Kei and her husband Sergio attended to witness the event.
Never attending any university, Sylvia Chang toiled for 50 years at her job and was rather excited about receiving the honorary doctorate. She said that she would run into many teachers in her process of focusing on work. In the speech Sylvia Chang's contributions of the past 50 years were mentioned. She said, "I am still not done yet, the previous stage was learning. Now aside from learning, I want to leave some work and be a role model for the next generation."
Sylvia Chang said that she and Gigi have known each other since their film TEMPTING HEART (SUM DUNG) and started in touch. "Now being a Chinese actor isn't easy, so I care about actors I have worked with very much. I also welcome them to ask me for advice."
As for work, Sylvia Chang said that after the Lunar New Year she would participate in a new director's film. The script was fairly well written. She joked that at her age she still had the chance to play a good character.
In addition, Sylvia Chang earlier met with her Cinema City friends Brigitte Lin (Lam Ching Ha), Shi Nansun, Karl Maka, Teddy Robin Kwan, Raymond Wong Pak Ming, Eric Tsang Chi Wai and others to remember their late friend Dean Shek Tin. She said, "Although our Cinema City group wasn't together for so long, that spirit of unity is rarely seen now. Thus our relationships are very deep, in particular with Shek Tin. If he didn't ask me to play the cop role, I might not have the chance to develop the Hong Kong market. Thus I have a special bond with him. His passing made me miss him very much."