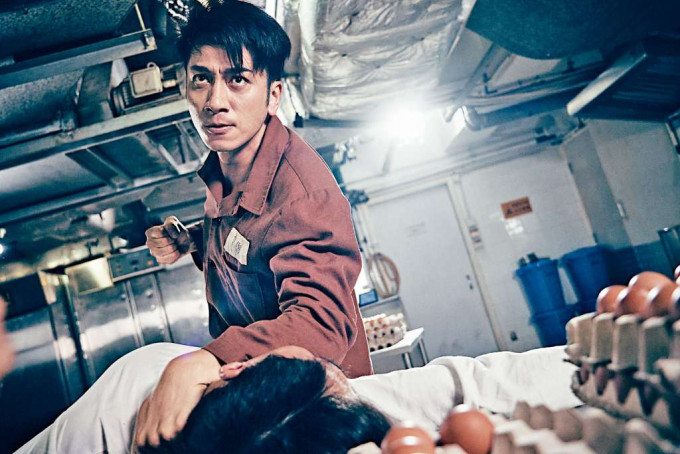 Ron Ng rarely plays a villain role
courtesy of singtao.com
Justin Cheung and Ron Ng have numerous fight scenes
courtesy of mingpao.com
The Mak Ho Pong directed, Patrick Tam Yiu Man, Louis Cheung Kai Chung, Adam Pak Tin Nam starred Hong Kong prison movie BREAKOUT BROTHERS (TOH YUK HING DAI) had decent response and good word of mouth when it was released early this year. It was even a 20th New York Asian Film Festival film selection. The investors rapidly pumped 7 figures into building a new prison and starting production on the sequel BREAKOUT BROTHERS 2. Aside from the original several Break Out Brothers and the prison warrant Kenny Wong Tak Bun, the sequel added Ron Ng Cheuk Hei to bring another storm to the prison. The film will open in mid January next year.
In the latest trailer, Ron originally was a young talent who ended up in prison. Having always been on top, he remained arrogant in prison. "This world has two types of people, people who follow the rules and people who set them. I wouldn't be the type that follows other people's rules!" Ron then took turn picking fights. Aside from opposing the prison boss "Roller" Tam Yiu Man at the cafeteria, he also went head on against another force in the prison and began numerous close combats. Ron in the kitchen was struck with a iron pot, while Ron rammed Cheung Kai Chung toward the ceiling.
This time the villain role gave Ron's acting bug its fill. "I don't know why I am offered mostly hero roles, maybe I look too heroic. Actually I like some more devious roles." As for the fight scenes, Ron stated that only in movies would he have a chance to fight one against four. It was fun and worth the effort. He also appreciated that Cheung Kin Sing reached 200 pounds for the role, so fat that he had tough time from fighting with him.
Ah Sing said that this time was a huge challenge. "My body couldn't perform a lot of the stunts, the wire due to my weight couldn't stop on the way down. I would suffer bruises on my arms and legs, luckily they were all superficial wounds."
In addition, the film company spent a million on constructing the prison for the sequel. The actor naturally got into their performance with excitement. Brother Tam and Pak Tin Nam agreed, "This time the prison and the set were elevated according to the story, with a cafeteria, a library, a kitchen the designs had more details and the space increased. Actors naturally would be even more into their character and the audience would get an even more realistic impression."