Lin Minchen reveals that she has no suitor
Stephy Tang is in no hurry to look for the other half
Lin Minchen has plenty of suitors in the film
courtesy of on.cc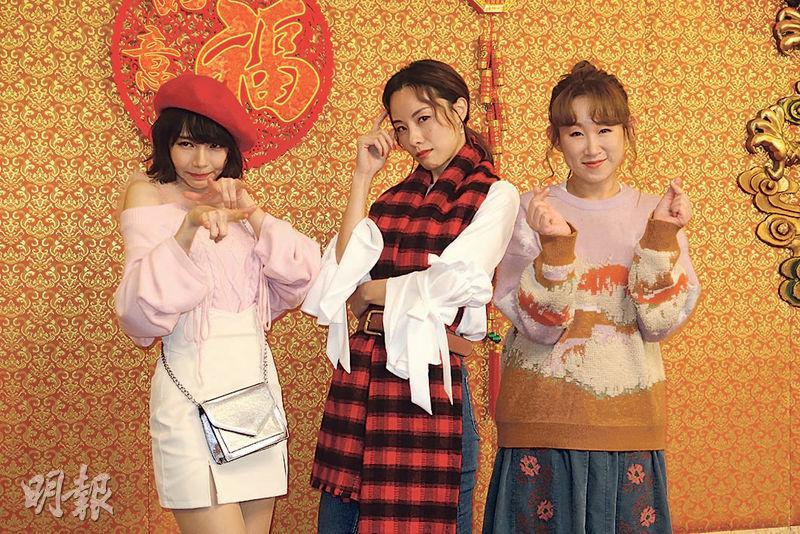 courtesy of mingpao.com
Lin Minchen in her Lunar New Year had 18 boyfriends, but in real life she was worried that she would be too busy and thus would not want so many boyfriends. She also revealed that the goddess actually had no suitor. "Everyone thinks I have a lot of suitors."
Stephy Tang Lai Yun, Lin Minchen, Ivana Wong Yuen Chi and others two nights ago shot the "Easter Egg" for their Lunar New Year film TABLE FOR SIX (FAN HEI GUNG SUM) at Diamond Hill. The "Malaysian Goddess" Lin Minchen in the film had 18 boyfriends, ANSONBEAN, Ng Siu Hin and Locker Lam Ka Hei were three among them. She felt that the trio represented sexy, cute and manly types. With numerous boyfriends in the film, she would shake her head in real life. She joked, "I wouldn't want so many, because I would be very busy. In real life no one is after me, because everyone thinks I would have a lot of suitors." How would the 3 men win over the goddess' heart? Locker said that he would take her for her favorite curry fish balls; Ng Siu Hin would bring the goddess to Tuen Mun to hunt for a home. She however saw Dayo Wong Tze Wa as her ideal type. "Brother Tze Wa is one of my boyfriends in the movie. During the shoot he very patiently taught me Cantonese. Each time he appeared a breeze would appear, he is very cool."
Tang Lai Yan and Taiwan star Prince Chiu have broken up for half a year. Lately he has been linked to Taiwan goddess Puff Kuo. She said, "I read the news, ultimately if it's true I would wish him well, if it's not I still would wish him well. (Did you ask Prince/) I wouldn't be so nosy! (Do you believe it's true?) I don't get to say whether I believe it or not, let him speak for himself. Everyone then knows the truth. (Would you find a mate in the New Year?) I haven't thought about it specifically, I only hoped for the pandemic to pass soon and I can travel and make more good movies." Wong Yuen Chi said that the "added dish" scene was so cheerful that it was like shooting a second movie. Philip Keung Ho Man said that his favorite was Lunar New Year film productions. Every year he would like to take part for good luck.