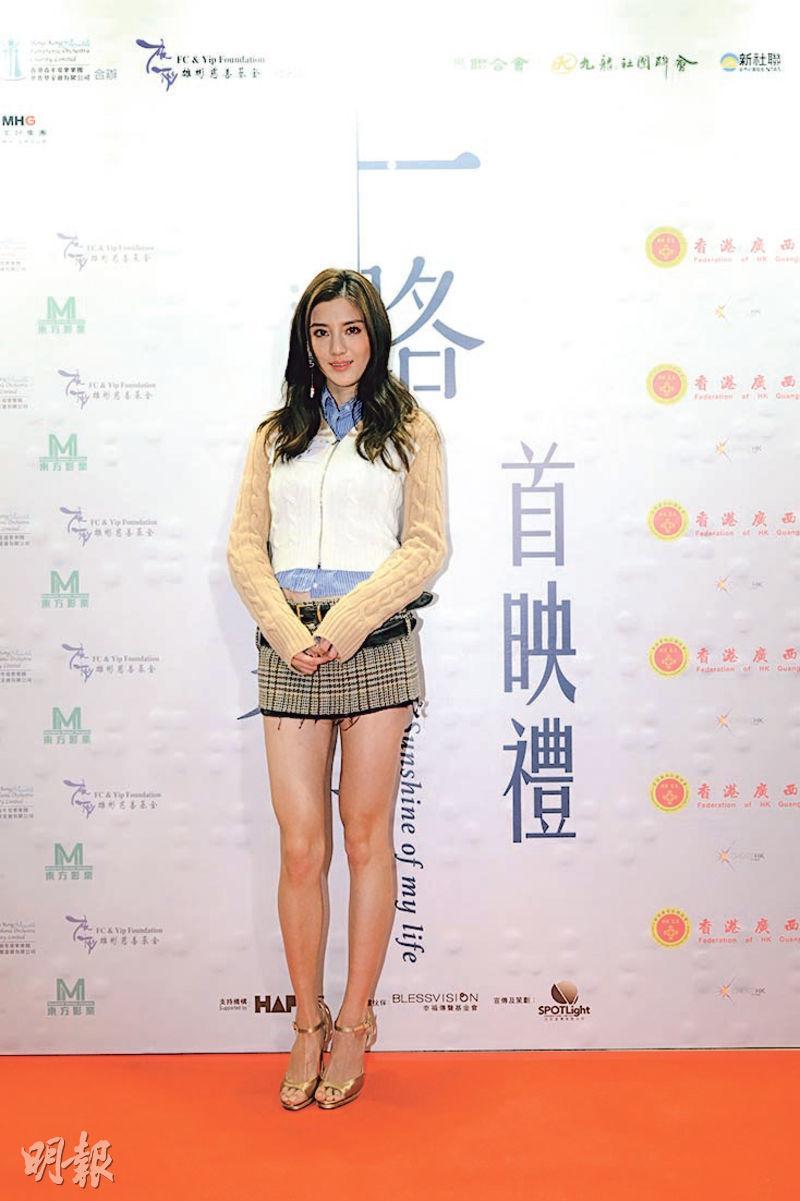 courtesy of mingpao.com
The film SUNSHINE OF MY LIFE (YUT LO TUNG HUNG) two nights ago held a charity premiere. The premiere ceremony opened with Hong Kong's first visually impaired soprano Michelle Siu Hoi Yan in a performance of SUNSHINE OF MY LIFE's film theme song FACE THE DARKNESS with the Hong Kong Youth Symphonic Orchestra; the Mandarin Motion Picture director Raymond Wong Pak Ming, the film's executive producer and producer Edmond Wong Chi Wun, director and screenwriter Judy Chu Fung Han, actors Ng Chin Yu and Yeung Tin Yue were among the guests who launched the premiere ceremony. Other guests included Catherine Chau Ka Yi, Karen Yeung Bo Yu, Emily Kwan Bo Wai, Derek Wong Kin Tung, Kendy Cheung King Yan and Aiden Hung Jor Sing.
Ng Chin Yu just returned from the Mainland to promote SUNSHINE. In the film Chin Yu played Kara Wai Ying Hung and Hugo Goh (Ng Toi Yung)'s 17 year old daughter and had to wear a school uniform for the shoot. The 28 year old Chin Yu said that since she has been away from school for many year, she worried at first that she would not resemble a student. However after the performance she realized that she still had some teenage girl feel left. Chin Yu also said that when she made the film, her leg fracture was not healed yet. In one scene she and Angus Yeung Tin Yue shared a skateboard downhill. Personally she had to perform the stunt personally and her co-star was not too reliable, she was very afraid of getting hurt again. Fortunately she was able to finish the scene smoothly.
Yesterday was the Mid Autumn Festival, Chin Yu said that she had time off. She would be able to spend the holiday with her wealthy boyfriend. She also thanked him for helping her promote the new film on social media. However Chin Yu said that this Mid Autumn she dared not to have any moon cake, because earlier when she shared a swimsuit photo she was rumored to be "pregnant". She immediately denied the rumor. "I have always had a little belly, and I am used to people saying that. However from how thin I am you know I am not pregnant!"