First Runner up Cecca Xu, Miss Hong Kong Denice Lam and Second runner up Joey Leung
Miss Hong Kong Denice Lam
First Runner Up: Cecca Xu
Second runner up: Joey Leung
3 Reina Chan did not win despite being the favorite
Miss Hong Kong 2010 Toby Chan
Carina Leung, Miss Hong Kong 2021 Sabina Mendes de Assuncao, and Kristy Shaw admitted that they were reluctant for their term to end
Girl group After Class' Gigi Yim, Chantel Yiu and Windy Tsim were guest performers. The other member Yumi Chung had to miss the event due to her domestic helper's positive test
JW's dress kept going lower as she performed
courtesy of on.cc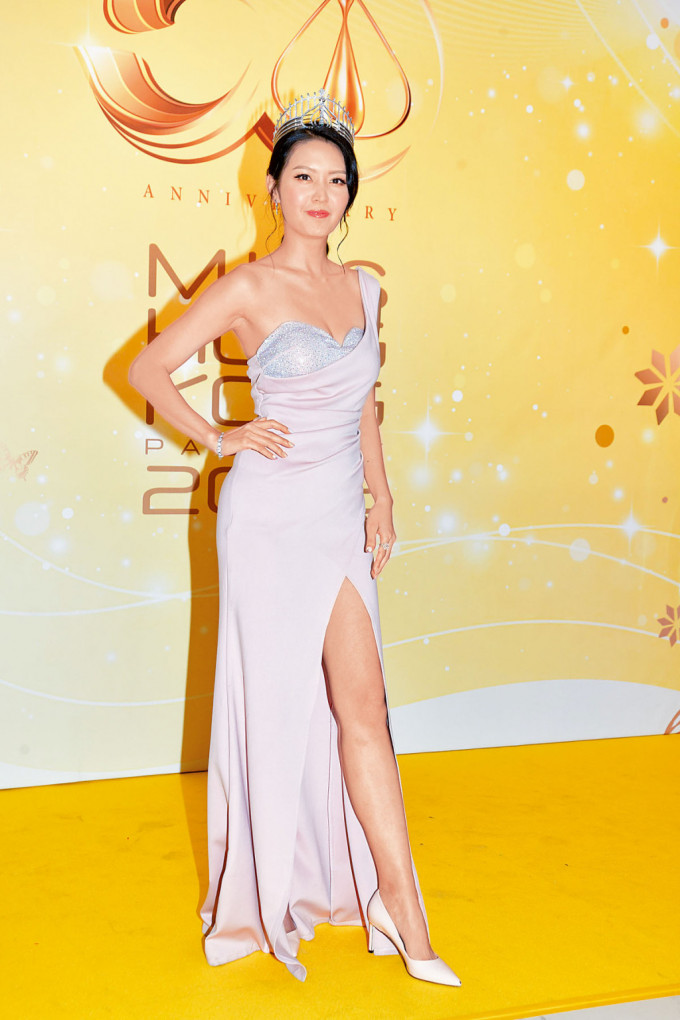 Toby Leung would consider wearing her Miss Hong Kong tiara at her future wedding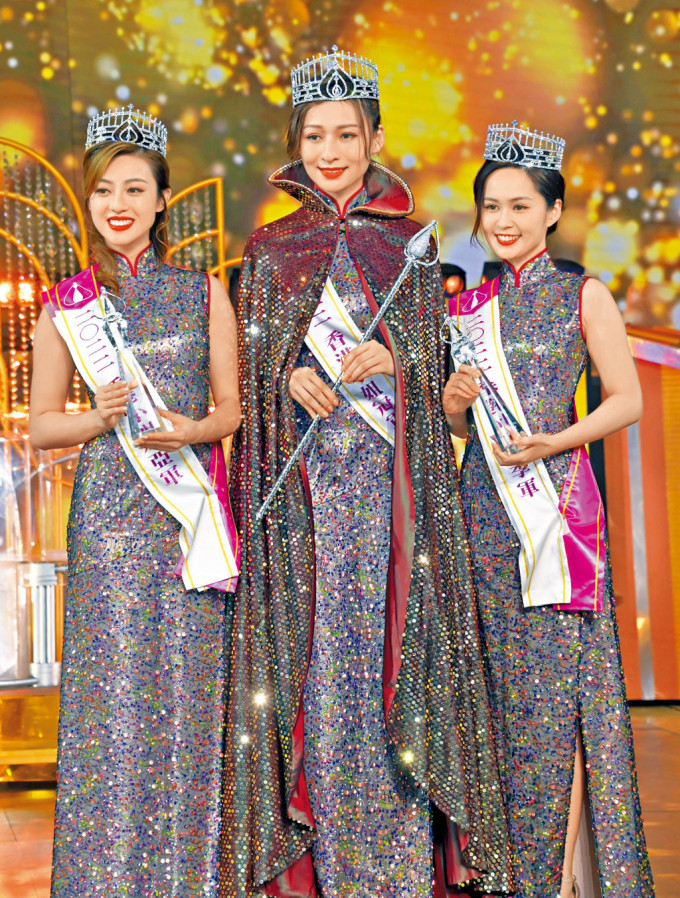 Denice Lam is the Golden Anniversary Miss Hong Kong
courtesy of singtao.com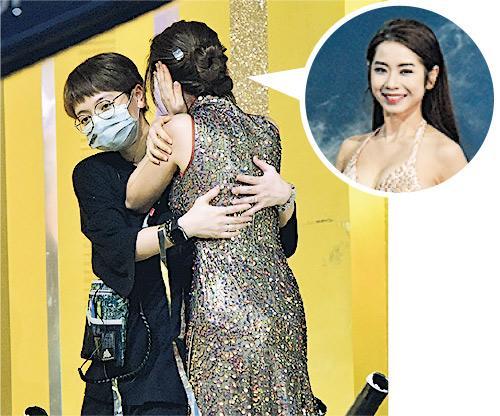 Chrissy Chen covered her eye immediately after being hit by the confetti cannon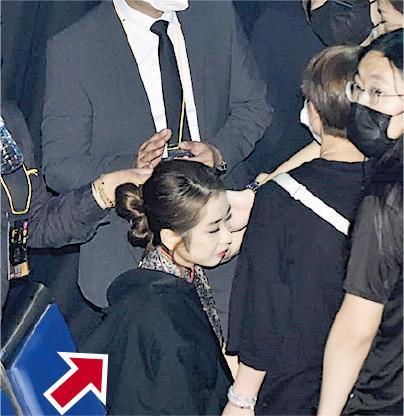 Chrissy Chen says that she was fine afterward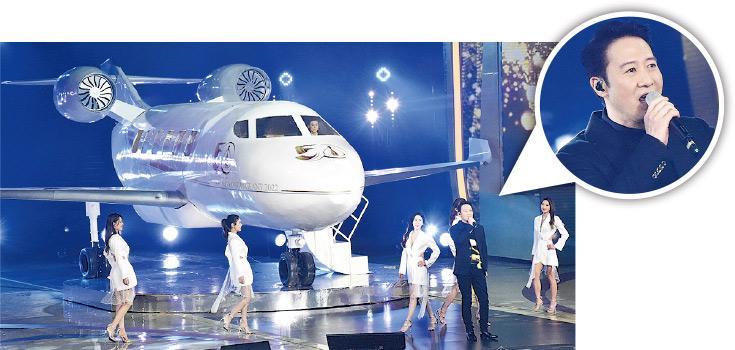 Guest performer Leon Lai performs his new song in front of a plane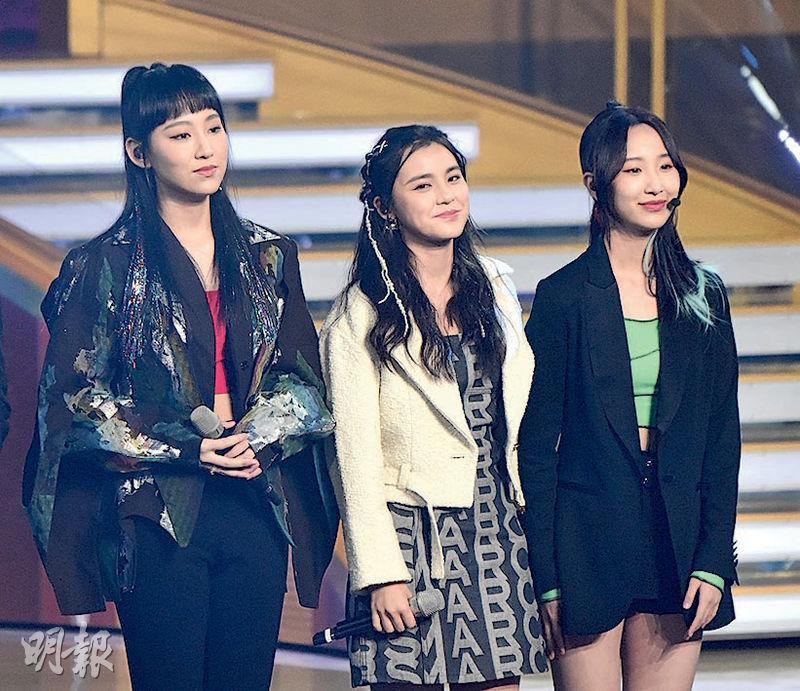 Gigi Yim, Chantel Yiu and Windy Tsim as well as other STARS ACADEMY singers step onto the Hong Kong Coliseum stage for a big show experience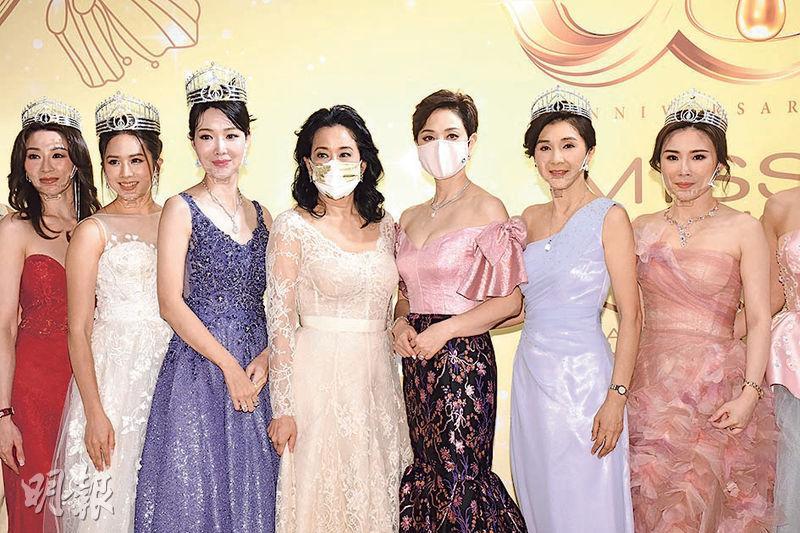 Past Miss Hong Kongs Sharon Luk, Veronica Shiu, Tracy Ip, Loletta Chu, Monica Chan, Ellen Wong, Sandy Lau gather to celebrate the pageant's 50th anniversary
Toby Leung won Miss Hong Kong ten years ago at the Hong Kong Coliseum. Returning to the venue brought back a lot of memories for her
courtesy of mingpao.com

Due to the novel coronavirus pandemic, the Miss Hong Kong Pageant 2022's September 4th semi-final competition was cancelled, resulting in 19 candidates directly moving on to the finals. Last night they gave their all in competition at the Hong Kong Coliseum. The judges chose Wilson Lam Chun Yin's daughter Denice Lam as Miss Hong Kong. Both the first and second runner up were double prize winners, as first runner up Cecca Xu also won Miss International Goodwill Award and second runner up Joey Leung won Miss Photogenic as well; earlier winning Miss Friendship Sharon Ying did not make it into the top ten. Denice Lam was past TVB actor Lam Chun Yin's daughter and could be considered as second generation star. She worked as a model and after her victory she did not forget to show off to her father.
This year was the 50th anniversary of the Miss Hong Kong pageant and the event returned to the HK Coliseum. TVB with a high standard stage design and a variety of performance segments to support the pageant's grandeur in the entire evening. At the same time this year's theme also returned to the original concept of Miss Hong Kong as a goodwill ambassador of Hong Kong. All of the program's proceeds would be donated to the Community Chest.
To commemorate the 50th anniversary of Miss Hong Kong, TVB on the program scheduling put the focus on the necessity of chasing dreams in any era and used a three tiered team of 12 hosts, two years of STARS ACADEMY new stars performed JOURNEY OF CHASING DREAMS together, and a group of Wai Yin Association elders to share their beautiful memories and successful experience, as well as blessing to the newly crowned Miss Hong Kong. Last night 19 candidates wore evening gowns that many past Miss Hong Kongs wore 20 years before, aside from passing the torch the act also gave the impression that the candidates have always been in extreme standard shape. The event also chose past Miss Hong Kong's question and answer segment subjects for this year's candidate to answer again, symbolizing that the Miss Hong Kong spirit that valued both beauty and intelligence would forever endure.
Guest performer Leon Lai Ming took a chartered flight for his appearance. When Lai Ming left the prop plane, he won endless cheer from the audience. When he performed his latest song A LIFETIME OF HAPPINESS, 19 candidates all appeared in a white, midriff baring "flight attendant" uniform as dancers. Originally the host said before hand that Lai Ming would announce the top ten, but after the performance Lai Ming turned around and left. In the end the hosts announced the results themselves. Successfully moving on were candidate 1 Astrid Xu, 2 Hebe Lam, 3 Reina Chan, 4 Cecca Xu, 5 Chrissy Chen, 8 Denice Lam, 9 Cherry Chan, 14 Joey Leung, 16 Catherine Ao, and 17 Janice Cheung. Before announcing the final ten, 4 Cecca Xu and 14 Joey Leung earlier won respectively the "International Goodwill award" and "Miss Photogenic". However after winning "Miss Friendship" earlier 13 Sharon Ying was unable to move on.
During the question and answer segment, 1 Astrid Xu was asked if a new holiday was to be added, what would be its theme? Because of her lacking Cantonese skills, she twice asked host Karl Ting Chi Long to repeat it in Cantonese and Mandarin and cracked up the crowd; when she suggested to add a heavenly food festival, Ting Chi Long also asked her to repeat the answer many times. However he did not want to return the favor whole heartedly, he joked that he thought she said nude food festival and again made the crowd laugh.
After two rounds of elimination, in the end 1 Astrid Xu, 4 Cecca Xu, 8 Denice Lam, 9 Cherry Chan and 14 Joey Leung successfully qualified for the top five. In the end 8 Denice Lam won the crown. In addition, after the show when the confetti cannons went off, it accidentally hit 5 Chrissy Chen who tested positive for the virus earlier. The crew immediately pulled her backstage.
Last night's results were normal, as outside speculation predicted. However the winners seemed to be surprised! Denice Lam at the moment the announcement was made with asked with suspicion, "Is it real?" When candidates around her and the host confirmed once again, she finally dared to take the first step to be crowned. Double prized first runner up Cecca Xu has been full of self confidence throughout. When the first runner up was announced she did not hide her pouting and forced out a smile; double prized second runner up Joey Leung started as a child star, once in the film INFERNAL AFFAIRS (MO GAN DOH) she played Tony Leung Chiu Wai's daughter. Later the fresh out of the oven Miss Hong Kong and runner ups were interviewed. Denice Lam stated that at first her father did not agree to her competing in the pageant. She said to her father through the camera, "You told me not to mess around, take a look at me, now I won!" Cecca Xu perhaps because her loss of composure on the stage (pouting) or inability to win said that she knew she had a lot of room for improvement in many areas.