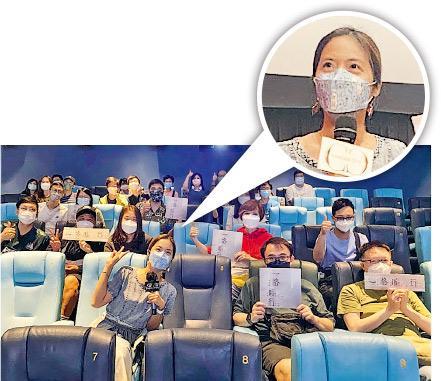 Director Judy Chu is very touched to see viewers use real money to buy tickets to see her movie
courtesy of mingpao.com
The new director Judy Chu Fung Han wrote and made the story of her family into the film SUNSHINE OF MY LIFE (YUT LO TUNG HUNG). Best Actress Kara Wai Ying Hung and veteran actor Hugo Goh (Ng Toi Yung) played blind parents, Karena Ng Chin Yu played their daughter. They made the life story that has been rarely seen in Hong Kong film, about handicapped parents and healthy children.
SUNSHINE OF MY LIFE opened in Hong Kong last Thursday. In the past weekend, director Chu Fung Han attended her first audience appreciation event since the release. Facing the ticket buying viewers for the first time after the release, Director Judy joked that she truly was a little nervous. However after each screening when she was introduced and the viewers learned that film was her story, they would immediately applaud and cheer. They made her very excited and happy. "To be able to have the chance to make the story I want to make is already a dream come true! Each time after the screening when I see the viewers using real money to buy tickets and watch my movie, I am even more touched. I hope SUNSHINE OF MY LIFE would be able to bring the audience the 'therapeutic" purpose." She shared with the audience that 80% of the story in the film were based on facts, only a few scenes were added in for dramatic effect. However she would like to make he story of her parents' perseverance the most. She also hoped that everyone after watching would hug their family, because family was the most valuable.
After each screening many viewers had questions. Everyone was very curious how much of the story was true. Many also thanked Director Judy for making this story. Someone even after watching the advanced screening bought ticket to watch again this time! Director Judy after hearing everyone's thoughts was very grateful, and hoped that everyone would be able to continue different Hong Kong films. "Recently everyone say that they want to support Hong Kong film. I of course look forward to SUNSHINE OF MY LIFE to be able to get even more shows, I also hope that everyone after watching would be able to help and recommend it to those around them. Movies really need word of mouth, for investors or bosses to have even more confidence to invest different types of Hong Kong films in the future so Hong Kong film would be in full bloom. I wish SUNSHINE OF MY LIFE would be able to get everyone's support!"