Chan Suk Fun is among one of the people who knew Leslie Cheung the best
courtesy of on.cc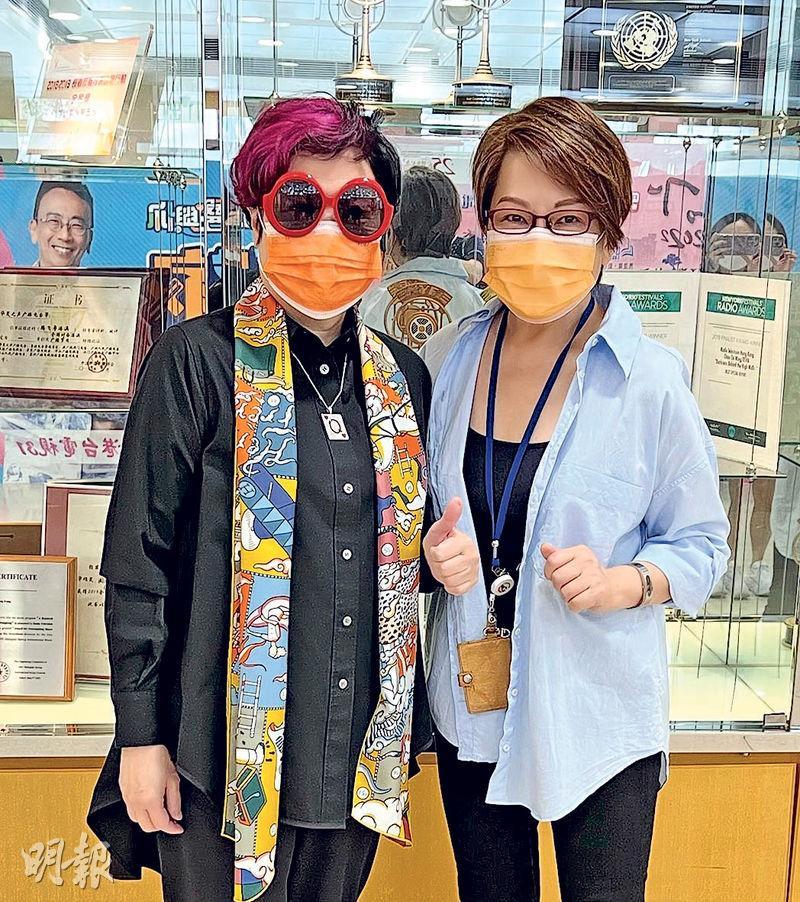 Chan Suk Fun talks about her past with Leslie Cheung with Che Suk Mui
Some claimed that Michael Lai saw Anita Mui's talent and gave her his card for a meeting, which Chan Suk Fun said was untrue
courtesy of mingpao.com
Gold label manager Chan Suk Fun recently appeared on a Radio Hong Kong interview and revealed that she would hope a public memorial event for Leslie Cheung Kwok Wing (Gor Gor) for the last time.
Chan Suk Fun said that after the film ANITA's release, many friends asked whether what happened in the film was true. For example who between Gor Gor and Ah Mui started into the business first, thus when she went and watched the film. Mrs. Chan said, "Actually Gor Gor in 1977 participated in RTV's Asia singing contest, was the first runner up and got into the business. In 1981 he was also the first singer signed when Capital Artist record was established. Mui Yim Fong participated in New Talent in 1982. This incident inspired me. I have been in the business for almost 50 years, in order to prevent rumors from spreading I would have to document the history that I have witness for future confirmations and references. I know investors are very thoughtful. Although it was just a movie, viewers watched it like a story. However it would influence many in the future to consider it as fact, and it was not. I also hope to have a movie about Gor Gor, to truthfully tell his story. (Which actor would be the most convincing?) That's very hard, it really is very hard to have someone with his aura."
Mrs. Chan earlier expressed that she was planning a concert for the 20th anniversary of Leslie Cheung Kwok Wing passing. She would also plan an exhibit, and other events like ordering commemorative origami cranes. She hoped the activities would make the fans' journey even richer, so they would bring ample memories back to their own places. Mrs. Chan even revealed that this would be the final public event she would organize. She said, "My new life goal now is to do meaningful things for interesting people."
Mrs. Chan was also once Roman Tam (Law Man)'s manager. She recently organized a memorial concert for him. Speaking of the day when Law Man passed in 2002, Mrs. Chan said that she was working in Wuhan at the time. The news made her lost control of her emotions. "In the brink of an eye it has been 20 years, after Law Man's two sisters mentioned it I decided to hold a memorial concert for him. Later I realized that actually many people also hoped that (the concert) would happen, and luckily I was able to reserve the venue."