courtesy of on.cc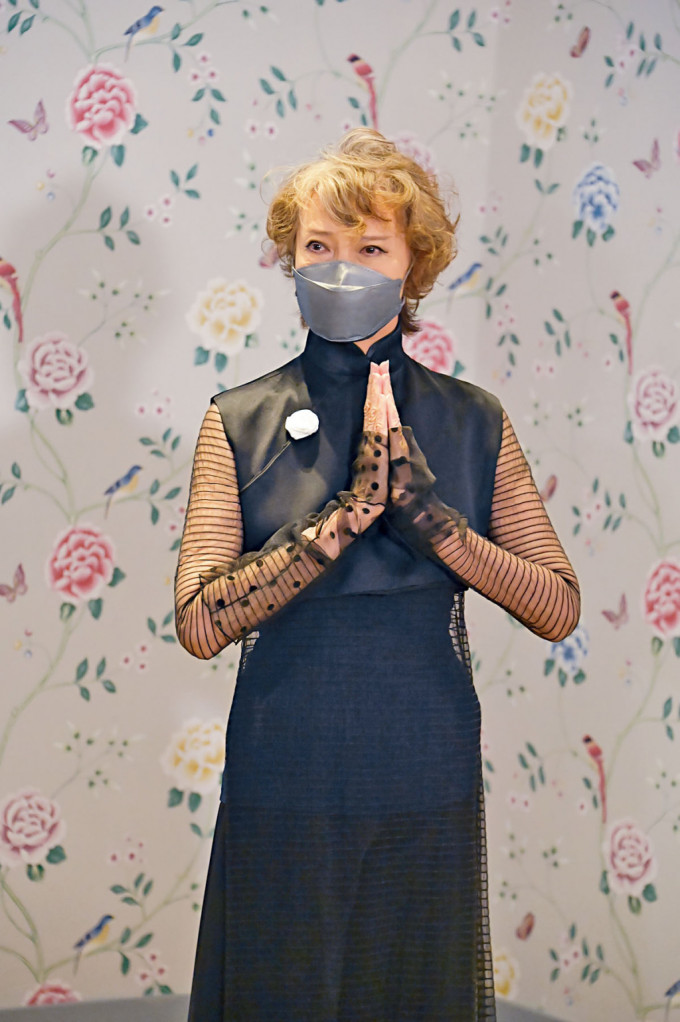 courtesy of singtao.com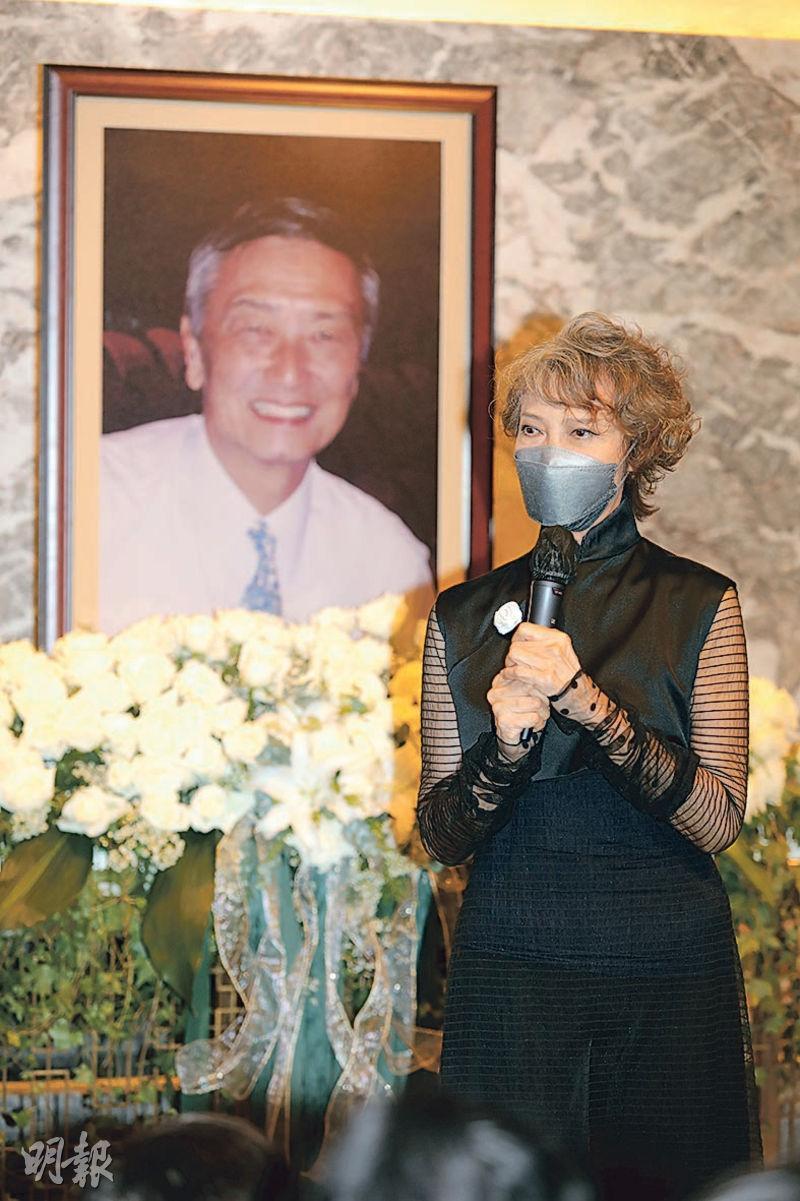 Josephine Siao holds back her pain in hopes of a warm memorial for her late husband Cheung Ching Po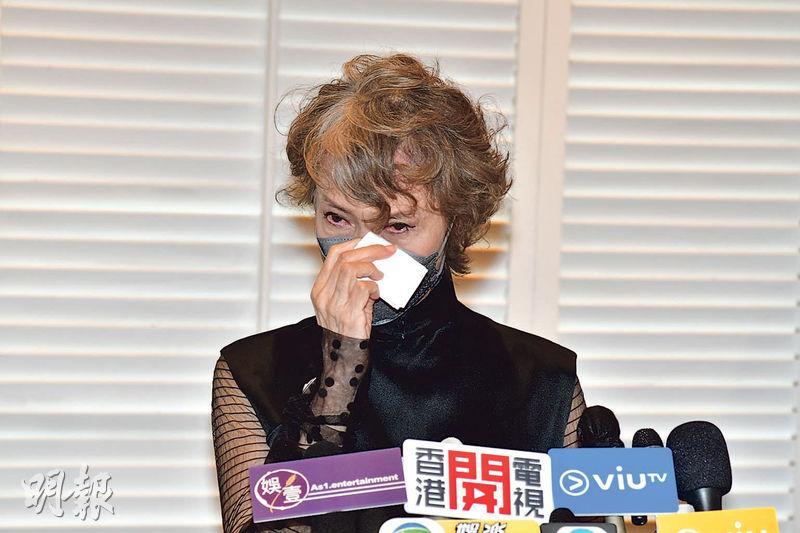 While talking about her late husband Cheung Ching Po, a heartbroken Josephine Siao wipes her tears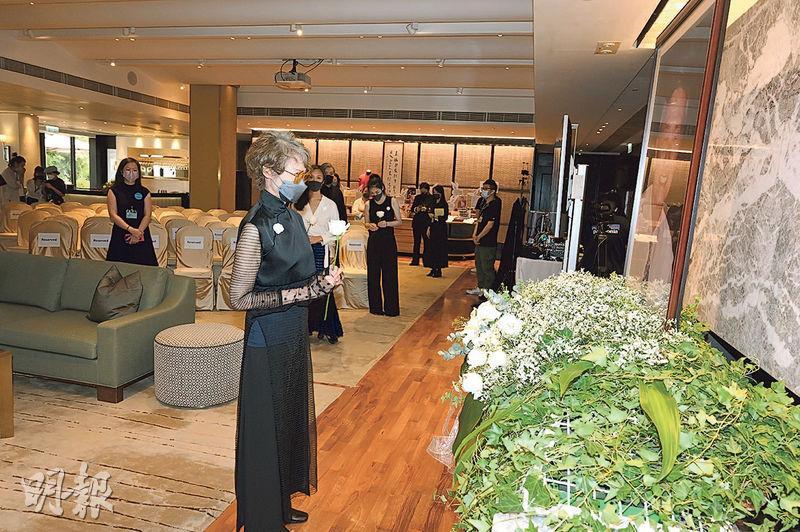 Josephine Siao stares at Cheung Ching Po's photo and presents a flower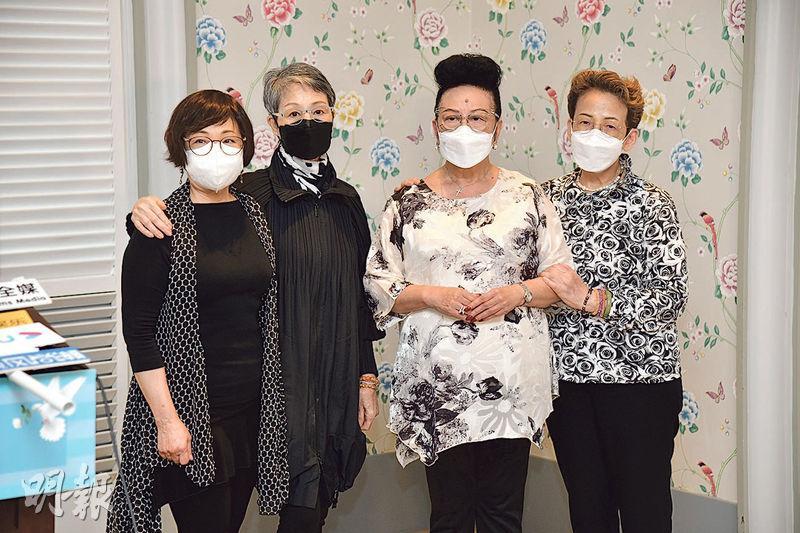 Four of the "Seven Princesses" Wong Oi Ming, Connie Chan, Nancy Sit and Fung So Bo say Cheung Ching Po was Mr. Nice Guy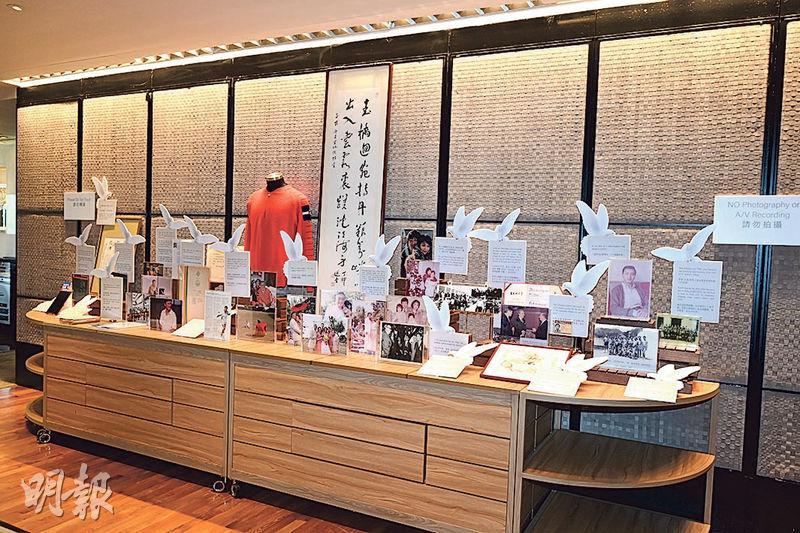 Cheung Ching Po's personal items are on display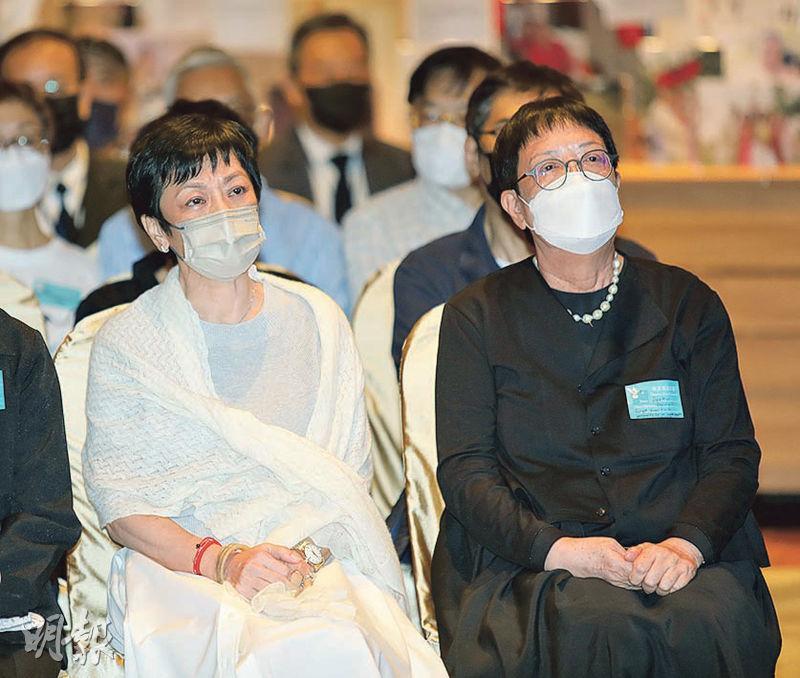 Sylvia Chang and Ann Hui remember Cheung Ching Po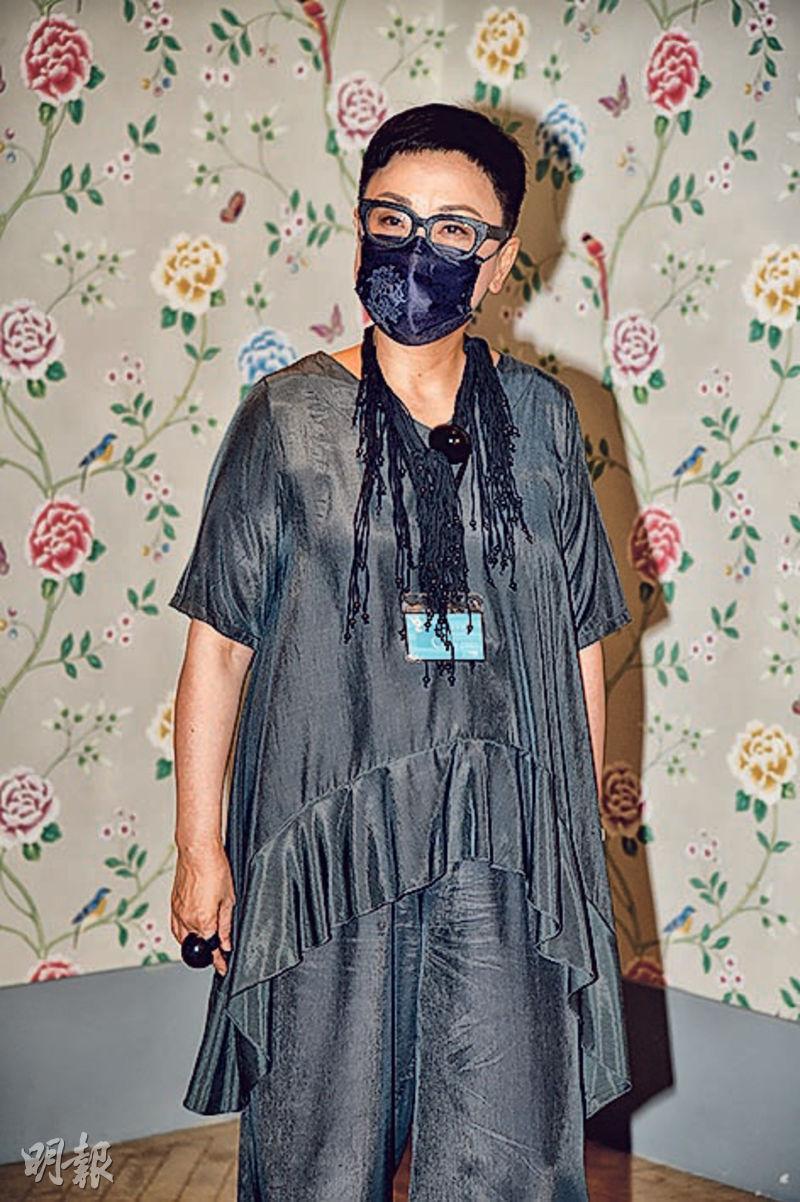 Tina Lau explains the memorial arrangements to the media on Josephine Siao's behalf
courtesy of mingpao.com
Josephine Siao Fong Fong's husband Cheung Ching Po passed away from pancreatic cancer on August 11th in his sleep at age 83. The funeral took place at the end of last month and the cremation also happened. The family yesterday held a memorial at the Deep Water Bay Hong Kong Country Club. Sister Fong Fong who lost her beloved could not help but break down in tears many times, and made a heart gesture for her faraway husband.
Yesterday attending the memorial were as close as sisters to Sister Fong Fong, "Seven Princesses" members Connie Chan Bo Chu, Nancy Sit Ka Yin, Wong Oi Ming and Fung So Bo, director Ann Hui On Wa, Sylvia Chang, Lui Chor Hung, memorial planning committee president Tina Lau Tin Lan, John Chiang Dai Wai and his wife Lee Lam Lam, Shi Nansun, and others. Before the memorial, Sister Fong Fong who was dressed in black with a white flower first met with the media. During the interview she could not help but break down many times. She first thanked everyone for coming, after which she immediately broke down. After drying her tears she then said, "Can I not talk so much about Cheung Ching Po, as soon as I do I would collapse."
When asked about Cheung Ching Po's final wishes, Sister Fong Fong pointed out that her husband did not sweat the small stuff. He only wished that they would be happy. She got choked up as she said, "Half a year ago he told me to have a very happy and meaningful life. Because he said that, today would not be a heavy memorial, but a gathering that would celebrate his life. I believe that he is looking down from Heaven, seeing so many people's love and good for him he definitely would smile. I have to pick up my emotions and get through today. If I collapse, today I wouldn't be able to do anything!" After saying that she again succumbed to tears.
Four of the "Seven Princesses" Connie Chan Bo Chu, Nancy Sit Ka Yin, Wong Oi Ming and Fung So Bo attended yesterday. Sister Fong Fong said that she just saw them, but she did not dare to face them because she would cry. When she saw Sylvia Chang and Ann Hui On Wa she would cry too. Speaking of donating Cheung Ching Po's funeral gifts to Make A Wish Foundation, Sister Fong Fong said that she was unsure about the amount. Because many donated directly online, the actual figure would be very hard to calculate. Finally, she thanked many friends for helping with the organization of this memorial.
Sit Ka Yin said that she felt very heavy emotionally. She said, "Fourth Sister (Sister Fong Fong) told us not to be too sad. I am proud of the life Fourth Brother in Law led. He was very successful, to his family he was a good husband, a good father, I know he really loves Fourth Sister. When Fourth Sister had ear problems he would patiently help us as the contact and answer the phone for Fourth Sister. Just now when I saw Fourth Sister I couldn't help but cry." Sister Ka Yin also said that she knew Fourth Sister was very heartbroken, seeing her still very attentively arrange the memorial for Fourth Brother in Law she really admired her. She wished that she would take good care of herself and wished Fourth Brother in Law "a safe journey".
Sylvia Chang talked about her past with Cheung Ching Po and Sister Fong Fong. She said that at her first wedding, they were the groomsman and the bridesmaid. She also praised Cheung Ching Po as a gentleman. "I used to invite them to have dinner at my home all the time, I would cook for them. Those were very happy days."
Director Ann Hui On Wa said that back then completely due to Cheung Ching Po Sister Fong Fong was persuaded to make her film SUMMER SNOW (NUI YUN SEI SUP) and gave her career a big turnaround. She regretfully said, "He was my great benefactor, but I didn't have a chance to thank him."
The memorial took place at 6:30 PM as a private gathering, did not have any religious ceremony. First host Lee Ho Lam led the guests in a moment of silence, then invited five family and friends of Cheung Ching Po from different areas to share past stories and memories of Cheung Ching Po. Cheung Ching Po's daughters personally shot and edited a 5 minute long short film DEAR PAPA, which also played at the event. Then Sister Fong spoke.
The Hong Kong Film Award winning art director Lui Chor designed the venue decoration, which featured fresh flowers and white doves in hopes of creating a warm farewell ceremony. Several dozen items of Cheung Ching Po that Sister Fong Fong and their two daughters selected were on display, including books, tennis racket and clothing. The display of personal effects made the gathering an obvious celebration of Cheung Ching Po's life.