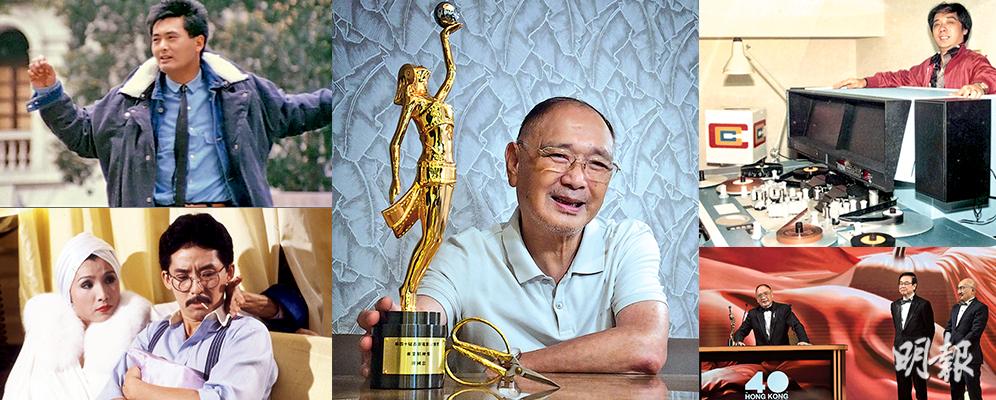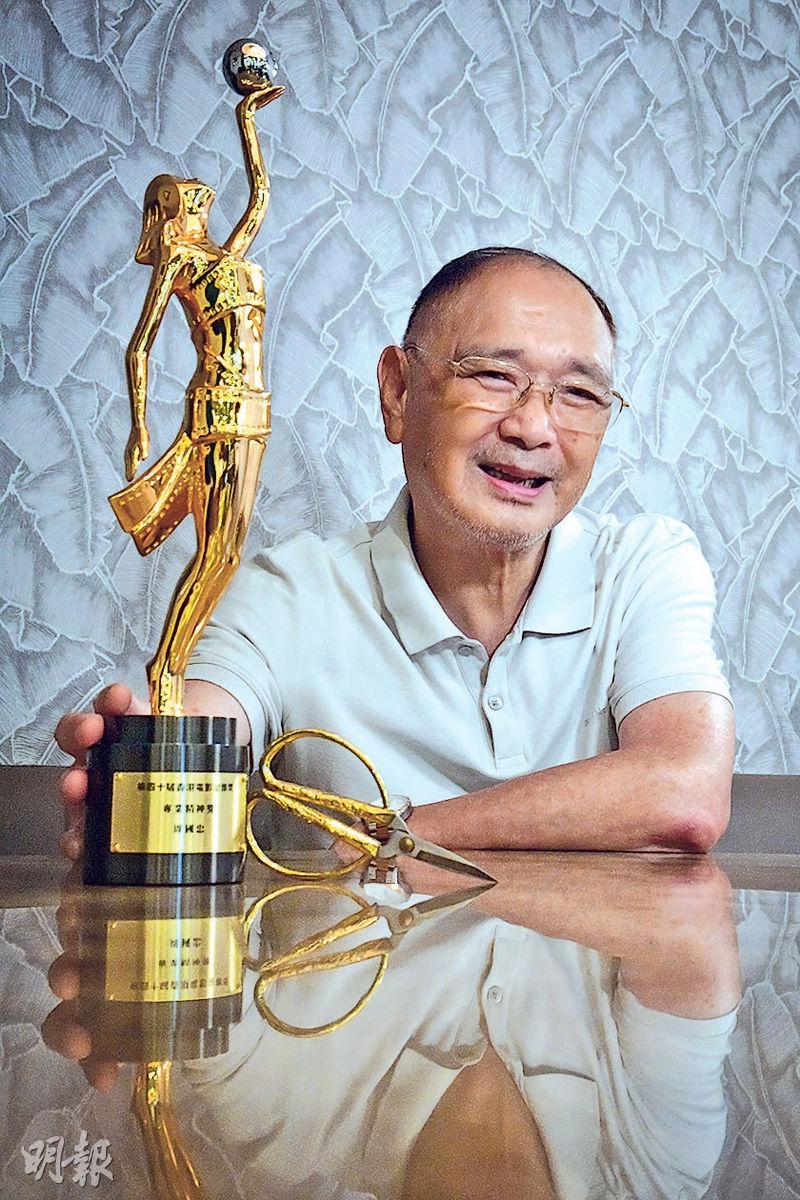 Chow Kwok Chung has won Hong Kong Film Award, Golden Horse Award and Asia Pacific Film Festival Award for Best Editing and is known as the "Golden Scissors". Actually he has never had an official master, he only relied on keeping asking elders as he learned on the job.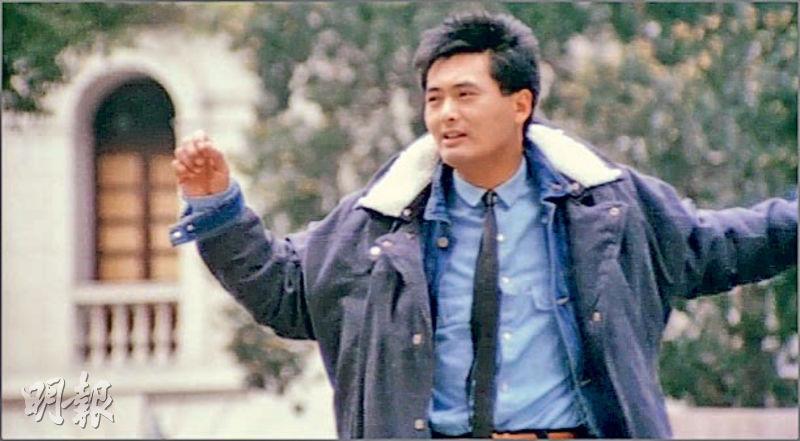 Chow Kwok Chung edited the Chow Yun Fat starred CITY ON FIRE, but the company sent the wrong person's name. When Chow Kwok Chung went to accept the award in Taiwan it was very awkward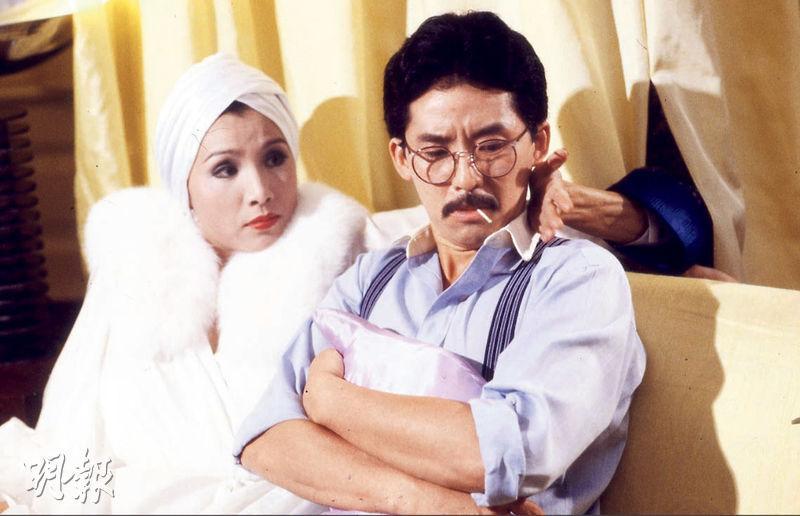 The 1981 film ALL THE WRONG CLUES won the 18th Golden Horse Award Best Editing, Chow Kwok Chung's first award winning film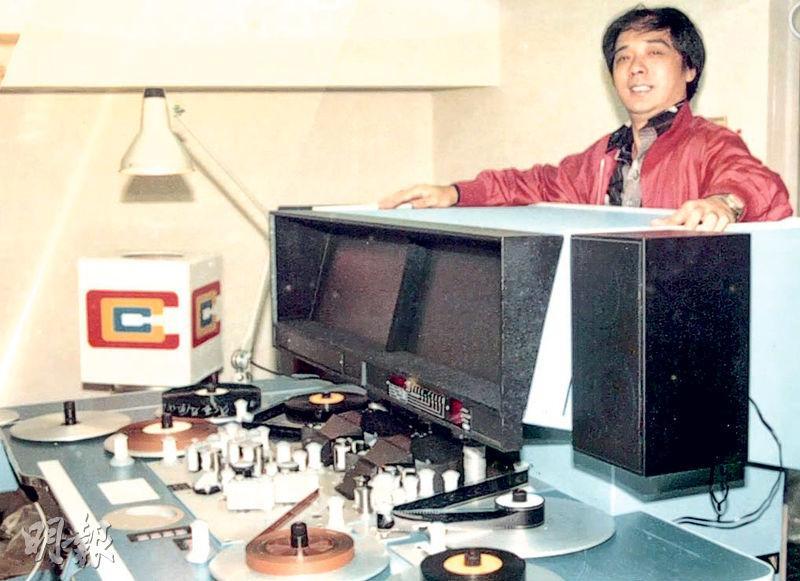 Chow Kwok Chung began his editing career at age 29 and went on for 40 years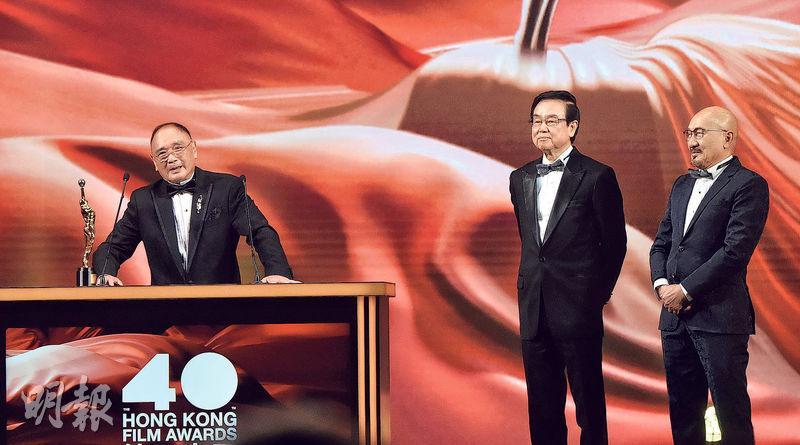 Chow Kwok Chung earlier received the Hong Kong Film Award Professional Spirit Award. The event arranged for his past war buddies Raymond Wong and Karl Maka as guest presenters
courtesy of mingpao.com
Chow Kwok Chung in the film industry has been called the "Golden Scissors" and worked as many film directors' official editor, completely because he was magnanimous enough to never "argue" with directors. When several tens of thousands of feet of film arrived in front of him, he would always take it as it came. After his 40 years of editing career, he also spent 11 years in retirement. Looking back, he had both joy and regret.
Originally a film printing company heir, Chow Kwok Chung due to the 67 riot got his opportunity to become a film editor. He never expected that he would not stop until he retired. In 1970 he edited the black and white film SUPER-COPS VS. THE LEOPARD for the first time, three or four years later he finally officially began his editor job.
Chow Kwok Chung tried to learn to become a cinematographer, but he could not stand the pain of working outdoors under the sun or in the rain. So he decided to switch to film editing; in 1980 he joined the Cinema City editing team. At his peak he at least had 5 movies waiting for him to edit at the same time. He said, "At the time I even had to rush for the release date, I edited as the director shot. It was very tough, for editing I didn't go home for ten days and nights. The company didn't have a bed, when I really couldn't stand it anymore I could only sit on Maka's office chair to rest."
Chow Kwok Chung has blades all over and every one of them is sharp, he had his hands on recording studio, subtitle, color film printing. He has also been a film executive producer, producer, planner, distributor post production and other positions. He said that his family complained a little, but at the time he did not get to choose. He had to make a living for his wife and children. He said, "Unless I left this circle, but I still had to eat . All 6 children are all grown, most already have their own families; before I wanted to care but I didn't have the time to, now even I wanted to I don't get to. However none of the children are interested in the film industry."
Countless directors have worked with Chow Kwok Chung, both war buddies and old friends. He said, "Almost all of (Raymond) Wong Pak Ming, Lau Kar Leung, Lau Kar wing's movies wanted me to edit, (Ringo) Lam Lan Tung, (Clifton) Ko Chi Sum, (Karl) Maka even had to have me edit." Speaking of highly demanding, he admitted, "Tsui Hark and Lam Lan Tung are so demanding that they would make your head spin, but Tsui Hark knows film editing. Sometimes after watching the film I edited, he wouldn't be too pleased. So he would make a few cuts himself. He's pretty interesting." He said that Tsui Hark was also the most "heavy handed" director, on par with John Woo (Ng Yu Sum). "He has any and all shots, without any differentiation. You have to have great memory. Sometimes I was covered with film all over from editing." Chow Kwok Chung watched his junior colleague Ko Chi Sum on his journey to directing. When Ko sees him now he still respectively calls him his benefactor. He said, "However I don't dare to respond, only because early in Cinema City he was a screenwriter. He wrote a script called HAPPY GHOST (HOI SUM GWAI). Wong Pak Ming then made him to direct it and he then became a director; Wong Pak Ming also asked me to edit the film for him. He only advised him on what shots he didn't have enough of."
One would think that no movie could stump this pair of "golden scissors", but an Anita Mui Yim Fong starred musical film stumped Chow Kwok Chung. He said, "A musical was more memorable, because I have never edited it it really was a test. It was the Mui Yim Fong and Russell Wong starred THE MUSICAL SINGER (GOR MO SING PING). The dance scene alone took 3 days to edit, and everyone the song from this scene had to be played. It forced other editors to listen to it everyday." Movies that ended up in Chow Kwok Chung's hands were all superstar starred. He said that aside from being busy with editing, he did not forget to enjoy the actors' acting in the film. He said, "Nothing more need to be said about Fat Gor (Chow Yun Fat), (Leslie) Cheung Kwok Wing, (Dean) Shek Tin and (George) Lam Chi Cheung's acting is pretty good too."
Speaking of Chow Gor, the Chow Kwok Chung edited 1987 hit film CITY ON FIRE (LUNG FU FUNG WON) had to be mentioned. He described the film as absolutely the movie he was the most satisfied with in his career, but something that would be unforgettable for him happened as well. He said, "The movie is very entertaining, the actors also performed very well. The most memorable was that I edited this film, but my name wasn't on the credit because editing sent the wrong person's name (Wong Ming Lam). Since the posters were printed already, I couldn't change it so I let it go! In the end the film won the Asia Pacific Film Festival Best Editing Award. The company knew the reason behind it so it asked me to go to Taiwan to accept the award. It was very awkward, everyone said that I won the Asia Pacific Film Festival Best Editing, but it wasn't my name. Actually Lam Lan Tung wouldn't let someone else edit his film, I had to be the one who edited it."
Full of Hong Kong Film Awards, Golden Horse Awards and Asia Pacific Film Festival Awards at home, this year he even added a Hong Kong Film Award Professional Spirit Award. As for colleagues dubbing him the "Golden Scissor", Chow Kwok Chung humbly said, "Everyone is just being gracious. Actually I only edit films with scissors, I use a cutter." Editors in the past has always been passed on through the "master disciple" system, but he has never officially had any master. He only relied on keeping asking elders and learned as he worked, until he became an editor who could hold his own. He also did not mind helping the younger generations. He sad, "I have never had any disciple either, if you are interested you can ask me to teach you. Don't ever call me Master though, I don't have a knack for that." After 40 years as an editor, did he have any editing secret that he would share with the younger generations? He thought for awhile and said, "Editing is written in stone, you have to learn on the job no matter how long you have worked. No one could hold your hands and teach you, you have to experience it yourself. When the directors shoots a pile of material for you, you have to rely on your imagination to edit it. It also relies on talent and hard work."