Catherine Chau and Dior Cheng at an audience appreciation event
courtesy of on.cc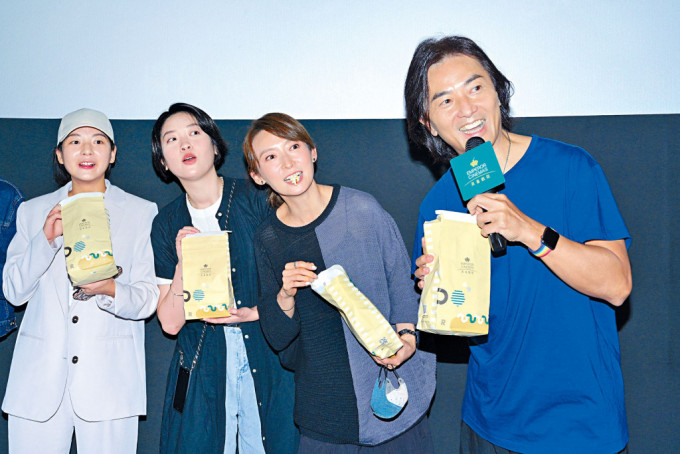 courtesy of singtao.com
Catherine Chau, Ekin Cheng and others have popcorn during the question and answer segment of their audience appreciation visit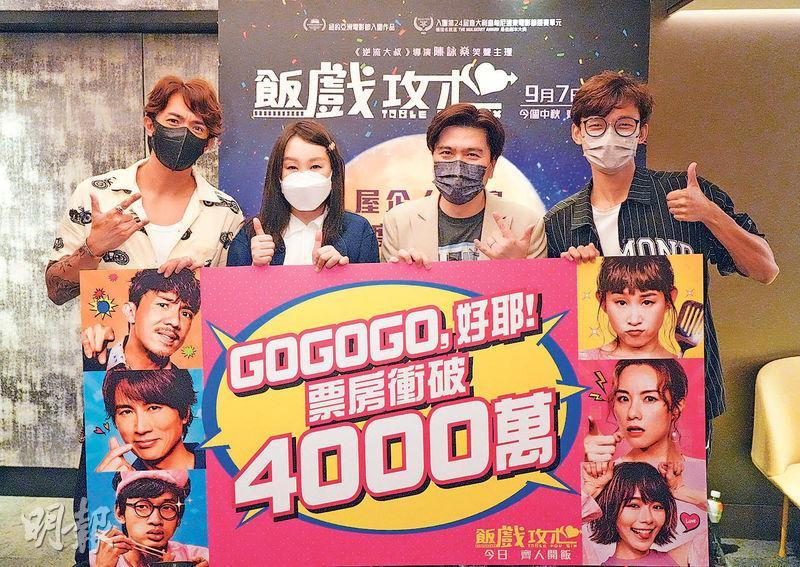 Louis Cheung, Ivana Wong, director Sunny Chan and Peter Chan attend an audience appreciation event and hint that Dayo Wong may make a surprise appearance later
Dior Cheng Yi Kin (nicknamed E Mein) personally ran all over Hong Kong to promote LIFE MUST GO ON (SUM SIU SIP BEI KAU). He was super excited to lead the team of ten, asked viewers to support new actors and new directors. This time E Mein made the switch to comedy, the audience was also very receptive and encouraged him to make more comedy.
The new director Ying Chi Wan written and directed, Cheng Yi Kin and Catherine Chau Ka Yi starred, claimed to be the most slacker sport comedy in Hong Kong history LIFE MUST GO ON (SUM SIU SIM BEI KAU) will officially open on October 6th. Two days ago the film held its advanced screenings. Ekin led Ka Yi, the directors and co-stars Gladys Li Ching Kwan, Isabel Chan Hoi Ning, Chung Suet Ying, Cloud Wan Ho Ying, Feanna Wong Suk Man and others visited many cinemas and personally thanked the audience. The team of 11 thoroughly demonstrated their united spirit of sportsmanship.
E Mein, Ka Yi even surprised fans with autographed posters before making their entrance. When E Mein appeared, fans screamed the name of his hot blooded coach in the film, "Lau Sir". Worried about the film's word of mouth E Mein immediately asked viewers, "We are the most nervous about hearing everyone's response, first do you like this movie?" Fan immediately cheered passionately, "Lau Sir is very handsome! Make more comedy!" On the first day a fan who has already seen it twice responded with the dialogue in the film, "Wherever you fall is where you have to fall again!" E Mein replied to this passionate response, "This is what life is like!" He hoped that everyone would hold on to the spirit of the film, whenever they ran into difficulties or hopelessness in life, they would put an effort into taking their own journey!
During the audience appreciation event everyone was asked about the meaning of LIFE for them. E Mein admitted that in comparison to himself, he hoped even more for everyone to pay attention to some new forces in film. Lead actress Ka Yin like "Aunt Yeung" in the film was full of love, as she had nothing but praise for the new actors. "Actually the pink youth team's eight girls are very hard working and very obedient, don't let their mischievous side in the film scare you! As for whether anyone was performing as themselves that would be up to everyone to find out for themselves, ha! Ha!" Ka Yi then said that he would continue to take time to attend audience appreciation events everywhere.
In addition, the Dayo Wong Tze Wa starred TABLE FOR SIX (FAN HEI GUNG SUM) after over two weeks in release already passed HK$ 40 million at the box office two days ago. Director Sunny Chan Wing Sun along with Louis Cheung Kai Chung, Ivana Wong Yuen Chi and Peter Chan Cham Man attended an audience appreciation event and hinted that Wong Tze Wa after completing his play's run could make an appearance at anytime and surprise the audience; Lin Minchen shot a video to thank the audience for their support and the team for their hard work.