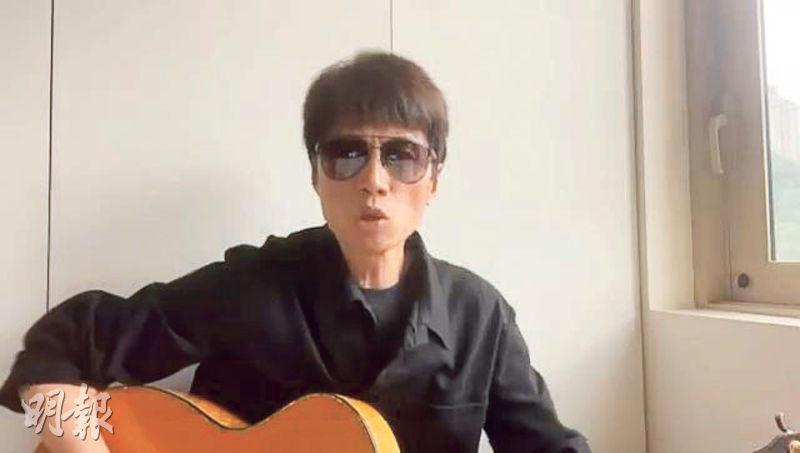 TABLE FOR SIX passes HK$ 72 million. Dayo Wong "pays his bill" and sings his journey from being the box office poison

While "paying the bill", Dayo Wong does not forget to promote his other film
courtesy of mingpao.com
The Dayo Wong Tze Wa starred film TABLE FOR SIX (FAN HEI GUNG SUM) after almost two months in release passed HK$ 72 million at the box office, had over 1.08 million viewers, and broke his "box office poison" name. He once promised that when the box office would reach HK$ 70 million he would share the "box office poison journey of the heart".
Tze Wa two days ago shot a video on social media and joked that he has been the box office poison for 20 years, this performance of TABLE truly was rare and was a record as well. He joked that talking about this now felt very narcissistic, thus he took the years of dust off his guitar and performed the song "Song of Poison" to "pay the bill".
"Song of Poison" lyrics thoroughly spoke from Tze Wa's heart. "Once upon a time there was an artist he was very famous, red hot on top of the box office, he used a one buck chicken, ending his road to fortune in quite sight. None of his friends are ordinary, either Best Actors or Film Gods, always BSing movie making, how upsetting is making movies making them, I can only shut up, secretly cheer for them, no hope for a turnaround, guarantee no box office, don't bother others, hiding myself."
Wong Tze Wa admitted that at the time he was pretty hopeless, but accepted fate. Although his current movie had over HK$ 70 million at the box office, but he dared not to flaunt because that moment of glory was not forever. Overnight success was meaningless, returning to before would be as easy as saying it. After singing the song, he said, "The bill has been paid, you have to be certain. I am not (Ivana) Wong Yuen Chi, (Louis) Cheung Kai Chung, those verses just now were much harder than taking off my pants, don't ask me to take off my pants again. Unless......next time A GUILTY CONSCIENCE (DUK SIT DAI JONG) also have decent performance, but it would be next year's thing." He also hoped that everyone would continue to support TABLE FOR SIX.