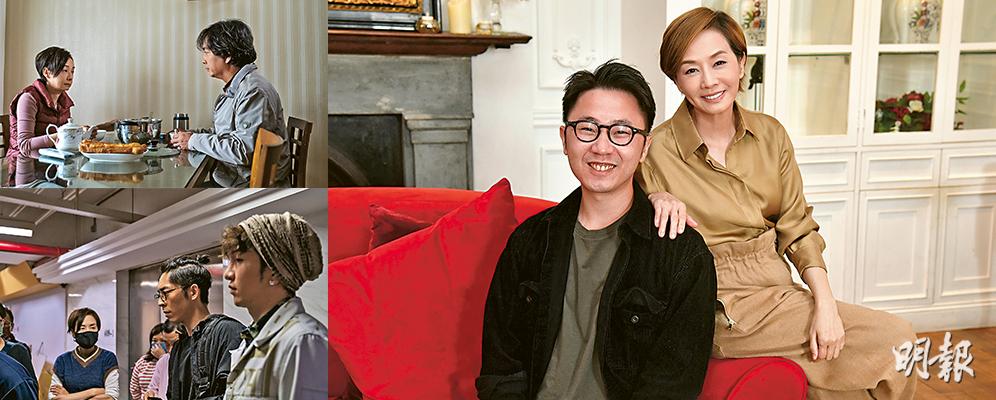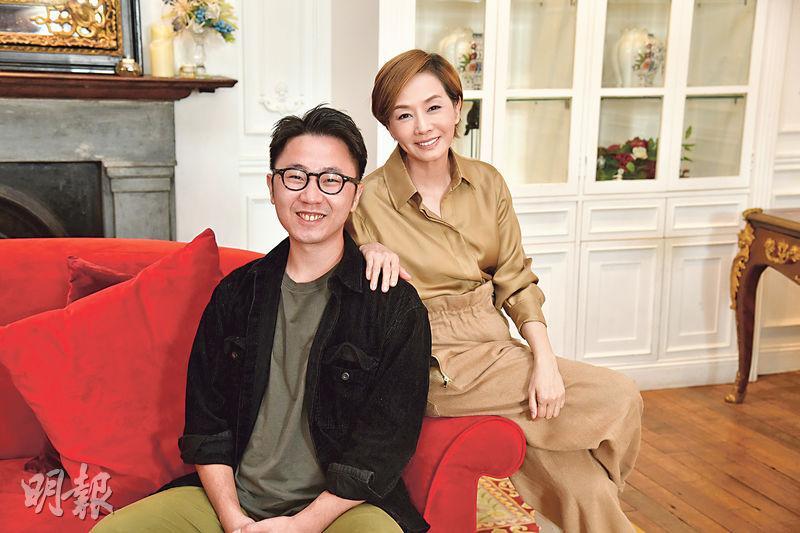 Teresa Mo praises director Eric Tsang Hing Weng for being fully prepared for the shoot, which went very smoothly, finished on time and under budget.
Teresa Mo reveals that a different Edan Lui would be seen in the film. Anson Lo also performed very well.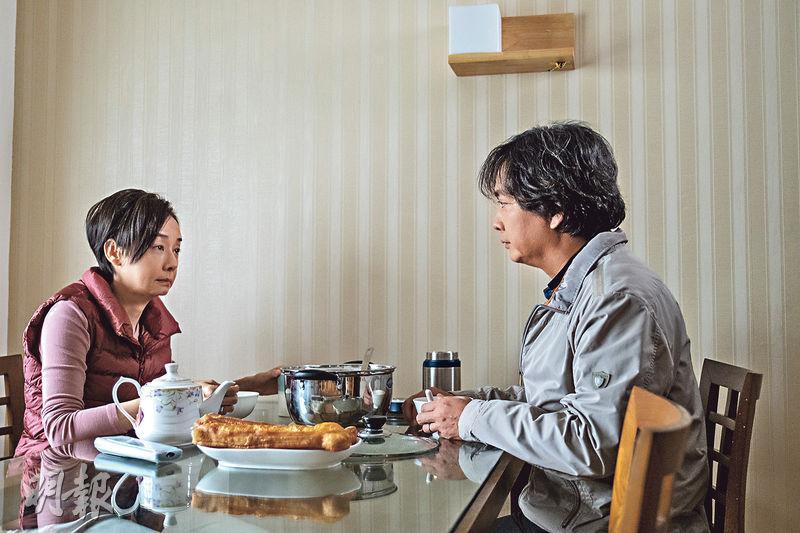 Teresa Mo and "husband" Gardner Tse had many emotionally draining scenes, from which her acting bug got its fill
courtesy of mingpao.com
New director Eric Tsang Hing Weng's film HONG KONG FAMILY (GOR SI GOR JIK) adapted his own family relationships for the silver screen. The Edan Lui Cheuk On played "Ah Yeung" was the director himself, Best Actor and Best Actress Gardner Tse Kwan Ho and Teresa Mo Shun Kwan played Edan's parents. Tsang Hing Weng wanted to share the experienced that he cared about the most in his first film, hoping through this film the audience would be able to relate, family members with poor relationships would have something to talk about and gradually repair their relationships. Sister Mo really liked the script and has always wanted to pass the baton and help new directors, so she performed for zero salary. In real life, Sister Mo has a happy marriage, gets along harmoniously with her two daughters with rather good relationships. She is drastically different from her character in the film, felt that it would be a great challenge but her acting bug had its fill.
HONG KONG FAMILY opened with Edan's family returning to Grandma's for winter solstice. Because of trivial problems in life, the parents argued. Papa wielded a "knife" out of impulse and Edan yelled at him to stop him. Out of rage, he left home for 8 years. Tsang Hing Weng said, "In real life I left home so far for already 10 years I used to feel that adults should accommodate children. Now I am grown, I realize the problem can't be fixed because everyone is waiting for the other to coax them back. Over the first few years away from home, I didn't talk to my father. Later with one sentence here and half there, now I constantly go home for dinner and chat. The relationship isn't as stiff as it used to be." He felt that the family had a problem, which was inevitable. Struggling over the matter was meaningless, taking a step by to understand each other's feeling and stance, taking the first step, opening up and talking is the best way to repair the relationship. "Like in the film's ending, Tse Kwan Ho took the initiative to walk in front of Edan. Everyone let go of their baggage and started talking."
Making his first feature film, Tsang Hing Weng felt new and fresh to everything in front of him. He was also tested on his "improv" response. Luckily he received help from an experience teams, including producers and actors. In addition Heaven helped, everyday was sunny at work so the film was completely smoothly. The most difficult during the process was running into the social movement and the pandemic. "The script was completed in 2018, in 2019 I got enough financing to start production. However in the same year the Hong Kong social environment began to change. With the global pandemic on top of that, the production had no start date. I could only take advantage of the time to edit the script, kept knocking it over and starting again. At the time it felt very brutal and very tough, but looking back it was a good thing. I was able to make the script its best. Under the producer's recommendation I invited the god class actor Sister Mo to perform. My first feature film was selected to take part in the Busan International Film Festival, which w was very encouraging!"
Tsang Hing Hen thanked Sister Mo for her help, not taking any salary, not even transportation cost. Sister Mo said that the screenplay deeply moved her. "I really like this script. The situation the family is in the film actually frequently happens at many homes, I can relate to it. I have always wanted to pass the baton and help new directors. When producer Sister Chong (Chong Lai Chun) told me HONG KONG FAMILY was the First Feature Film Initiative project, the production budget was only HK$ 3 million and would have a hard to withstand my salary, I agreed to perform right away and told the director to be fully prepared. As soon as we took our marks we would shoot, not to waste time because time was money. Although Tsang Hing Weng was a new director who was a little self- deprecating but very real. He was very certain about what he wanted, communicated very well with the cinematographer. The production process was very smooth, it was completed in 21 days without going over budget. I felt like my help truly had value."
Sister Mo and "husband" Tse Kwan Ho had many scenes together, from the opening when her husband almost chopped her to death and screamed with all her might; to in the end when her husband suggested divorce and she showed an expression of disbelief, from sobbing to weeping she was full of spark. Sister Mo dared to take the credit, praising Kwan Ho as a well honed actor who was very easy to communicate with. Only with mutual cooperation would they be able to achieve this effect. "The challenge was enormous, but my acting bug had its fill. Thus when I had to leave the character 'Ah Ling' at the production wrap, I really had a hard time. I still wanted to linger a little longer."
Sister Mo said that in real life his family was drastically different in the film. She communicated very well with her two daughters. As for husband Au Ting Ping, she said that he was an artist who wouldn't easily communicate with others. Over the years their marriage relied on mutual tolerance. "My husband is about the principle. If his standard isn't reached, you wouldn't hear half a praise. However he also has his lovable parts. I don't dare to say he is hard to take, because I have my hard to take parts too. Getting along between people, whether with a couple or with children we all need to compromise."
Sister Mo's relationships with her two daughters have been exceedingly good. The way she educated her daughters was very different from the previous generation's. "The girls basically grew up under praises, as long as they did their best it's OK. Thus they are very self confident, at the same time I wouldn't criticize others because her parents didn't criticize them. For children the most important is teaching according to the material. The younger daughter chose the correct major, so she got A's even at the university and wouldn't need me to worry. My parents were different. Since childhood they were very demanding of me, everything has to be done perfectly. They also wouldn't praise me."