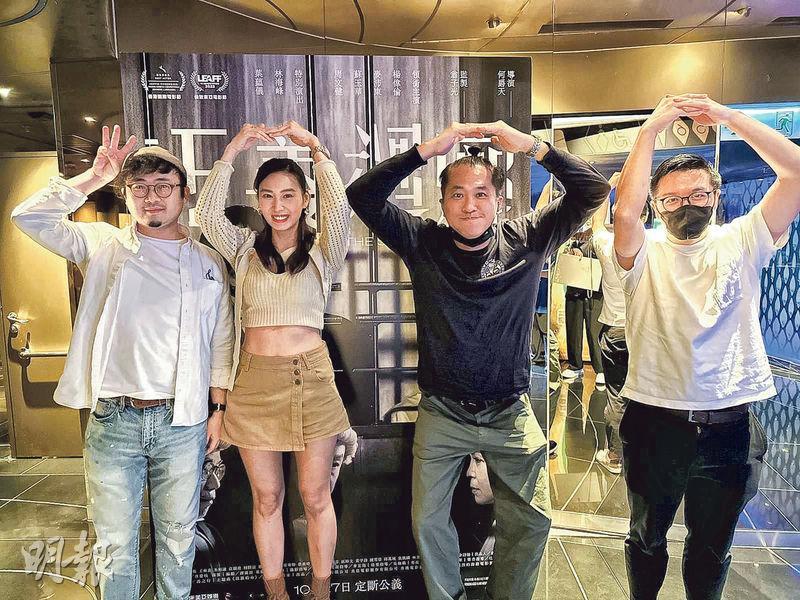 Mak Pui Tung, Chong Wan Ching, David Siu, Ho Tin Cheuk celebrate THE SPARRING PARTNER's over HK$ 30 million box office
courtesy of mingpao.com
The film THE SPARRING PARTNER (JING YI WUI KONG) in its fifth week of release accumulated over HK$ 30 million at the box office, replacing VULGARIA (DAI JOOK HEI KET) as the third highest grossing category III Hong Kong film. The film company announced tht it would hold a second celebration. Some online looked forward to director Ho Cheuk Tin "taking off his shirt" to thank the audience. Ho Cheuk Tin again thanked all the viewers for their support. "The film has been in release for a month, experienced a lot of panic, worry and obstacles. Luckily it had the love of the audience, and I also thanked the cast and the crew for all their cooperation." Producer Philip Yung Tsz Kwong firmly said, "Hong Kong film isn't just a mirage."
The actors received the good news and felt just as excited. Louisa So Yuk Wa said, "This is the best present in life, thank you to the team, thank you to the audience, thank you to the universe." Jan Lamb Hoi Fung humorously said, "The audience bravely solved the HK$ 30 million mystery, reality was even terrifying than the film." Yeung Wai Lun said that the box office was a pleasant surprise. "Thank you viewers for supporting Hong Kong film, which make our team feel like our hard work has been rewarded." Mak Pui Tung thanked the audience for their support and creating the miracle together. "I hope the box office would be better and better, to be able to attract even more investors to invest in Hong Kong films, for everywhere in the world to see good movies that Hong Kong would produce."