Fish Liew gets to play "Tin Lok's" mother.
Louis Koo supports the "Keep Rolling Keep Running" project, looking forward to putting more people to work.
courtesy of on.cc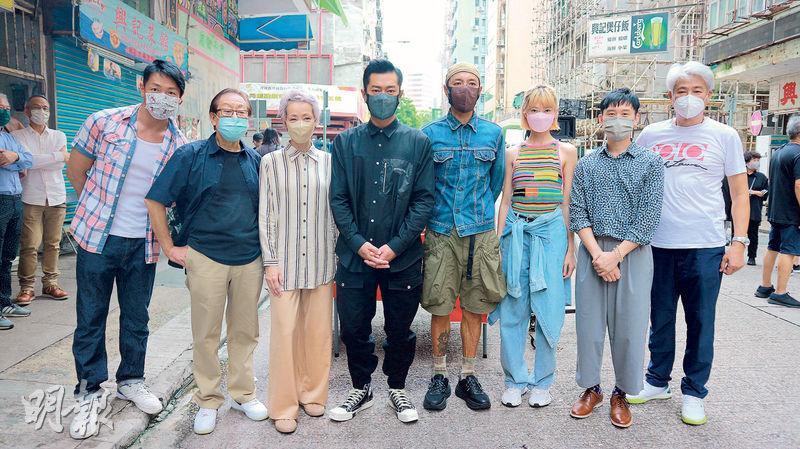 Federation of Hong Kong Filmmakers president Louis Koo (fourth left), vice president Joe Cheung (second left) with the cast of THE REMNANTS attend the production start ceremony
courtesy of mingpao.com
In order to encourage a new generation of filmmakers to actively create and explore Hong Kong film new directions and create more job opportunities for colleagues and cultivate talent, the "Keep Rolling Keep Running" project's first movie, THE REMNANT (NGOK YUN DON DOH), earlier held a production start ceremony. Attendees included the Federation of Hong Kong Filmmakers president Louis Koo Tin Lok, director Mandrew Kwan Man Hin, actors Philip Keung Ho Man, Fish Liew Chi Yu, Ling Man Lung, Cecilia Yip Tung, Vincent Wan Yeung Ming, action director Ken Law Ho Ming, Federation vice presidents Joe Cheung Tung Cho, Takkie Yeung Yat Tak, Andy Kwong Ting Wo and secretary general Jonny Wang Yin Ming.
Federation president Koo Tin Lok said, "From now on after the 'Keep Rolling Keep Running' project was passed, the Federation would be able to have its own film releases. It would be able to bring different genres to the market, while the revenues from the films would be able to be used for industry affiliated organization services -- two birds with one stone." The Federation would choose two movies out of over 40 screenplays for its first shots. Goo Jai said, "This audition although had many new directors and new screenwriters, their performance actually was rather mature. The overall quality was also very high, some talent also opened my eyes." Goo Jai pointed out that the second chosen film would start production at the end of the year. He said, "Currently the pandemic is easing. The film industry has begun to return, so I am more relaxed."
Lead actor Keung Ho Man said, "This is a character I have always wanted to play. As soon as I saw the script I thought it was great. In addition it would even be the 'Keep Rolling Keep Running' first shot, so it would be even more meaningful. This time I would use new ways to interpret this role, I hope to bring some freshness to the audience." Working with Fish Liew Chi Yu the second time, would they have any relationship scene? Keung Ho Man joked, "This time I have a lot of spark with her son, the spark with Fish you would have to ask the director about!" Deliberately coloring her hair with her roots showing, Liew Chi Yu said, "This time I would play a mama who could get 'crazy' with a nine year old son. In the film he is called 'Old Master'. Actually his real name is 'Tin Lok'. So I am a real Tin Lok Ma!"
One of the leads Ling Man Lung said that this character would have a lot of potential. "I would play the villain for the first time, I am very grateful to the Federation for starting the production, so we new actors would have even more opportunities to learn and study." Personally invited by the director, Yip Tung said, "THE REMNANT would mainly shoot in old districts, which would have very Hong Kong uniqueness. My character also would have quite a story. She is hard to describe inside, chaotic yet fleeting." Wan Yeung Ming said, "In the film a group of mobster friends and I due to an event needed to make a comeback, the movie would have brotherhood, love, family and mob relationships."
In addition, Josie Ho Chiu Yi earlier received the Hawaii International Film Festival "Lifetime Achievement Award" for her years of contribution to the Hong Kong film industry. She was the first non director female creator to receive the honor. Earlier recipients included Wong Kar Wai, John Woo (Ng Yu Sum), Stanley Kwan Kam Peng and Ann Hui On Wa. She not only thanked the effort of all the crew but also gave special thanks to her husband Conroy Chan Chi Chung for working with her over the years. She even described her husband as her strongest support. She said, "Without him, I wouldn't be able to do anything."