Leo Ku says that his son helped to put his collaboration with Edan Lui together
Ian Chan makes his first appearance after his breakup announcement
Anson Lo
As soon as Anson Lo opens his mouth he begins to break up, friend Jer Lau sings for him
MIRROR members have won many awards, unfortunately due to injury Keung To was absent and kept the group from being complete
Serrini and Terence Lam have always enjoyed taking jabs at each other, setting off sparks everywhere
Panther Chan is a last minute replacement performer for the absent Dear Jane's songs
courtesy of on.cc
MIRROR admits their WE ALL ARE performance was sentimental and emotional
courtesy of singtao.com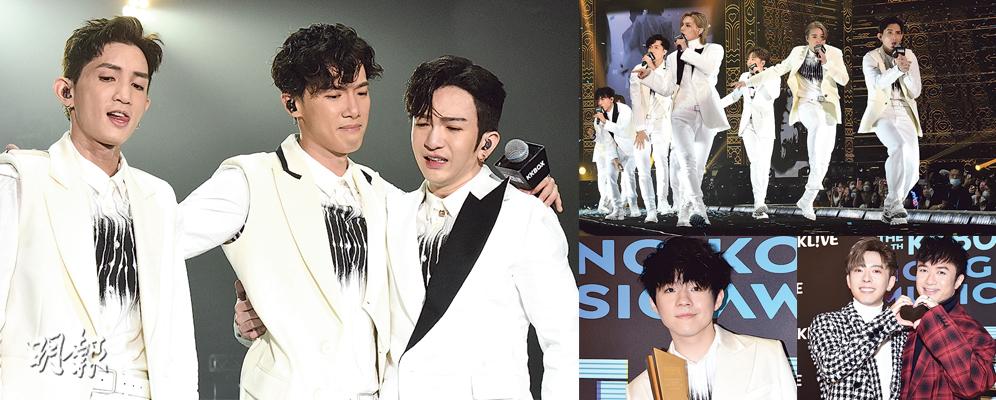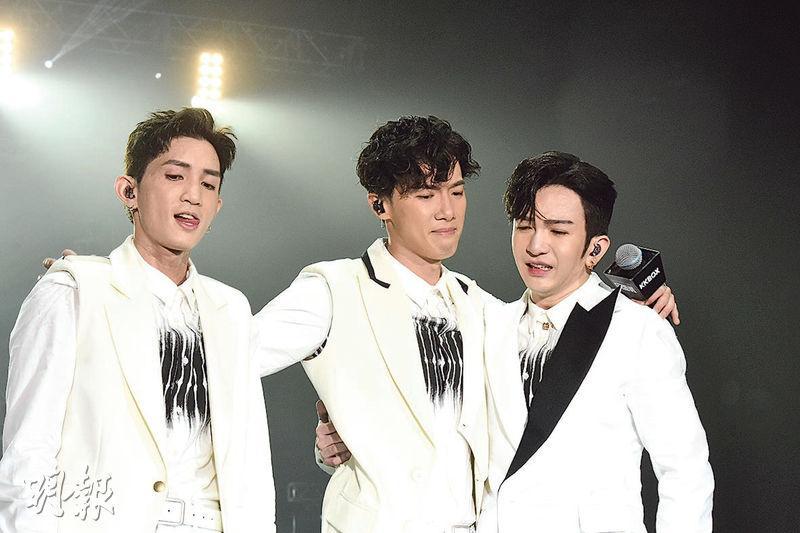 Lokman says that their return to the stage is a little emotional. Stanley gets teary eyed and Anson Lo loses his composure. They almost cannot finish their song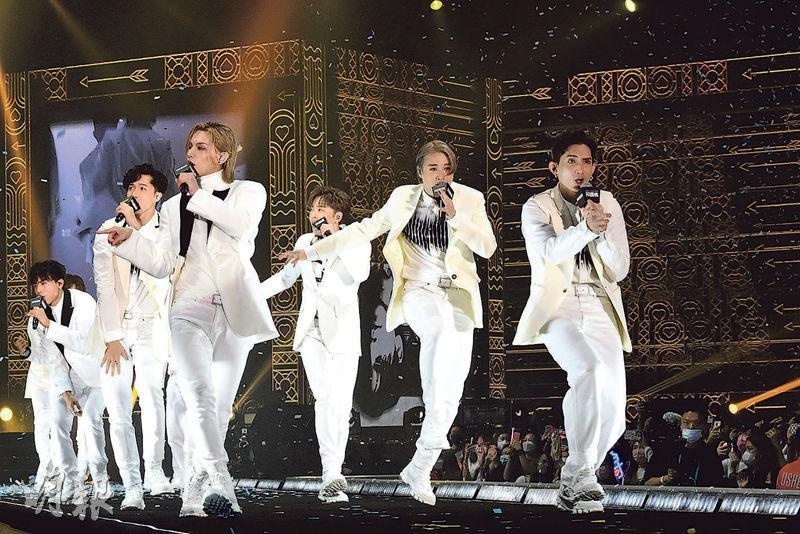 Except the injured Keung To, MIRROR returns to the stage since their July concert accident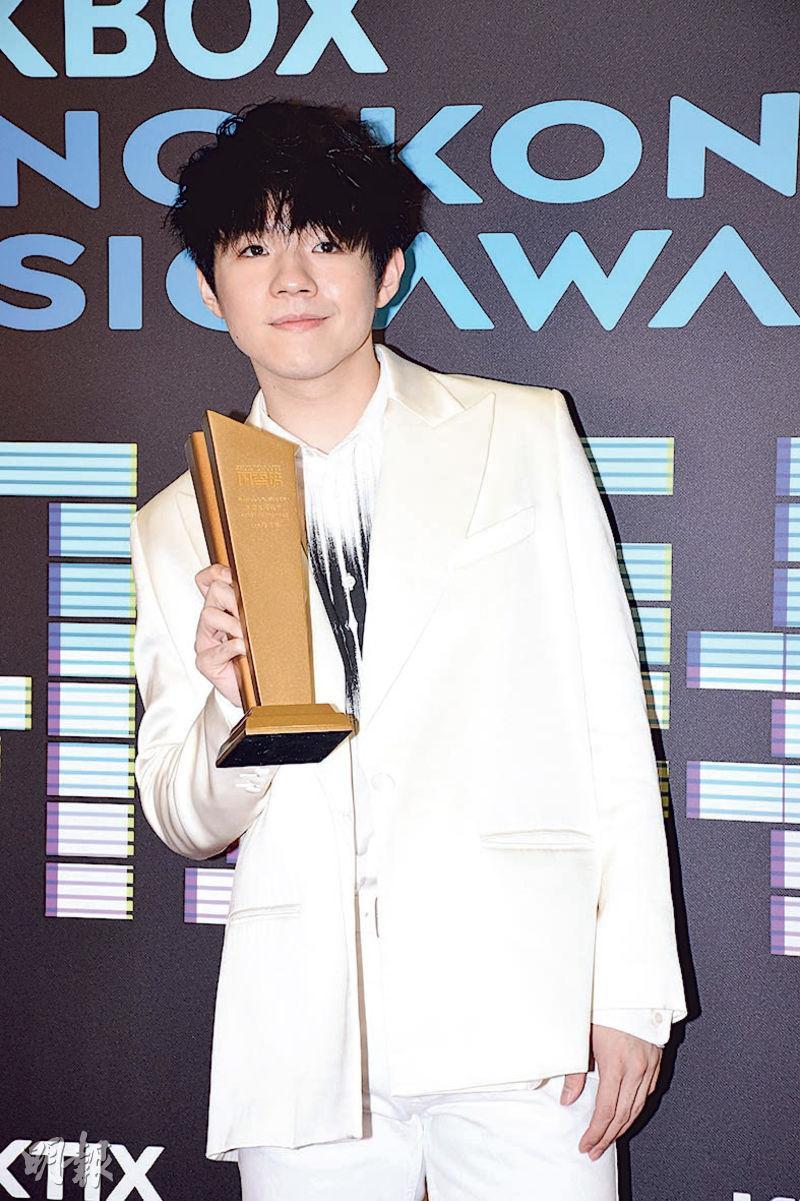 Ian Chan says that his breakup with Amy Lo was amicable but regrettable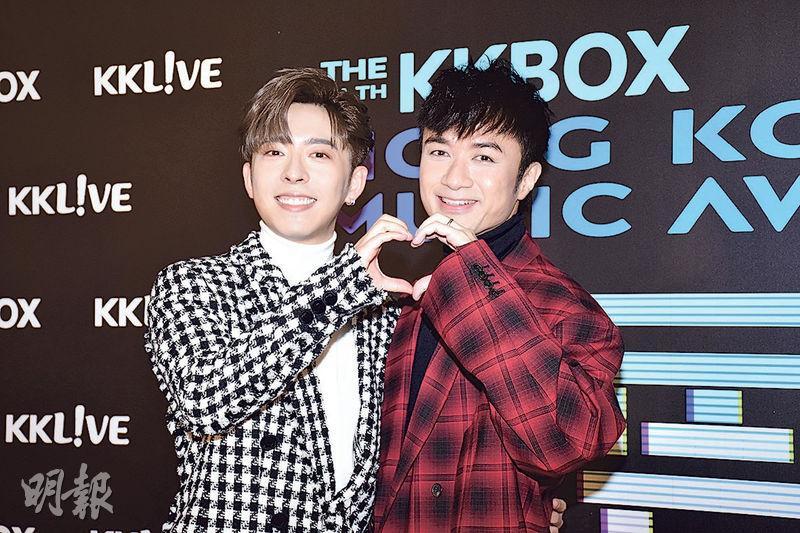 Edan Lui and Leo Ku perform FLOATING CLASSROOM
courtesy of mingpao.com
Two nights ago the KKBOX HONG KONG MUSIC AWARDS took place at the AsiaWorld-Expo. Aside from Hins Cheung King Hin, the band Dear Jane, and the injured Keung To were absent, the other 8 "artists of the year" gathered on the stage. Among the "artists of the year", as from MIRROR breaking into the top ten as a group, members Anson Lo, Edan Lui Cheuk On, Ian Chan, Keung to and Jer Lau Ying Ting also were on the list as solo artists. The entire evening became a MIRROR show. The event even arranged for the first time award winner Anson Lo to open the show. He performed two songs in a row and then other members took turns to perform solo and perform with other singers, driving the over 9,000 fans on hand wild!
Edan won the "artist of the year" and the "new artist of the year". Winning two individual wards, he performed two songs. Then after 3 years away from large scale performance Leo Ku Kui Ke made a surprise appearance for their duet FLOATING CLASSROOM. After the performance they embraced each other. Edan said, "Completely because of a promise from Goo Sir's son, Goo Sir was successfully brought back to the stage." Another focus figure was Ian, who made his first public appearance after just revealing to have ended his 2 year relationship with his model girlfriend Amy Lo Wai Man. Although the heart break hurt, his performance was praised as exceptional. He had no fear of opening up the wound, performing DWBF with the hidden "code of love".
MIRROR also performed the finale. The 11 members first sang and danced two group songs, then for MIRROR fans performed the release after the "hiatus" WE ALL ARE. Perhaps due to the trauma or the pressure from the criticism, Anson Lo was about to open his mouth but broke into tears first. He completely lost his composure, Jer immediately sang for him and consoled him with a hug. Many members were also affected. Keung To watched the live broadcast and cheered for his group mates. He posted, "All along it's really been tough on everyone, I really wanted to be with you. Proud of you guys. As a member of MIRROR I am always very proud."
About Anson Lo soaking the stage with tears, some online ridiculed, "Selling tragic again", "Crying again and again", "He successfully stole the spotlight again". Still teary eyed during his interview, he said, "It was the first time I publicly performed this song, I was reminded of a lot. In addition this song was dedicated to the fans and listeners who supported us. The past several months have been tough on everything, so I couldn't hold back at the moment. I am very sorry." Captain Lokman also spoke up. "Performing this song was a little touching, ultimately we haven't been on such a large stage in awhile. So we got a little emotional." Jer also said that he was moved and had his mind on Keung To. "I wish a speedy recovery for him, so all 12 of us would be able to perform in our entirety." MIRROR's concert dancers recently issued an open letter, Lokman "slammed the gate shut" on the subject and said that the matter has entered legal proceedings so they were not at liberty to comment.
Just announced his breakup, Ian said that he and Amy would support each other as friends. However because the relationship was between the two of them, he would not say much. The only thing he wanted to say was, "Amy is a great girl, I hope everyone would give more space. Don't give her so much pressure. (Regret?) Everyone experienced so much, it's after discussion we amicably come to this decision." He also said that he did not need his group mate to share his sorrow.
Edan and Leo Ku Kui Ke united backstage and presented hearts. Gei Jai revealed that originally he would not return to the stage until next year, thus the company at first turned down the performance. However MIRROR's manager Sister Fa contacted him again, and his son praised Edan Gor Gor's "Singing Good", so he changed his mind. Edan said that on the stage he was so nervous that his hands were shaking. Gei Jai also revealed that he sang the wrong lyrics. He looked forward to next performance with Edan playing the piano as well.
"Creative singer" Terence Lam Ka Him two nights ago at the award show "unlocked achievement", turning from rarely speaking to a chatterbox -- much to fans' surprise! Aside from the "Top Ten Artists of the Year", he also host with the award ambassador Serrini. Speaking of making this opportunity happen, he said that it was completely due to a wish 2 years ago. "Originally I was full of anticipation, thinking the partner with the big eyed 'Ka Yan". I didn't know......it's just like an internet scam!" It was a jab at the originally name "Leung Ka Yan" Serrini was not as advertised. The entire audience cracked up at the moment.
The band Dear Jane was also one of the "Top Ten Artists of the Year", unfortunately due to a member's positive test they were absent. In the last minute they asked their junior colleague Panther Chan Lui to perform on their behalf. She also thanked Dear Jane for the invitation, otherwise she would not have the opportunity to step foot on the stage. Lam Ka Him heard and suddenly said, "You can be like me two years ago and just beg for the job!"