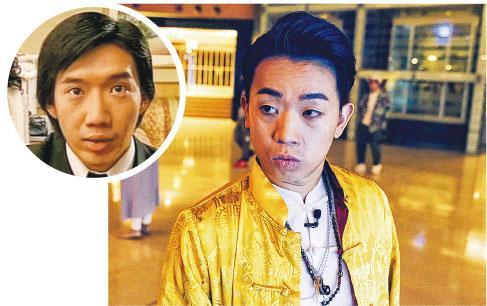 The Chapman To played Kam Ching Chung in MY DATE WITH A VAMPIRE would be played by Kaki Sham in the movie

Kaki Sham and Tse Suet Sum play son and mother swindlers
courtesy of mingpao.com
Chan Sap Sam would continue his ATV classic television series MY DATE WITH A VAMPIRE (NGOR WOR GEUNG SI YAU GOR YEUK WUI) 24 years later as a screenwriter and director of the film version KUI MOR LUNG JOOK MA SIU LING (DEMON SLAYING DRAGON CLAN MA SIU LING), which would pair VAMPIRE's original character and city fantasy subject with new actors and new stories.
Back then the VAMPIRE series trilogy starred Eric Wan Tin Chiu as "Fong Tin Yau", Joey Man Yi Man as "Ma Siu Ling", Kristy Yang Kung Yu as "Wong Chun Chun"; the film version would star respectively Bosco Wong Chung Chak, Karena Ng Chin Yu and Jacky Cai Jie in those roles. Another important character Ma Siu Ling's junior colleague "Kam Ching Chung" would have Kaki Sham taking the bton from the television series' Chapman To Man Chak. He earlier in the Trial and Error production MY MISUNDERSTANDING WITH A VAMPIRE has already played Kam Ching Chung, many online praised how accurate he was to the original. Chan Sap Sam also felt that Kaki Sham was very suitable for the character.
Kaki Sham has already started production on the film. His character would be an uneducated homebody who only wanted to become a viral internet star. Tse Suet Sum would play his mother. Two nights ago he appeared in a "paranormal kid" costume and worked with Tse Suet Sum. In the story he was very talented and knew magic, but actually he was faking everything. Kaki Sham said that when he was little he saw MY DATE WITH A VAMPIRE. "It was an explosive hit classic television series when I was little, it was crazy, I thought how could it be so powerful." Tse Suet Sum asked him, "You knew how to watch it?" Kaki Sham said, "At the time I would follow it, but I didn't savor the entire series. I would think why did they know to think of these subjects? Vampires, very cool, I really liked it." His favorite was "Ma Siu Ling", as he thought the character was very classic and attractive.