Often the target of online "criticism", TVB had a segment to salute the dancers this year and even invited Aaron Kwok to perform. It received raves galore.
Despite the salute to dancer being considered a jab at ViuTV, Chin Kar Lok says not to read too much into it.
courtesy of on.cc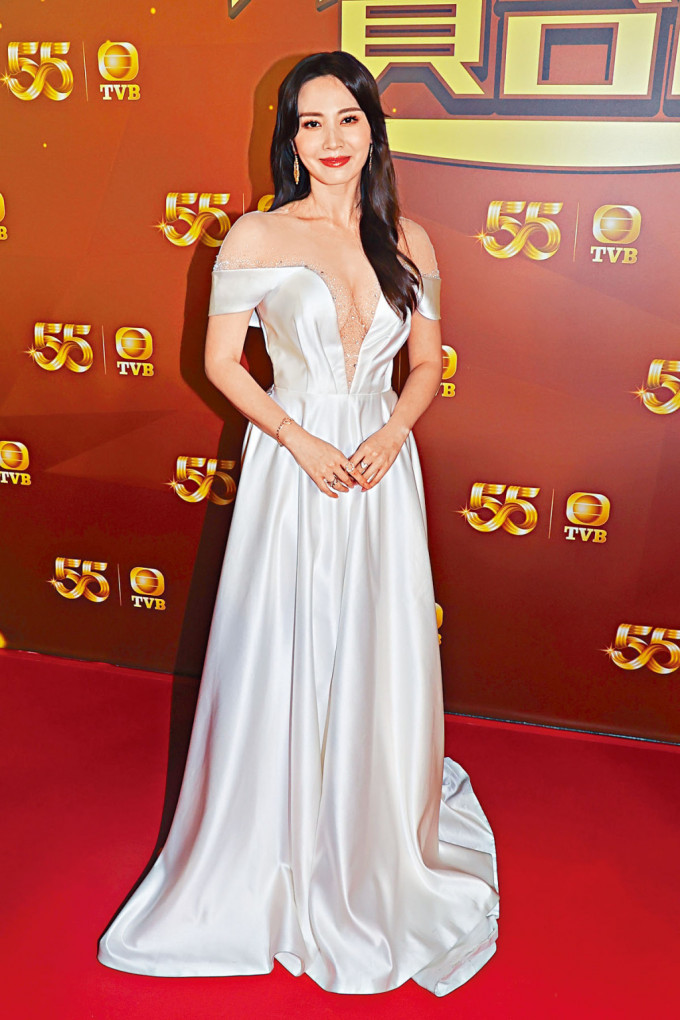 Rebecca Zhu
courtesy of singtao.com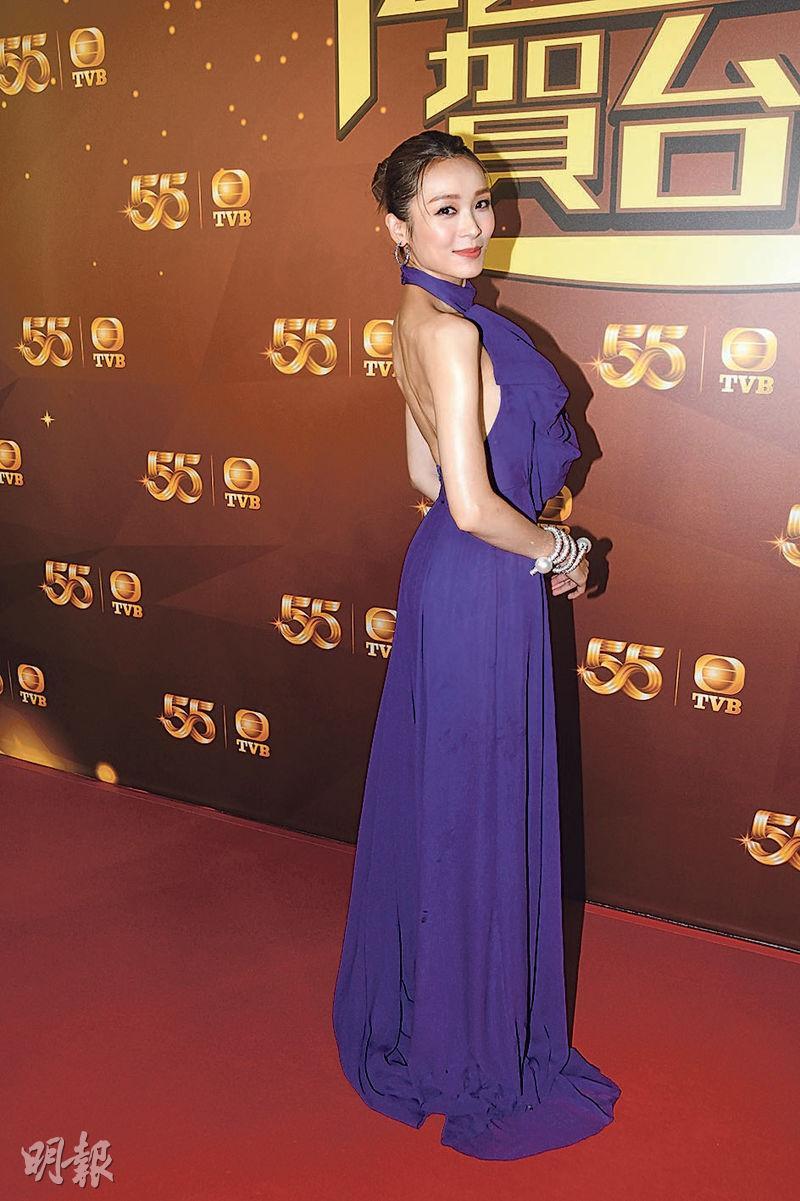 Ali Lee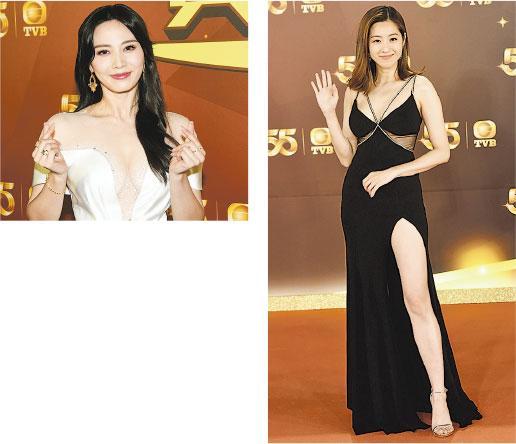 Rebecca Zhu, Yoyo Chan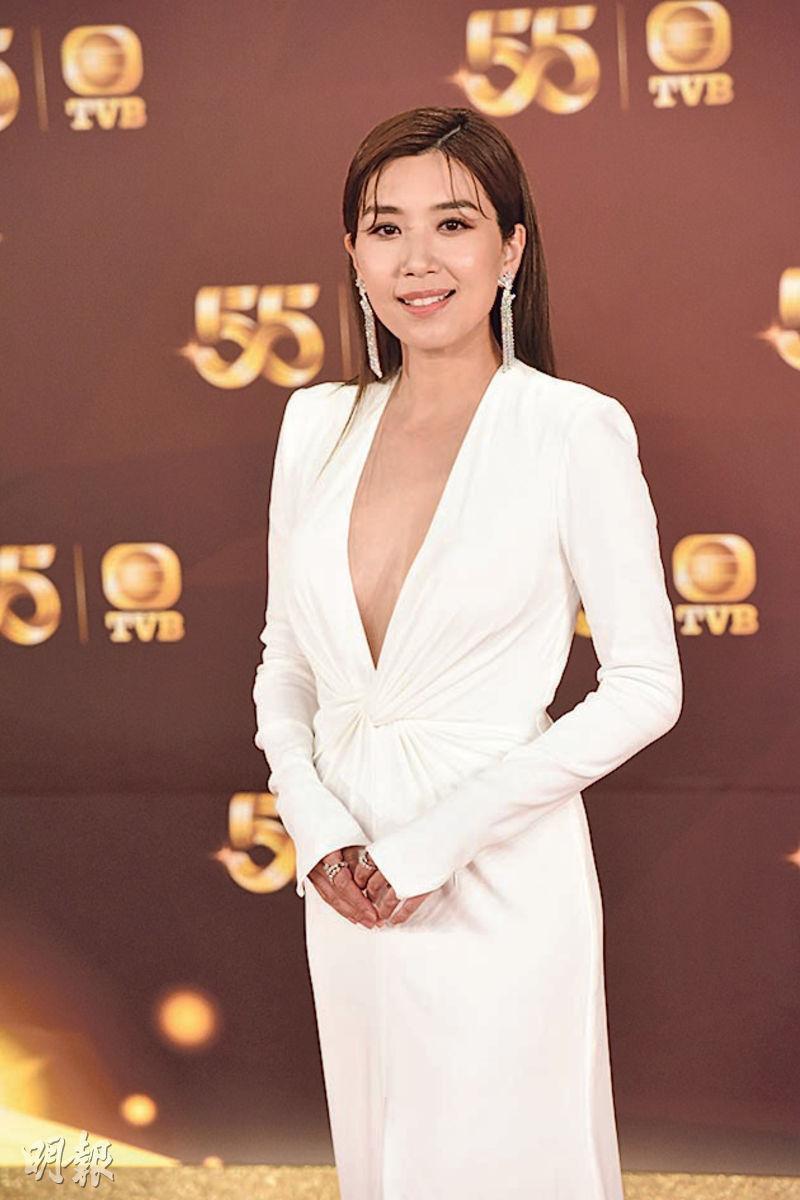 Mandy Wong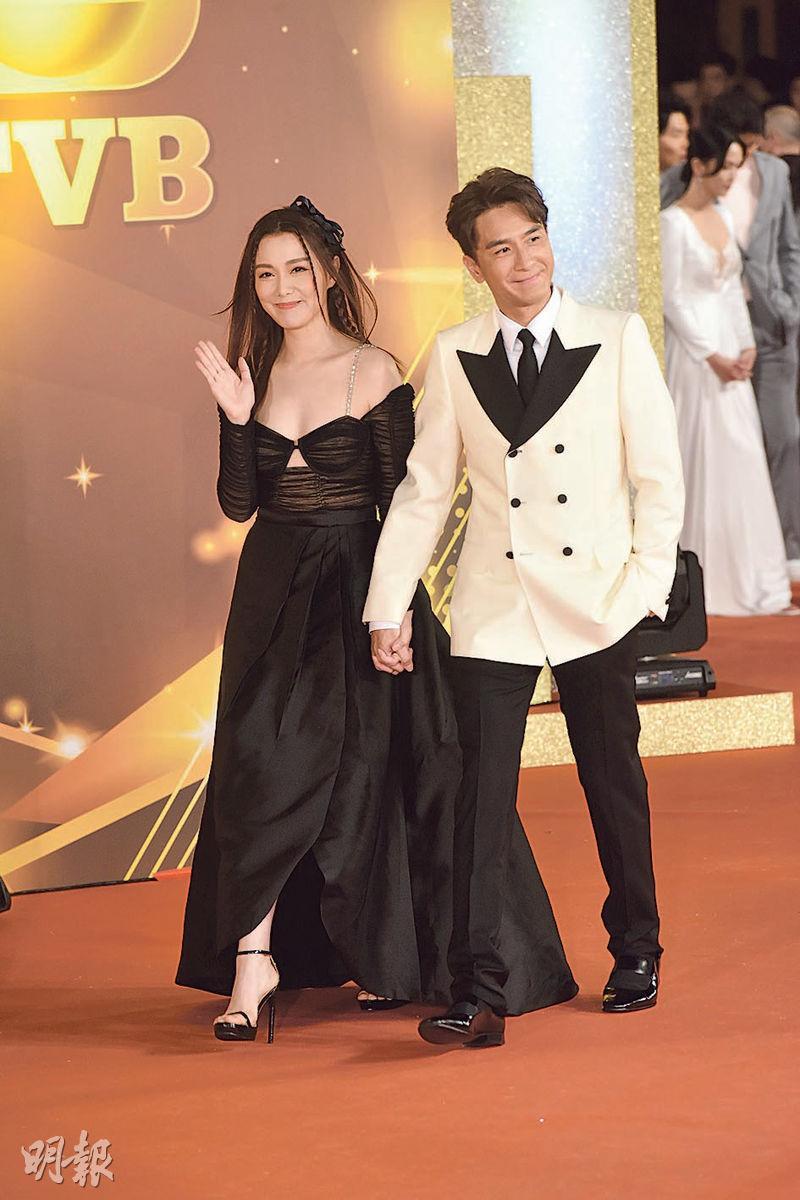 Roxanne Tong and Kenneth Ma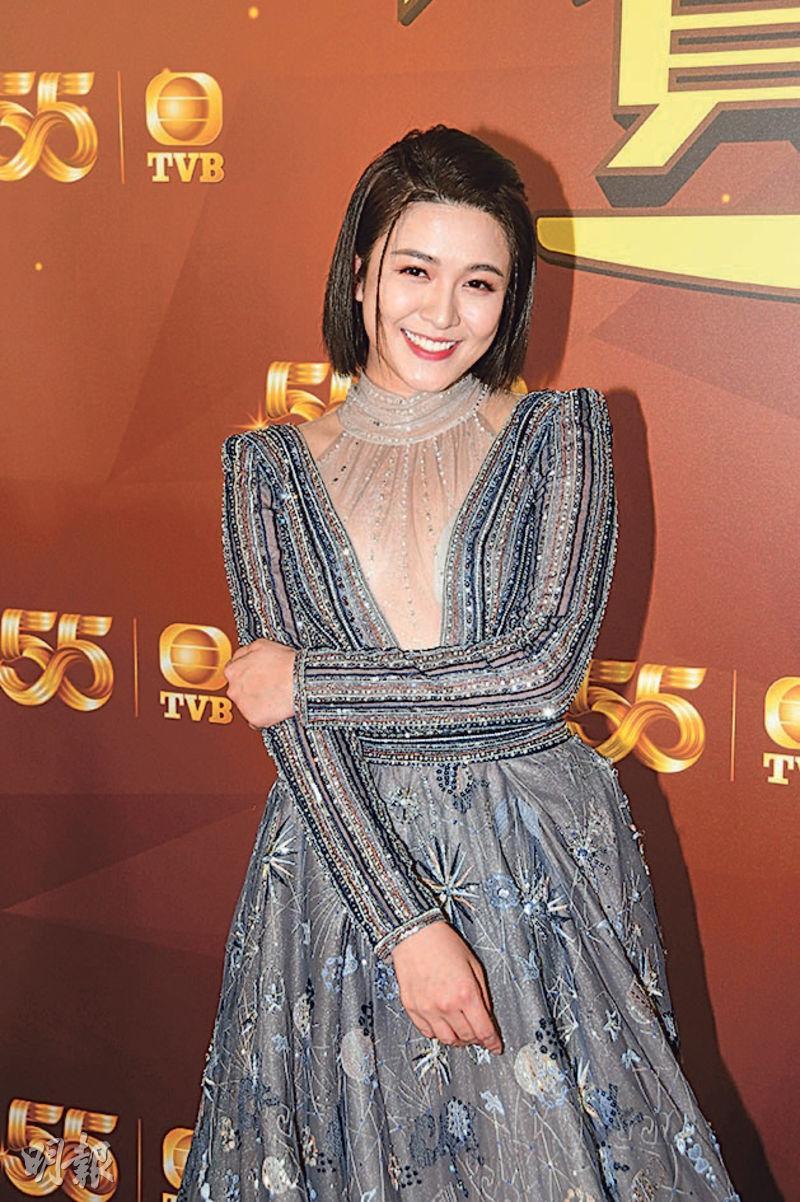 Kaman Kong has a minor wardrobe malfunction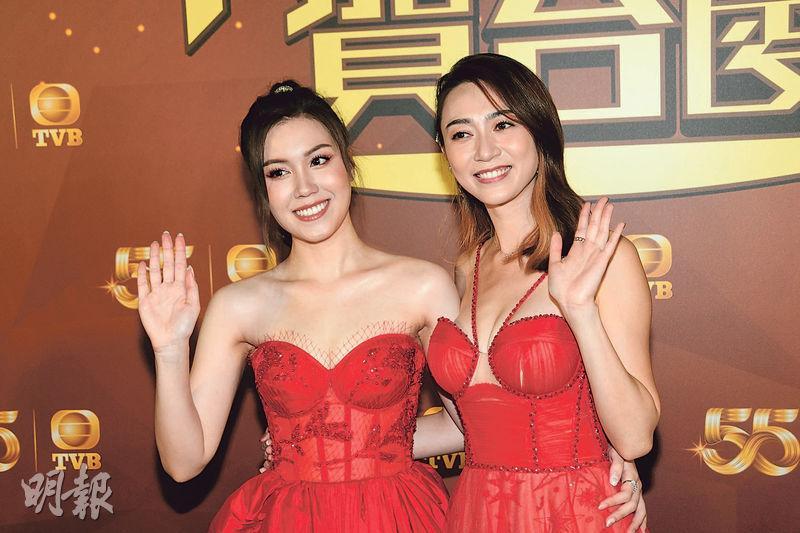 Rumored to be at odds, Sabrina Mendes and Carmaney Wong clarify that they have not argued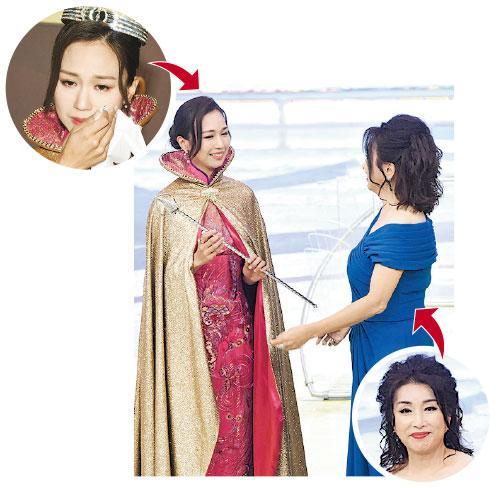 Roxanne Ho receives the scepter from Chan Sau Chu after her "Miss Hong Kong Pageant -- the Comeback" victory
courtesy of mingpao.com
Virginia Lau
courtesy of on.cc
TVB celebrated its 55th anniversary with its 55th anniversary show. Last night it took place at the Tseung Kwan O Television City. Over 300 artists performed, among them the dance king Aaron Kwok Fu Sing led over 50 dancers to close out the show and show the strongest force of dance. He described this performance as serving the purpose of passing the torch, and encouraging and expressing TVB's spirit of persistence.
This year's anniversary had an unprecedented 20 host ensemble that included Liza Wang Ming Chuen, Nat Chan Pak Cheung, Janis Chan Bui Yi, Tang Chin Fung, Crystal Fung Ying Ying, Bob Lam Sing Bun, Mayanne Mak Mei Yan, Chin Kar Lok, Toby Chan Ting Yan, Javis Chow Yik Wai, Sabrina Mendes (Sung Yuen Wing), Derek Wong Kin Tung, Nin Leung Hoi Ching, Frankie Choi Kwok Wai and others. Aside from over 300 artists of the station performing, 11 variety show producers expertly cooked up a series of performance and segments to salute classic series and variety programs, professional veteran actors and elders and continue the TVB's 55 years of classics. To share the joy of the anniversary with all Hong Kong viewers, almost HK$ 3.8 million of prizes were given away.
The lighting ceremony guests were TVB chief Hui Tao and general manager (programming content operation) Tsang Chi Wai. Over 100 artists traversed between the costume street, the Early Republic street, the studio, the make up room, the parking lot and every corner and performed the large scale opening song and dance number TVBUDDY FANTASIA to open the anniversary.
The anniversary special guest performer was the king of the dance stage Kwok Fu Sing, who closed out the show. He led over 50 dancers to perform the STRONGEST DANCE OF LIFE, displaying the strongest charm of dance and saluting the dancers. Sing Sing revealed that in 1984 he applied for the TVB dance team to become a student of the third term. At the time the classroom was still on Durham Road in Kowloon Tong. Over the years it experienced several relocations to its current location of Television City in Tseung Kwan O. Although a lot of time has passed, he still missed his time on the dance team.
Sing Sing pointed out that this time pointed out that this time Tsang Chi Wai and Ho Lai Chuen really wanted him to come back, because the 55th anniversary had a very important segment that would salute dancers. Thus he agreed to perform without any hesitation. "I too started from the TVB dance team. I even suggested hope to perform together with 55 dancers in a salute to a group of dance team elders. This performance has a purpose of passing the torch, and encourage and express TVB's spirit of persistence!" Sing Sing said that he was very happy to be able to return and see a group of TVB dance team veterans. He would even appear on the stage with veterans from the first to the third dance teams, feeling very happy and very meaningful. Sing Sing back then was even one of the "Galaxy Ten Stars". "This happened after graduating from the training class. TVB has always given opportunities to a group of kids, would give them opportunities to perform and for the audience to get to know them!"
How long has it been since he last came to TVB? Sing Sing counted his fingers and said, "It's been 8 years, in 2014 I came back to accept the concert DVD sales award. This return feels very warm, with a lot of memories. Although back then the training class wasn't in Tseung Kwan O, but I have experienced a lot of people and events at TVB. I have seen so many former colleagues still firmly in their posts, and a lot of talent that has already become outstanding!" Would he be interested in returning for a series? Sing Sing said that mainly he wanted to make this performance great, he has not thought about anything else!
Reunited to perform as "Gods", Wong Cho Nam, Louis Yuen Siu Cheung and Johnson Lee in the ENDLESS MELODY WITH GODS segment impersonated many artists and performed with Gigi Yim Ming Hei and Mike Tsang Pei Tat. Yuen Siu Cheung dressed up as "Yim Ming Cheung" and performed Gigi. Originally focused on her singing, when Gigi saw Cheung Jai rise to the stage she could not help but laugh. Johnson Lee impersonated Li Jian and George Lam Chi Cheung. Cho Nam with his purple haired wife Leanne Li and Chen Jiajia imitated Miriam Yeung Chin Wa, Zhou Bichang and Shan Yi Chun's ENDLESS MELODY performance of HIGH MOUNTAIN LOW VALLEY. Because Cho Nam was in the Mainland he needed special effect to appear on television. Famous magician Louis Yan teamed up Angel Chiang Ka Man, Samantha Ko Hoi Ning, Yoyo Chan Chi Yiu, Veronica Shaw and other actresses in MAGICAL STAGE HBD and presented a heart pounding magic performance; Fan Yik Man, Mandy Wong Ka Man, Fabienne Kwan Fung Hing, Lisa Ch'ng Si Ming and other past Miss Hong Kong candidates performed BEAUTY AND THE BEAT, and of course the first graduates of STARS ACADEMY performed SINGING SITCOM METAVERSE.
In addition, MISS HONG KONG -- THE COMEBACK's top three Rachel Chan Yi Tak, Roxanne Ho Pui Ka and Stephanie Lee Tsz Ching last night had their final battle. The three wore swimsuits and answered questions from Edwin Siu Ching Nam, Lai Lok Yi and Joel Chan Shan Chung. The judging panel consisted of 55 stars with one vote per person chose the winner. Finally the favorite Ho Pui Ka won, with the candidate from the 1979 pageant Chan Sau Chu crowning her. The winner shed tears of joy on the stage, while Lee Tsz Ching and Chan Yi Tak were the first and second runner up. The top three would receive diamond jewelry total in HK$ 270,000. Yesterday appearing as the "spell bounding Pink Lady", Liza Wang Ming Chuen won the TVB Anniversary Ultimate Prize -- an almost HK$ 300,000 electric vehicle.