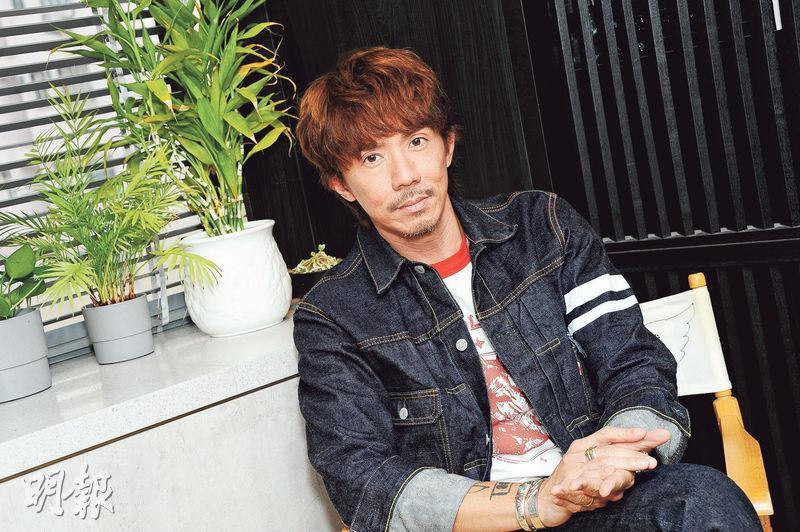 Louis Cheung reveals that the new film not only wants to document Hong Kong under the pandemic, but also wants to bring out that in a crisis as long as everyone help each other, the journey would not be as tough as imagined
Angela Yuen recently switches to a short blonde look. She does not want to deliberately remove her own image, but she wants to discover more different directions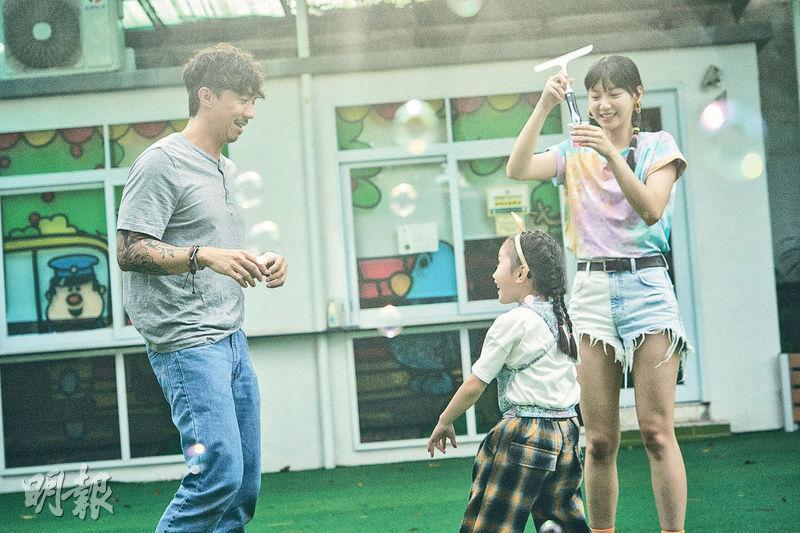 Louis Cheung and Angela Yuen receive Golden Horse Award Best Actor and Best Actress nominations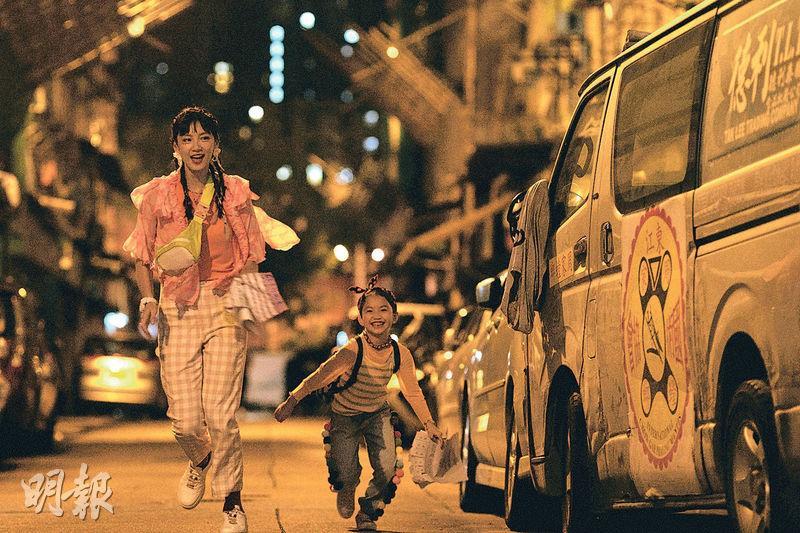 Angela Yuen in the film plays a single mother. In order to be more like mother and daughter on camera, she takes the initiative to interact with the child actor and cultivate a relationships
courtesy of mingpao.com
THE NARROW ROAD (JAK LO MEI CHUN) became the 19th Hong Kong Asian Film Festival opening film, before its release it already had good news. Louis Cheung Kai Chung and Angela Yuen Lai Lam with this film received the 59th Golden Horse Award Best Actor and Best Actress nominations. They said that this was a great encouragement to the team, but they never thought about winning an award. The nominations were already recognition. Working for the same company, Cheung Kai Chung and Yuen Lai Lam were rather close personally. Yuen Lai Lam under Cheung Kai Chung's recommendation before THE NARROW ROAD's lead actress. She praised her elder as "having substance", and even deeply influenced by his "humbly outlast the others" theory. Cheung Kai Chung from dust understood the life attitude, nothing should be magnified too much. Good and bad both would drift by like a speck of dust, dancing with the wind without any weight or care.
Cheung Kai Chung and Yuen Lai Lam with THE NARROW RAOD were nominated for the Golden Horse Award Best Actor and Best Actress. Ah Chung would compete for Best Actor against LIMBO (JI CHI)'s Gordon Lam Ka Tung, THE SUNNY SIDE OF THE STREET's Anthony Wong Chau Sun, THE POS-TRUTH WORLD's Joseph Chang Hsiao-chuan and COO-COO 043's Yu An-shun.
Nominated for Best Actor for the first time after years in the business, Ah Chung admitted that he felt very fulfilled. The award to him would be more pressure than motivation. Instead he hoped when the film would be released, more viewers would watch it. "Each person is different, but as soon as I think of those (awards) my condition would be affected. I am not without desire or want though, sometimes I too want to experience the feeling of being nominated. (How likely do you feel you would win?) I never thought about it, because the other nominees are all very outstanding actors."
Angela would make leaps and bounds to challenge LIMBO's Cya Liu, A LIGHT NEVER GOES OUT (DUN FOR LAN SHAN)'s Sylvia Chang, INCANTATION's Tsai Hsuan-yen and AJOOMMA's Hong Hui-fang. She felt surprised by the nomination as she never imagined it at all. How would she treat the nomination? Angela joked, "Absolutely don't let like me win, if I won it would be big trouble. I truly feel I still want to continue to trial and error. After winning an award, everyone would expect your performance to be Best Actress level. It would become an invisible pressure. I feel that being able to make mistakes is great, it means that you dare to try. From it you may gain something."
Although they worked together for the first time, Ah Chung said that he and Angela worked for the same company. They already were familiar with each other and had chemistry long ago. From her he saw a lot of potential. Angela once revealed that Ah Chung was the one who recommended her to audition. Ah Chung said, "Because the contrast was great between her and the character, when I first made the suggestion the film company questioned whether Angela would be able to perform the role. However I said that she would be. In the end with her own hard work, she showed everyone."
Angela said that working with Ah Chung felt great. Without any pressure, she would be able to freely express her opinions. Earlier at his acting class she even benefit a lot as her eyes were opened. "Ah Chung not only was very humble, his state of mind was also very well adjusted. He said to us this business was about outlasting others. He even had a saying, 'If you are humble enough, you win.' This point of view has affected me greatly, because my career just started I couldn't rush. How far you would go would depend on how humble you are."
Angela in the film shook off her intellectual youth goddess image and played a single mother who could not even take care of herself yet. For her it was a huge challenge, but when she got the role she was not afraid. Instead she had a fight to the death state of mind. She revealed that at first she was not the first choice for this character, but the original actor resigned due to a scheduling issue. Angela had a third audition opportunity, but sensed that the team's confidence in her was very weak. Thus at that moment she had to prove her impulse would be very strong. Since she had no experience as a mother, she would rely on "hard work". She took the initiative to play and get along with the child actor, hence cultivated a relationship, increased the realism and very happily to receive everyone's recognition in the end.
The film took place in Hong Kong under the pandemic. Ah Chung said that over those two years, he experienced whether in life or at work nothing was certain. "For example when we used to shoot street scenes we would be very afraid of hindering other people, but when we shot this film no one was on the street. We also saw many closed shops, and really had a feeling of loss. So we really wanted to document that. Another message we wanted to bring out is no matter the place or even life, there would definitely be ups and downs. However humanity wouldn't change, as long as we look out for and help each other, the road wouldn't be as tough." Angela used cruel to describe her experience under the pandemic, because the pandemic took away some basic understanding some people had toward life. For example seeing and eating with family and friends and other things that seemed obvious were all completely under restriction. Pressure was everywhere, but she felt that she was one of the lucky ones. During this period at least she was able to increase her self worth.
Ah Chung said that he and Angela in the film were dust, neglected by the society. After years in the business, Ah Chung admitted that in reality he too has felt like dust. "Each new comer would have experienced that. For a very long time no one would be able to name you or name you correctly, perhaps they would have different opinions of you. Even after finishing school, you would realize that reality is very far from your ideals, like everything is not within your control. At this moment of course you would feel like you are dust. After experiencing so much, now I still feel like people are dust, but this view isn't as hopeless as it was in my youth. Instead it is somewhat relaxing, not to magnify yourself or matter too largely. Whether good or bad everything would pass like dust. I am fortunate to have this experience, now when facing everything I would see them a little lighter; not to mention that dust can dance with the wind."
Angela claimed to be a very pessimistic and stubborn person, hoping to learn from Ah Chung his go with the flow state of mind and look at everything more optimistically. Speaking of many image changes in recent years, Angela said that she did not deliberately want to remove her intellectual youth flavor. She only wanted to discover even more different directions. She enjoyed this identity of being an actor very much. As the elder, did Ah Chung have any advice for her? He said that recently he has worked with many young actors, constantly telling them not to think about what they cannot control. They only needed to work hard on what they can control, like having a correct attitude, learning to increase their self worth and continuing to expand their horizon. "Viewers would always measure you with many rulers, the most important is for you to prepare yourself. You don't need to care too much about other things."