Aaron Kwok is all excited when talking about his wife
Fish Liew and Jeffrey Ngai have been frequently invited to attend events and making a bundle
courtesy of on.cc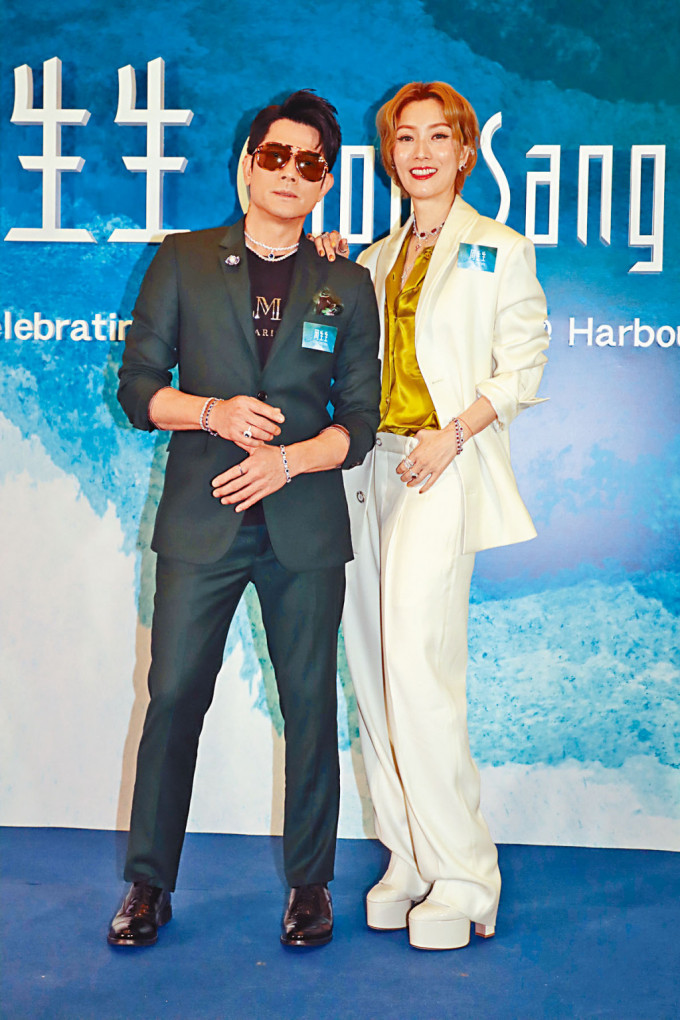 Aaron Kwok and Sammi Cheng do not mind reducing their salaries to support new directors
courtesy of singtao.com
courtesy of mingpao.com
Aaron Kwok Fu Sing, Sammi Cheng Sau Man, Jeffrey Ngai, Fish Liew Chi Yu, Kaho Hung, ANSONBEAN, Gladys Li Ching Kwan and Cloud Wan Ho Ying yeserday attended an Ocean theme jewelry store opening. Recently director Philip Yung Tsz Kwong invested the down payment on a home to support a new director and revealed that he asked Mr. K to borrow HK$ 1 million for the production. Mr. K quickly agreed. The internet guessed Mr. K to be Aaron Kwok Fu Sing or Louis Koo Tin Lok. Sing Sing yesterday personally denied that he was Mr. K. He said that he has never learned to invest, but would gladly adjust his salary to support the development of the Hong Kong film industry.
Sing Sing yesterday was already moving his arms and legs on the stage. He pointed out that since 2016to now he still has not held a concert in Hong Kong. He was planning to perform at the end of next year at the Hong Kong Coliseum.
Speaking of the director Philip Yung Tsz Kwong produced film THE SPARRING PARTNER (JING YI WUI LONG), the director not only invested his down payment for a home but also thanked Mr. K for his support. He asked for HK$ 1 million and Mr. K over the phone only said, "The money will be there", "No need to thank me or mention me, work hard to make a good movie for Hong Kong." The internet guessed Mr. K was either Louis Koo Tin Lok (Mr. Koo) or Aaron Kwok Fu Sing. Yung Tsz Kwong finally provided hints to Mr. K's identity. He spoke simply and cleanly, has invested in movies, and he has never worked with him. Sing Sing said, "Why doesn't he just name him? This person isn't me, I haven't invested in movies, I supported movies and supported it as an actor. I don't know anything about investing, if I invested my head would be larger from all headaches!" However he has always been very passionate about Hong Kong, supportive of new directors, like earlier when he worked on PORT OF CALL (DAP HUET CHUM MUI) he took less salary. Sing Sing said, "This is another type of support. If I always had to get what I deserve, that's not my style. Actually I leave my negotiations to my manager Siu Mei. If a movie couldn't be made after paying actors' salaries, it could be adjusted. Because when you asked for an astronomical price, a new director must be able to find investors to be able to withstand that. so this could also be considered truly supporting film!"
Sammi yesterday picked out jewelry for Mommy at the store. She said that she received a sponsorship for some jewelry, so she would choose some for Mommy for Christmas. The rest she would leave for herself as accessories for what she would wear normally. However Sammi said that she did not have much jewelry of her own. Has her husband Andy Hui Chi On often give her jewelry? Sammi said that she liked going to dinner, vacations and drinking wine a little more, but she also liked getting flowers. "The older I get the more I like flowers. Now I have learned to appreciation the brilliance of flowers more than when I was younger."
Speaking of her film LOST LOVE (LAU SHUI LOK FA), Sammi in order to support new director Ka Fu Sing was willing to work without a salary. Sammi admitted that she made this movie for free because it had great meaning. First of course she really liked the story in the film, after reading the script she very quickly accepted the role. "The entire process was very meaningful. We didn't say much, we happily did our thing. During the shoot I saw the entire team was full of young people in the 20's. Although I knew some of the behind the scenes people, I felt like we could learn from each other. We had a lot of energy and liveliness, everyone also respected the experience we shared. The director was younger than me, everyone was willing to finish the entire thing, which made me feel the new impulse of young people. I am not too talented myself, and I don't invest in movies like Koo Tin Lok. I am completely ignorant in this area, so if they ask me to work together I would be willing. I also hope to be able to make a movie in return, because film has given me a lot!"
Sammi originally had a birthday party with fans, which now has been postponed to December 23rd. She said that because of the delay, she planned to add more to the gifts for the fans. In January next year she would perform in Singapore, her first since the pandemic. She said that she was not nervous, as long as she made all the preparation she would be fine. "Since I haven't performed in several years, I would really enjoy the process. All the feelings are back, so I look forward to the concert next year!"
Jeffrey Ngai recently worked on the film CHIU SUN GAING HAI GIP ONG (SUPER CRAZY ARMED ROBBERY CASE) and was injured. He joked that yesterday at the event despite his injury he was holding on with his will. "Actually on my left side from neck, back to the thigh were all injured. I have been on acupuncture and cupping therapy. Luckily the production has already wrapped, I can rest." Was he scared off fight scenes? Jeffrey joked, "No, the longer I fight the stronger I get. I am even very happy to be able to make a martial art film. After training I got that I would have to stretch first. Only I really worked on fight scenes, as soon as I performed the stunt I accidentally pulled something." He also pointed out that actually he also injured Angus Yeung Tin Yue, as soon as he kicked he left his co-star heavily injured and unable to lift his arm. They had to call for the emergency medical team to apply Dit Da Jow on him and he had to take pain killers.
Also starred in CHIU, Kaho Hung was not injured. He pointed out that he only scratched up his arm on a tree climbing scene and the injury was minor; in addition tomorrow he would begin his concerts. He admitted that he never would have imagined in his life that he would be able to perform concerts twice in a year. Thus now he felt like he was gunning for the finish line.
Fish Liew Chi Yu lately frequently attended events. She happily said that she has been lucky. After over a decade in the business now she finally had some jobs that made money. She hoped that everyone would continue to ask her, so she could be able to work more and make more. Next week she would take two weeks off to return to Malaysia and vote in the general election. Then she would bring Mommy to visit Hong Kong.