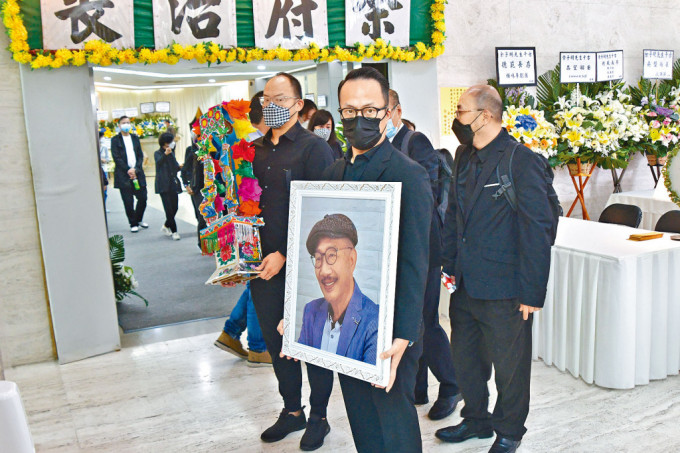 Yu Chi Ming's son exits the hall with his photo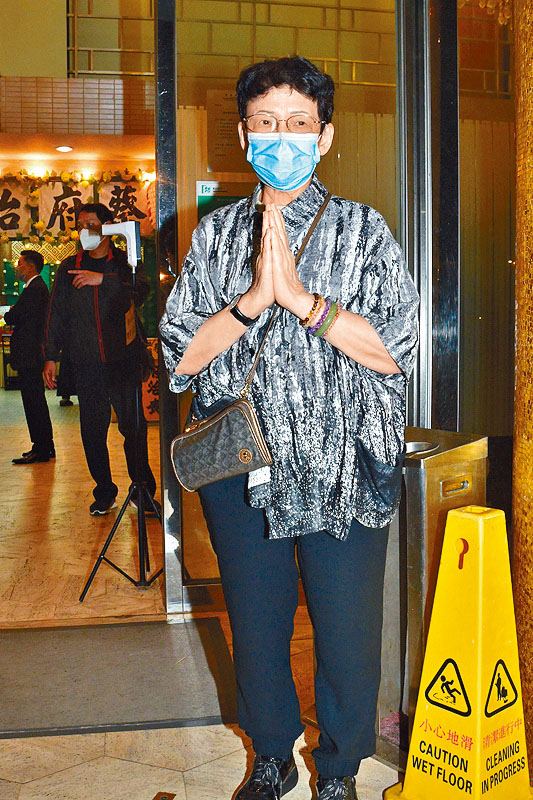 Fung So Bo reveals that her sister was heartbroken over her husband's passing
courtesy of singtao.com
Veteran actor Yu Chi Ming passed away on the 10th at age 80. Yesterday services began at the Hong Kong Funeral Parlor and the funeral would take place today. Artists Louis Koo Tin Lok, Liza Wang Ming Chuen and Law Kar Ying, Law Yim Hing, Connie Chan Bo Chu, Nancy Sit Ka Yin, Gallen Lo Ka Leung and his wife, Lo Ting Fai and others sent floral arrangements. John Chiang Dai Wai and his wife, Gordon Lam Ka Tung, Tsui Wing, Chiu Hei Lok and others appeared in person to bid farewell. Because the family was Christian, family and friends presented flowers instead of incense.
Oldest son Tin Yau said that Papa passed away in his sleep without any pain. In life he always wanted to recover and make another series, but his health got worse and worse. The final photo was taken last year. Mama thought it was "a little more handsome".
Yu Chi Ming's widow Fung So Wan was Fung So Bo's sister. As their matchmaker Sister Bo remembered the most when Chi Ming's early career development was not as ideal, a fortune teller pointed out that it would improve later but his parents would not be able to enjoy it. At the time Sister Bo comforted him and they walked from Prince Edward Road to Tsim Sha Tsui. They even had ice cream together. Later Chi Ming was signed with Opera Hong Kong and was very happy. Sister Bo pointed out that Brother Ming liked to have his fortune told, have tea and sing. He had children, children in law and grandchildren, not much regret. She heard from her sister Fung So Wan said that Chi Ming at the hospital just closed his eyes and passed away. He looked very peaceful.