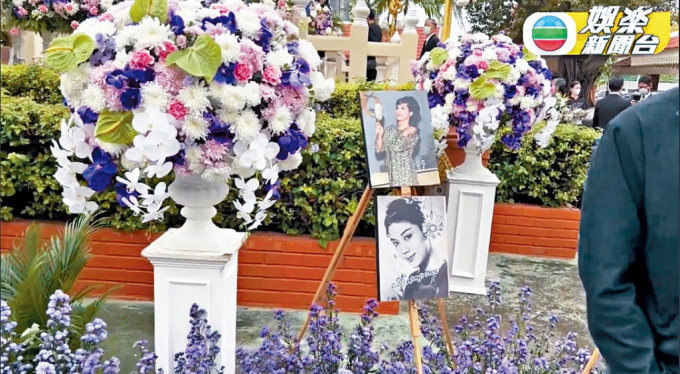 Photos from Patsy Ka Ling's youth were on display at her funeral
courtesy of singtao.com
Cantonese film star Patsy Ka Ling earlier passed away in her sleep. Yesterday her funeral took place. Son Wong Pak Man a and god daughter Sharon Kwok Sau Wan went to Thailand to attend. Outside the temple where the funeral was held floral arrangements from family and friends including Deborah Li, Chan Suk Fun, Simon Yam Tat Wa were on display. Ka Ling's old flame Patrick Tse Yin's floral arrangement was placed next to her coffin. Husband Yiu Mo Lin yesterday also appeared to bid farewell to her beloved.
God daughter Kwok Sau Wan two days ago revealed Ka Ling originally wanted her funeral to be low key, but many friends sent floral arrangements out of respect. When she recalled God Mother's life before her passing she could not help but succumbed to tears. She got choked up and expressed that everyone would remember her; "I know these several years have been very tough on God Mother. For her, perhaps departing was a comfort. Actually God Sister earlier also passed away, in less than a year God Mother also passed. I don't know whether she went earlier to prepare everything for God Mother."