Teresa Mo cooks for the HONG KONG FAMLY team including Louis Koo
courtesy of on.cc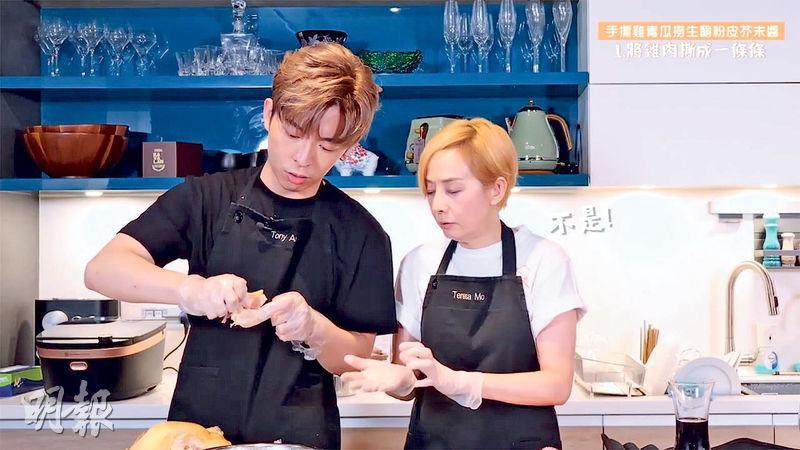 While trying to help out in the kitchen, Edan Lui keeps asking strange questions that leaves Teresa Mo not knowing whether to laugh or to cry.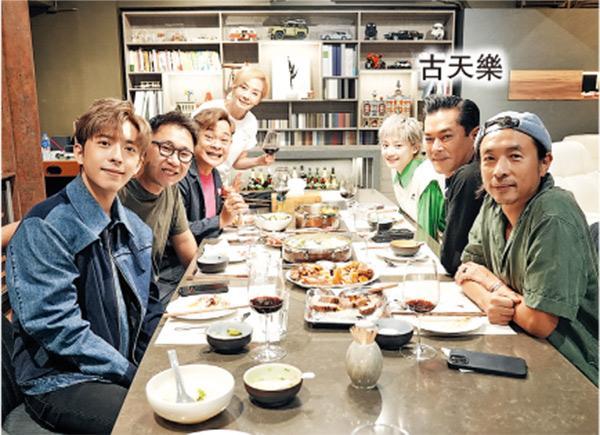 Teresa Mo personally cooks for the HONG KONG FAMILY team and mystery guest Louis Koo
courtesy of mingpao.com
Guy group MIRROR's members Edan Lui Cheuk On and Anson Lo, Angela Yuen Wai Lam and others starred film HONG KONG HOLIDAY (GOR SI GOR JIK) will soon open. Cast members Mo Shun Kwan on her birthday two nights ago posted on social media "Sister Mo's Canteen: HONG KONG FAMILY Birthday Dinner" video. She personally cooked and not only invited HONG's director Eric Tsang Hing Weng and Angela but also Louis Koo Tin Lok. Linked in gossip earlier, Edan and Angela sat apart. She personally cooked while Edan and Joey Leung Cho Hiu were her assistants.
Playing Sister Mo's son in HONG KONG FAMILY, Edan was all thumbs as a kitchen assistant. While cooking he kept asking questions that no one would expect. When Sister Mo introduced using Tai On chicken for hand shredded chicken, Edan asked, "Are there any Cheuk On chicken?" Sister Mo did not know whether to laugh or to cry and asked, "Do you want to be a chicken" When Sister Mo reminded Edan to put on gloves to handle the "shredded chicken and green bean sheets", Edan asked, "On both hands?" Sister Mo responded, "You would use two hands to shred it".
Speaking of his experience while working on HONG KONG FAMILY, Edan admitted that it was the most intense film since his career began. Because he was not used to playing this type of character, he lacked a sense of security and was worried that he would ruin the entire film. He said, "At first I spoke very softly, Sister Mo reminded me to speak louder and clearer and worked with me on every sentence. Then she asked the director to study with us how to deliver every line."
Koo Tin Lok appreciated Mo Shun Kwan's pursuit for the art of cooking and praised her for her passion for Hong Kong film. "Hong Kong film industry is very hard work, but she still is thoughtful enough to cook a meal. She isn't just doing it for this movie, but for all the movies that she has starred in. I admire her the most for her willingness to work with new comers and motivate them." He even raised a glass to toast to and thank Mo Shun Kwan for her contribution and hard work.