Jacky Cai says some fans want to see her in a romance with Bosco Wong
Rosita Kwok wants to try her hand on becoming an action actress
Cecilia So is just happy to work
courtesy of on.cc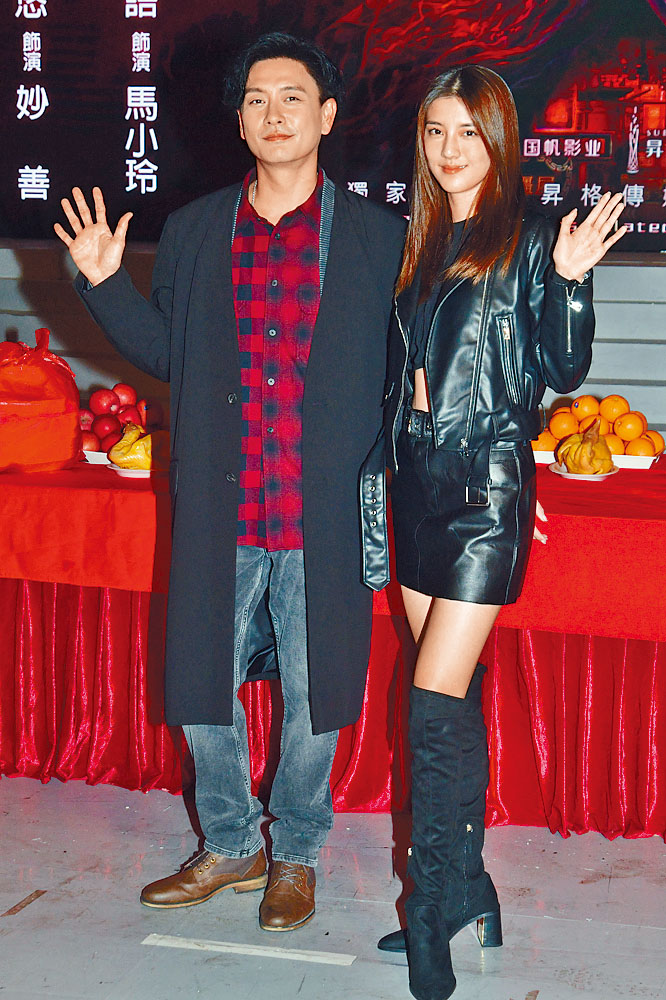 Bosco Wong and Karena Ng both would have a lot of action scenes
courtesy of singtao.com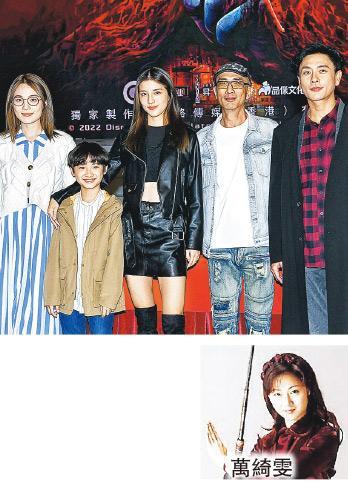 Jacky Cai, Wong Chi Lok, Karena Ng, Robert Chan and Bosco Wong attend the ceremony
courtesy of mingpao.com
Bosco Wong Chung Chak, Jacky Cai Jie, Rosita Kwok Pak Yin, Cecilia So Lai Shan and others yesterday attended the new film KUI MOR LUNG JOOK MA SIU LING's production start worship ceremony. This time the story would be based on the ATV classic series MY DATE WITH A VAMPIRE, with its "soul figure" Robert Chan Sap Sam responsible for the adaptation and direction. "Fong Tin Yau" Bosco and "Wong Chun Chun" Cai Jai both said that their characters would have obvious differences from the original.
How would they surpass a classic? Bosco said, "We leave that to Brother 13, he is singlehandedly taking care of everything. He knows what he wants the best. (Have you watched the series again before the production start?) I watched a dozen or so series." As for the numerous action scenes, he said, "So many they are ridiculous, during the shoot we have to spend a lot of time to figure out the computer graphics, and this time is the first time I wear contact lenses. The team prepared one large and one small pair of lenses for me. Just the small pair already felt very scratchy and dry. My vision is hindered a lot when I wear them. As for my vampire look, if anyone sees it in the middle of the night they would be scared out of their minds."
Speaking of working with Cai Jie for the 6th time, Bosco joked that they were rather close personally. However for now they still have not officially shot a romantic scene. "How would I dare to? She is a intellectual youth goddess! Even though this time originally Wong Chun Chun was designed to like Fong Tin Yau, in the film version our relationship is very minor." Cai Jai said that some fans wanted to her and Bosco as an on screen couple.
Kwok Pak Yin said that she was very happy to make a movie. "I am happy and nervous, because before I was the one inside the theater. I never thought that I would see myself appear on the big screen. This time my character would be pretty special, being bit by a vampire in her 20s. Thus she always maintained her youthful exterior, but actually she is already in her 60's. (Would you need to fight?) I have to speak, haha! Actually I want to work on fight scenes too. I hear Cai Jie would have wire work. I haven't tried it before, I want to give it a try."
Chan Sap Sam again adapted MY DATE WITH A VAMPIRE to the big screen, but the cast would be completely different and disappointed many "vampire fans". Some online even compared the legs of the two generations of Ma Siu Ling, brutally criticizing "the new is not match for the old". He said, "If we are still limited to the past, creating a legend would be very hard. Actors aren't vampires. They would change with time. If it would continue, new comers would have to take the baton. I feel this time the cast is already pretty good." Would his wife Joey Man Yi Man appear? He said, "I can only say there would be surprises, and not just one at that."