courtesy of on.cc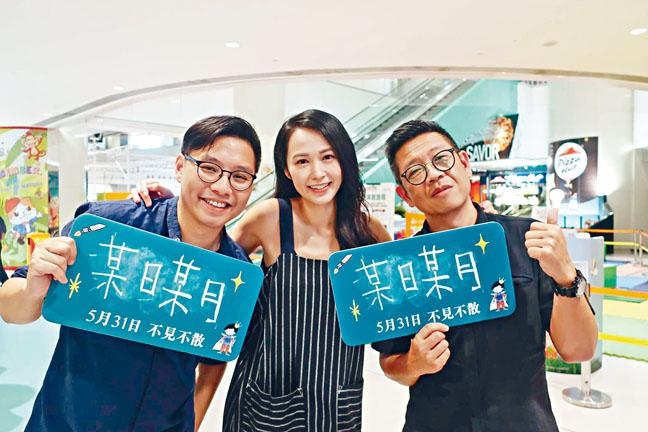 Director Benny Lau, Kathy Yuen and cinematographer at the final audience appreciation event
courtesy of singtao.com
The Emperor Motion Picture WHEN SUN MEETS MOON (MAU YUT MAU YUET)'s release has gone from May to August, with the final show on August 1st. Director Benny Lau Wai Hung and lead actress Kathy Yuen (Tong Yi) attended the final audience appreciation event at the cinema. As soon as the news hit, tickets went in seconds. Because it was announced that the final audience appreciation event would only be at one show, they could only keep their promise and give up any idea of adding more shows.
Tong Yi and director Lau Wa Hung gave away posters, envelopes, letter paper and film special "YES!" cards. Lau Wai Hung stated that he once was worried about the box office and did not properly sleep 2 or 3 weeks before the release. Thus he suggested crazy "human" promotion and went to over 130 audience appreciation shows. He thanked the company for letting him be headstrong once, the cast and the crew, friends in the media, film critics and viewers, some still wanted more after watching 5 or 7 times.
Tong Yi did not want to cry at the movies again, but her friend Regen Cheung Wai Nga did not "spare" her. She asked her, "Today at the final show, what would you miss the most?" Tong Yi was already in tears. "It's pretty wonderful, I would miss......(starting to cry) I don't speak well......as the first time lead, the pressure was enormous, so big that I would cry at home, I really lacked confidence......I am very grateful for this opportunity, I waited 10 years for it!" The applause was thunderous. Lau Wai Hung joked, "After making the movie, your crying to better!" Tong Yi said, "You got what you wished for!"
Lau Wai Hung was also rather sentimental. Since the production began in August 6th last year and shot for 20 working days, during which typhoon signal 1, 3, 8, 9, 10 and yellow, red, and black rain storm warnings have all been experienced but went undetected on camera. Speaking of the leads writing love letters, Lau Wai Hung revealed that before the premiere he wrote a two page letter personally to invite Jacky Cheung Hok Yau to the premiere. Unfortunately Hok Yau was not free, but he still sincerely thanked him with a song. Would there be a sequel? Lau Wai Hung responded that he was uncertain, but this team had a lot of fun. He hoped to have a chance to keep playing. He joked that he was better with the beasts he knew, and hinted that he will face an unprecedented challenge for his next film.