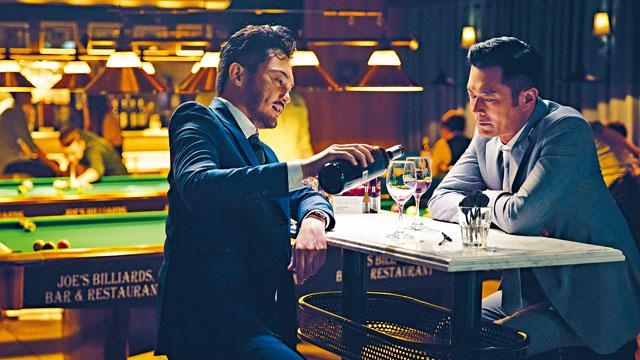 courtesy of singtao.com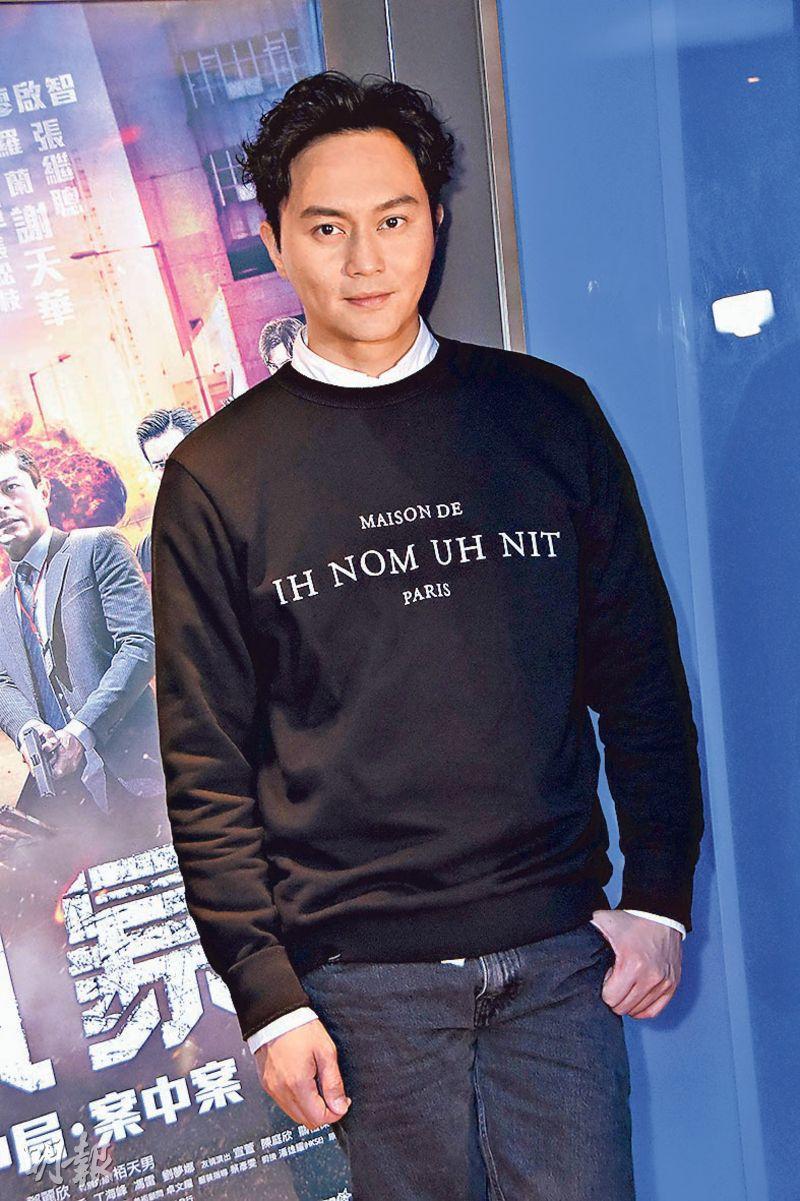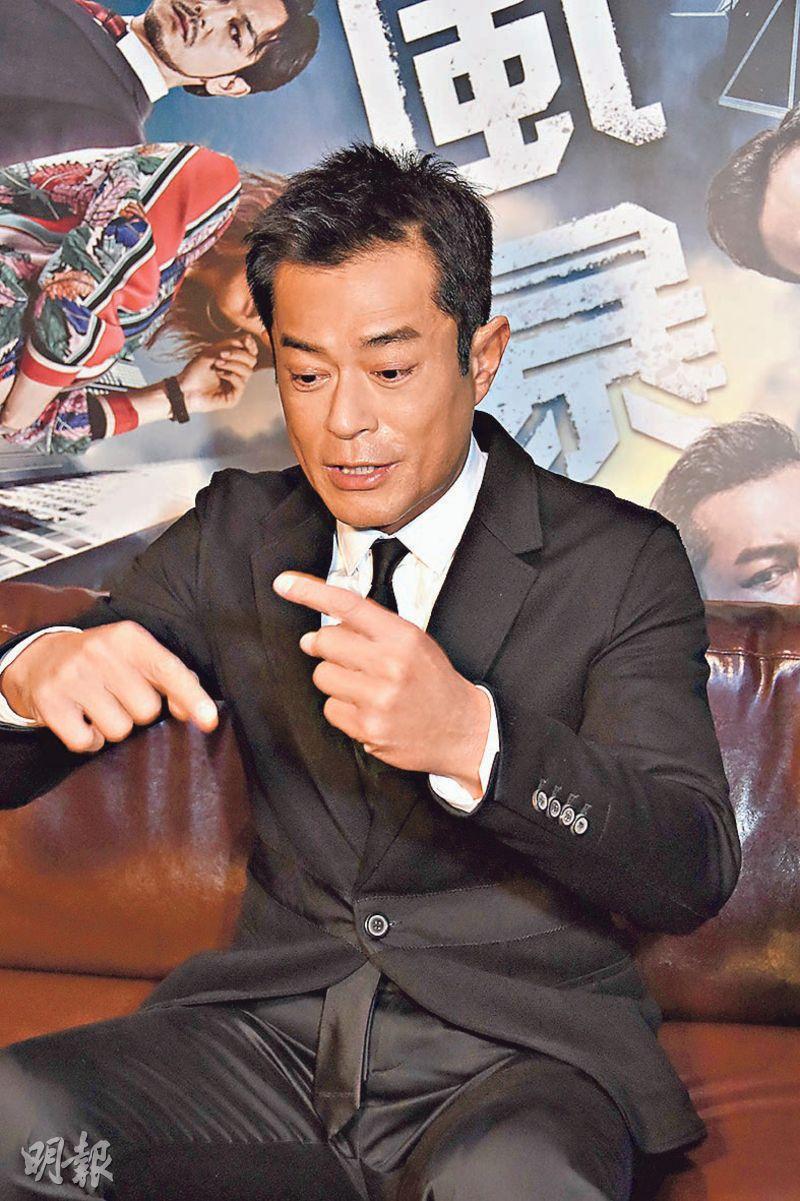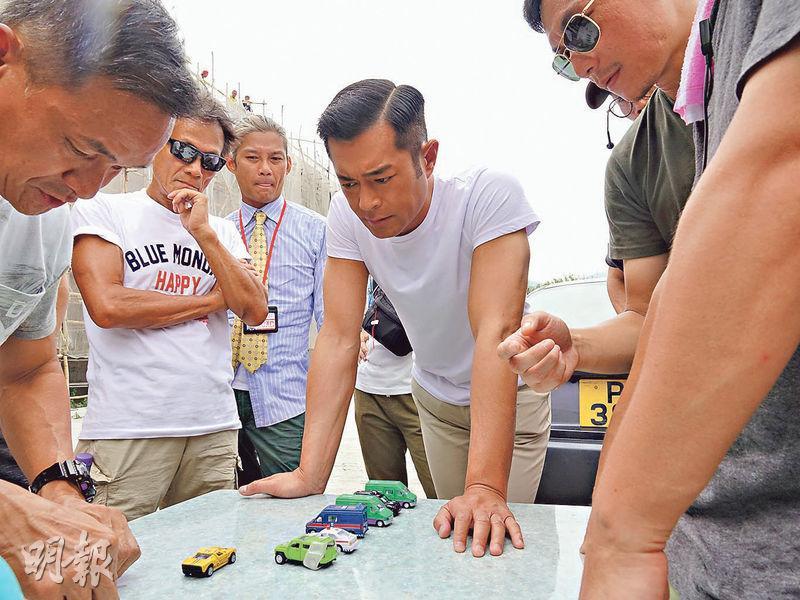 courtesy of mingpao.com
Louis Koo Tin Lok and Julian Cheung Chi Lam reunited in the film L STORM (L FUNG BO). The "ageless wonder" Chilam shook off his "face value" pretty look, and appeared with a rough beard and tattoo look that his wife Anita Yuen Wing Yi really appreciated. Without any "tattoo" in real life he joked that he had a love tattoo long ago -- "heart tattoo" as he tattooed everything in his heart to express his love to his wife Len Len. As the top ICAC investigation supervisor Goo Jai would have many car chases. The Best Actor performed the stuns himself without holding back, the most important was to take the proper safety precaution.
Cheung Chi Lam said that this time was not a face value competition with Goo Jai. Instead he would make himself ugly with a beard and tattoo. "In the past I have played cops many times, I ask for a different look so when I promote I can tell which movie it is as soon as I see the poster." Chilam's father in law is a retired cop, so naturally he asked for some information on being a cop. He also asked his police friends so he would be more confident in his performance.
Working in the heat was rather rough for Chilam. "The studio that the police station main set was in had no air conditioning. Each time I went I would be soaked through. I tried to finish quick. I sweat so much even my shorts were drenched. When I got home I could wring the sweat out of it."
As for his outstanding costume in the film, he said, "Many friends like this tattoo bearded look and think it's great. In particular Deborah Li praises how good looking it is and even asks me to keep it. My wife also says it's very manly. I don't have any tattoo, when I see myself with the sticker tattoo designs it is a lot of fun. I also show my son Demon Child (Morton)." In real life, Chilam never thought of getting a tattoo and had no idea what tattoo he would get. As for love tattoo, Chilam snickered, "It's tattoo in the heart, it's a heart tattoo. (Would you accept your son getting one?) I rarely object to what he does, as long as he isn't a bad person maybe he can get 'serve the country with the utmost loyalty', haha."
Goo Jai in the film had car chase scenes. He did not feel they were dangerous. In addition working on car chase was his favorite because normally he would not have the chance to drive. Usually he would only have a chance at work. In recent years he has made many car chase scenes, the most important was to take the full safety precaution. He said, "Earlier I just finished a car crash scene, which was dangerous. I still performed it myself as I didn't want to use a double. The most important to coordinate with everyone, take all the safety precaution, make sure whether the knees would hit the front and whether the seat belt is tight enough. (Now you probably would watch myself even more?) I try to do whatever I can, the level of realism is much more entertaining."
Speaking of Stephy Tang Lai Yun's lack of car chase experience, would Goo Jai give her some advice? He said, "I don't need to, when I drive fast she would be very frightened, we try not to rehearse that so real emotions can flow." Goo Jai lamented because this year all the winter movies have been shot in the summer. Earlier many places around the globe had high temperature heat wave. Goo Jai wore long sleeve under the blazing sun all day. He said that he has not have heat rash yet, but he felt dizzy like a symptom of heat stroke. I had to drink sweet beverage to replenish. When day turned into night, he had to adjust to the biological clock and was very tired all over.
L STORM opened for 4 days. Its cumulative Hong Kong box office was HK$ 4,571,084, the best opening week performance for a Hong Kong film in recent weeks. When L STORM opened, it became the box office champion with HK$ 1,027,491 and outran all the Chinese and foreign films. As the soul of three anti corruption storm film series films, Goo Jai said, "Making the movie is very hard, persisting is very hard. For the movie to reach the first and second films it is already very hard, from one to three it is even harder. So I hope everyone would support L STORM."