courtesy of on.cc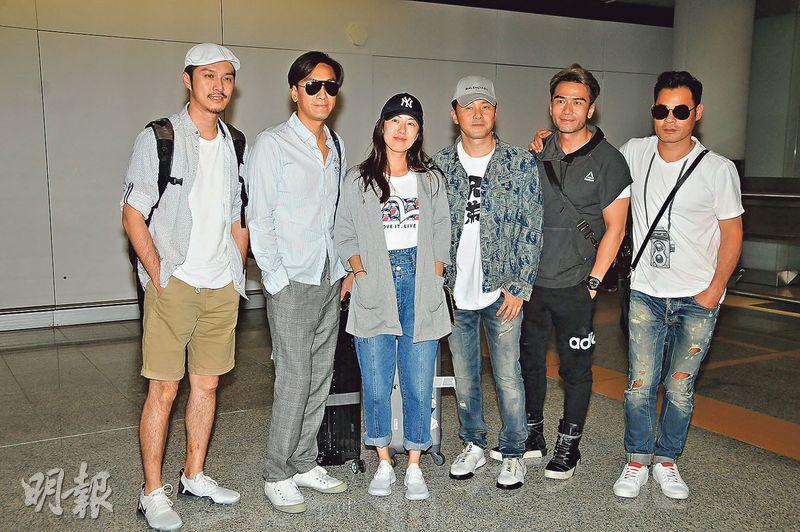 Stephen Wong, Kenneth Ma, Natalie Tong, Raymond Cho, Michael Tong and Ben Wong are happy for the newlyweds after returning from Bali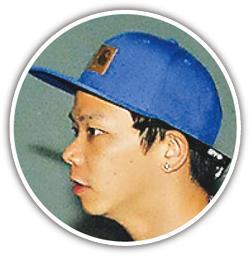 Jazz Lam was exposed to have cried until his eyes were swollen
courtesy of mingpao.com
courtesy of on.cc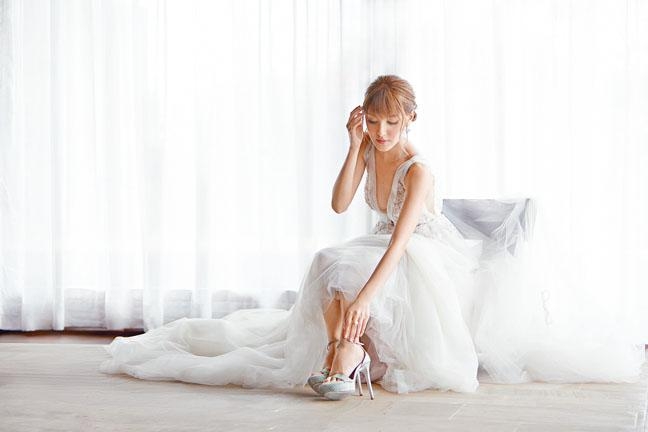 courtesy of singtao.com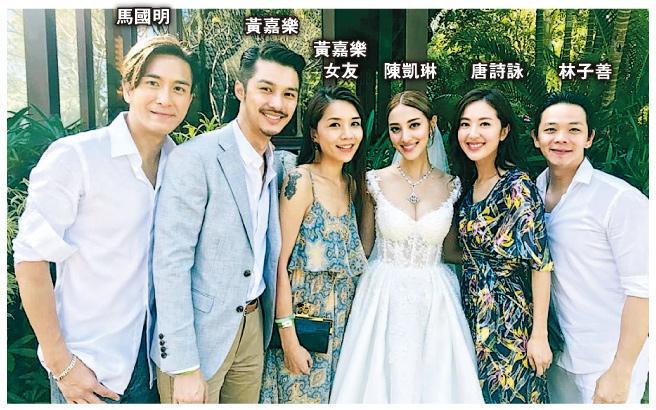 The FIST FULL OF STANCES clan poses with the bride as Natalie Tong calls Grace Chan "Dai Soh" three times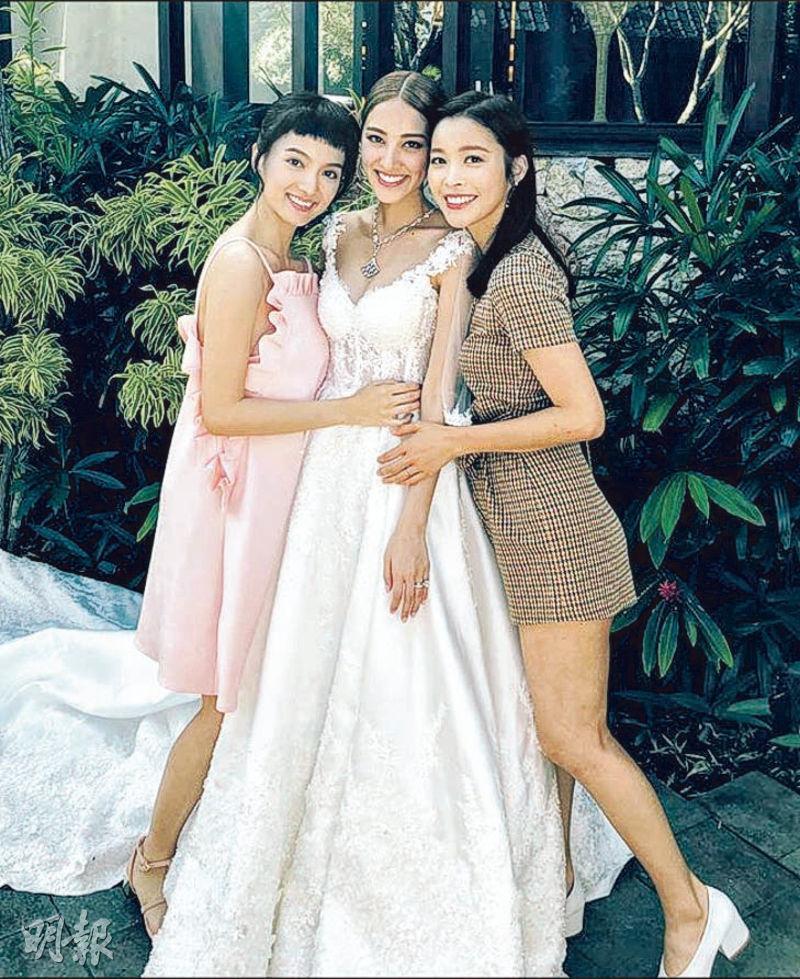 Anjaylia Chan, bride Grace Chan and Winki Lai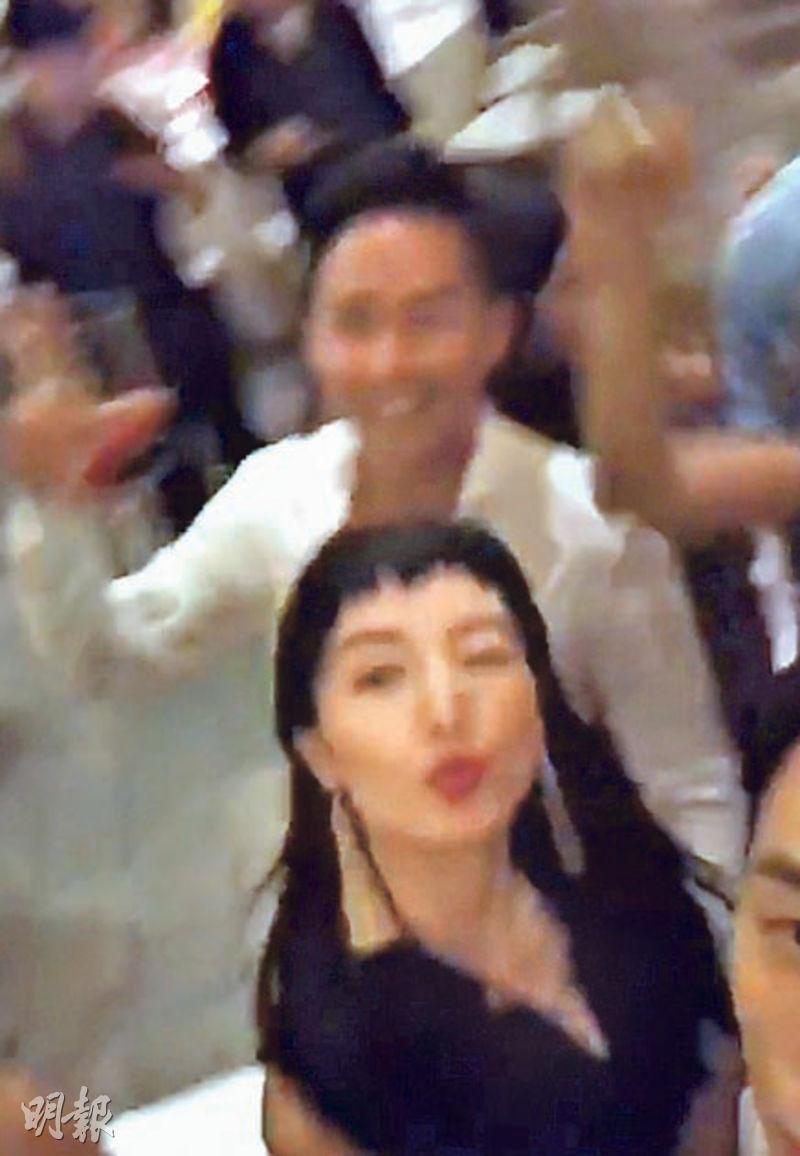 Anjaylia Chan
Jazz Lam and Natalie Tong
courtesy of mingpao.com
courtesy of on.cc
courtesy of singtao.com
The new couple present tea to Mother Cheng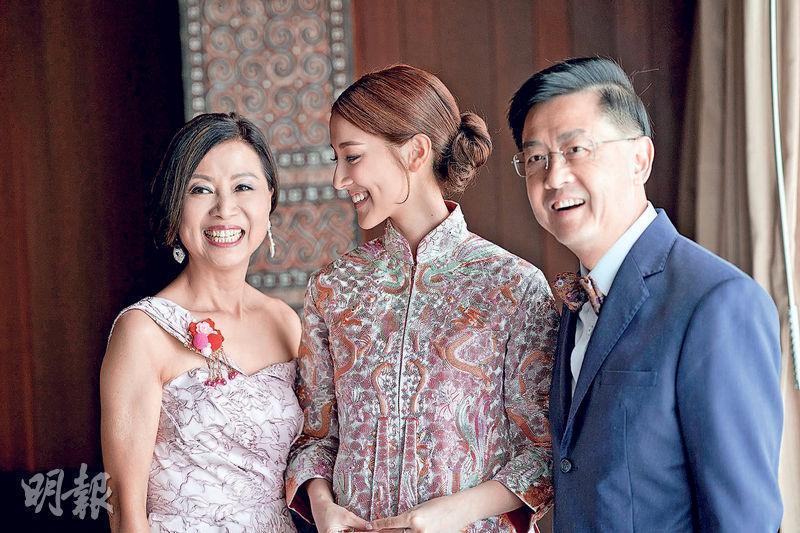 The Chinese wedding dress Grace Chan wore was her mother's from 34 years ago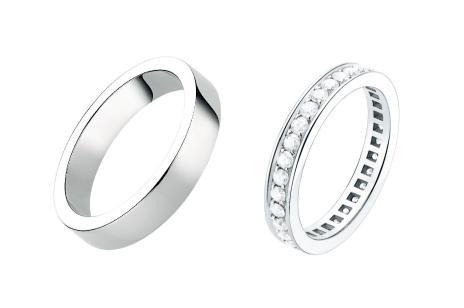 Kevin Cheng and Grace Chan's wedding bands are from BVLGARI's Marry Me series
A FISTFUL OF STANCES' Michael Tong, Stephen Wong, Wayne Lai, Raymond Cho, Jazz Lam, Natalie Tong, Kenneth Ma and Ben Wong
BLUE VEINS' co-stars Anjaylia Chan, Winki Lai
courtesy of mingpao.com
courtesy of on.cc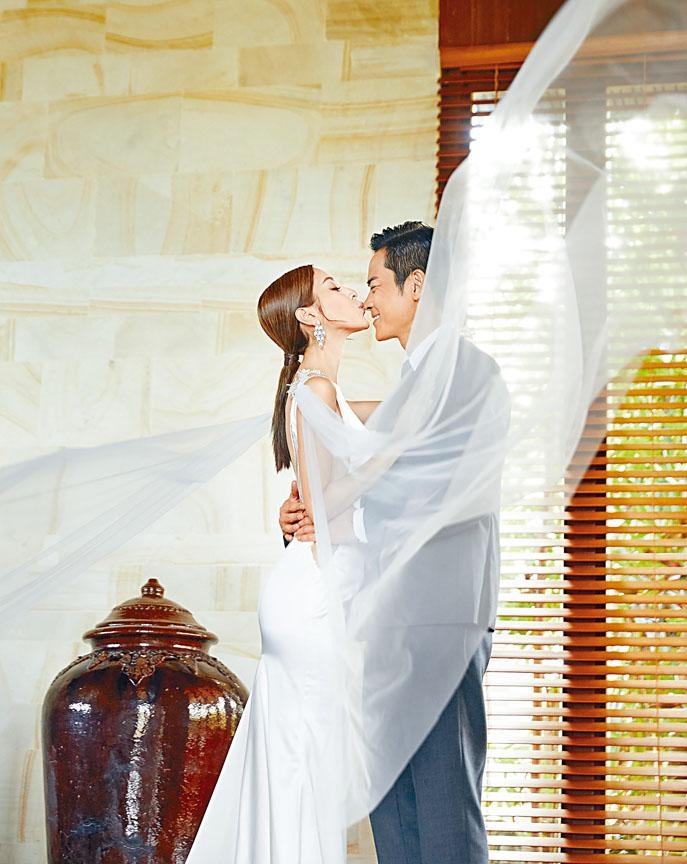 courtesy of singtao.com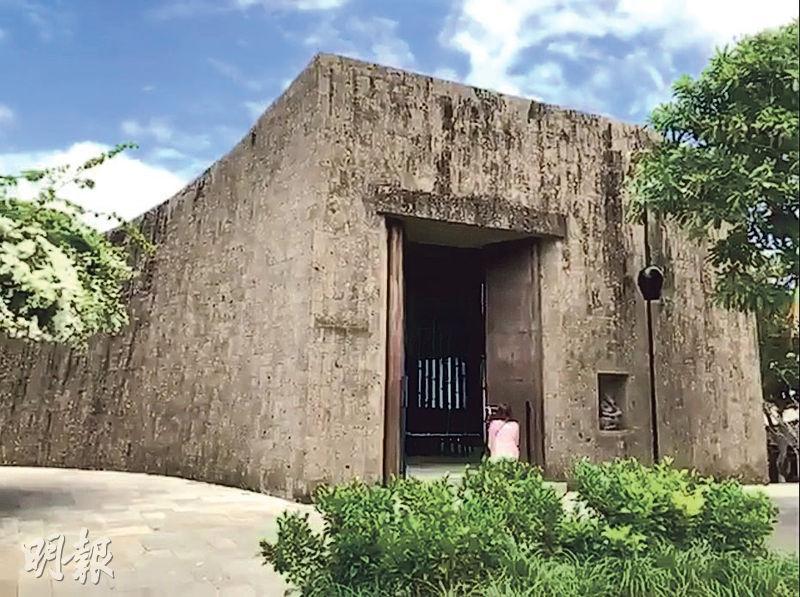 TVB's SCOOP introduces the church where the wedding will take place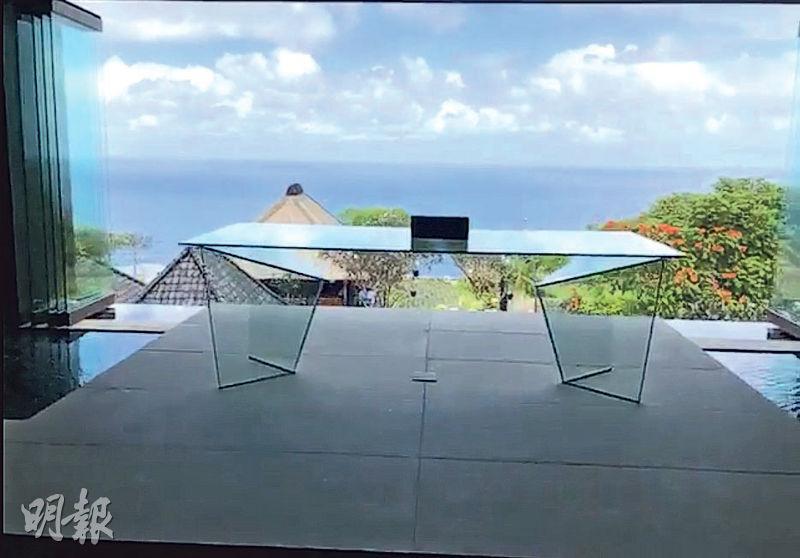 The church has a long table for the new couple to exchange their vows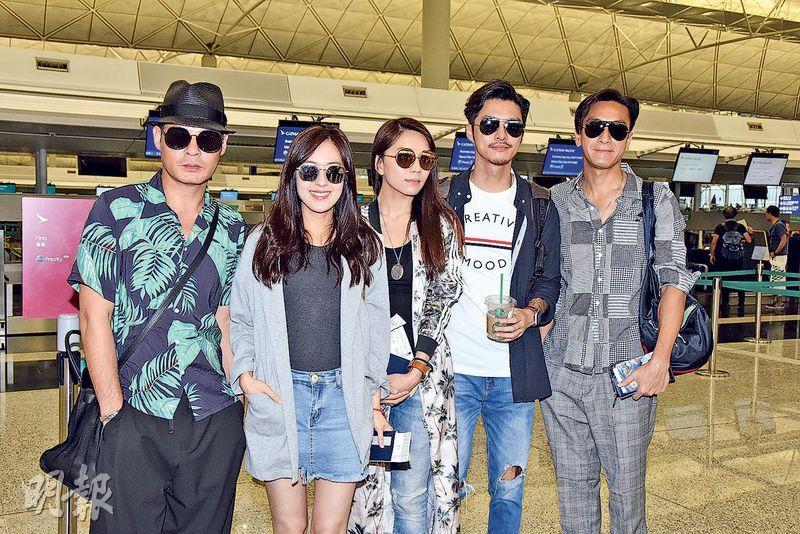 Ben Wong, Natalie Tong, Stephen Wong and his girlfriend, Kenneth Ma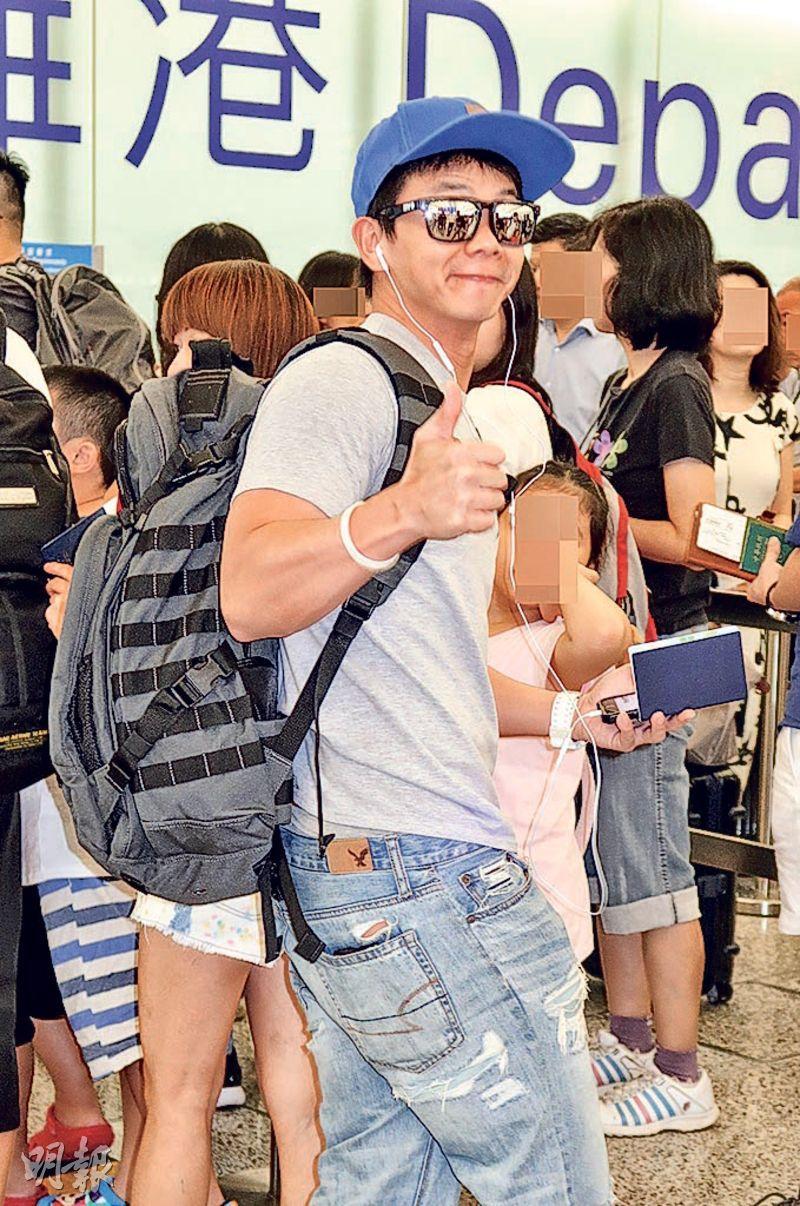 Jazz Lam is late and enter the gate from the other side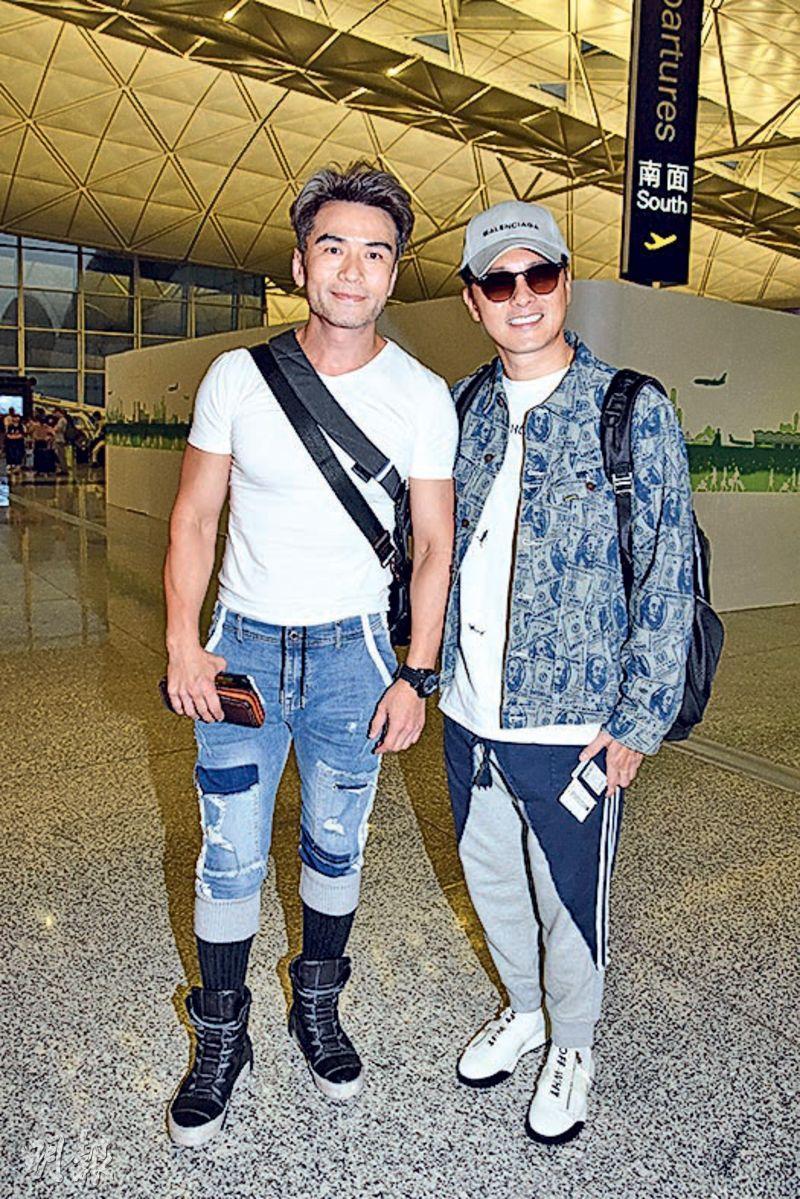 Michael Tong and Raymond Cho are happy for Kevin Cheng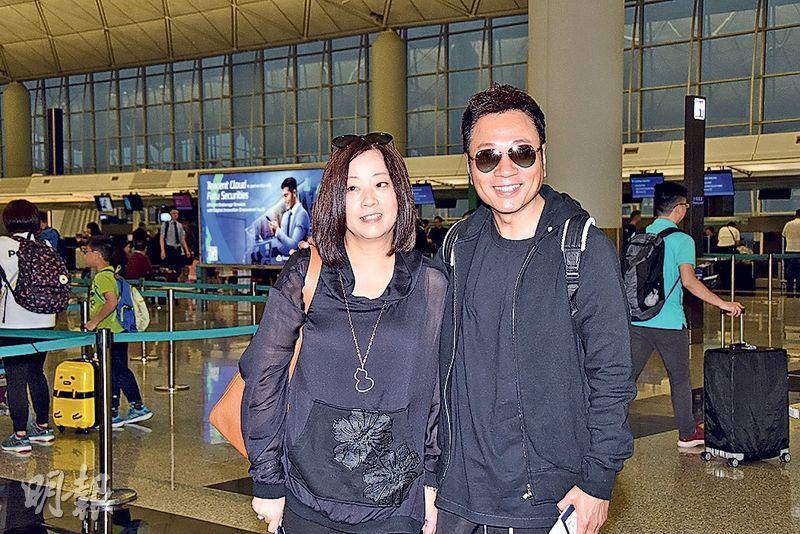 Wayne Lai and his wife congratulate the new couple
courtesy of mingpao.com
The 48 year old Kevin Cheng Ka Wing and the 27 year old Grace Chan Hoi Lam dated for 3 years and finally wed at the BVLGAIR Resort Bali yesterday. Over 100 friends witnessed the event as they entered a new chapter in their lives. Coincidentally, August 15th would be Cheng Ka Wing's birthday, this probably would be his best 49th birthday present. Ka Wing even broke down earlier than Grace at the wedding. He said that he was teary eyed throughout the entire process. At Grace's request he even sang his own song A THOUSAND I DO, Ka Wing joked, "It's out of my hands, to get married I have to anything and everything!"
Yesterday morning Ka Wing began the bride pick up ceremony. He complied with all the requests. At Grace's requests he even sang his own song A THOUSAND I DO. He also picked up Grace and walked from the hallway to the living room, a 200 feet journey. They also performed a tea presentation ceremony to their parents.
Ka Wing said, "It's out of my hands, to get married I have to anything and everything! This time is considered very simple. Grace's good sisters took it easy, I just had to carry her and sing a song!" Ka Wing said that he was very touched during the wedding. "When I saw Grace entering the church I already couldn't hold back, I shed two drops of tears and was very sentimental. Everyone spoke from their hearts. Actually I felt that our wedding was very different from other weddings. Aside from a very official vow, we said how we felt about each other from the heart. During this part we both were very moved. Thank you everyone for your well wishes, thank you! Because we wanted a simple yet elegant wedding, we didn't notify everyone before. We didn't make it hard on everyone."
Ka Wing also thanked family and friends for attending their wedding. "I really want to thank each friend who attended our wedding. Actually we already notified them four to five months ago. Because of work they had to make room in their schedule and we really thank them for taking time from their busy schedule to witness our wedding." Grace said, "First I really want to thank friends who attended our wedding, because we planned several months for it friends all kept this secret for us. I really am very grateful to them for doing that, at the same time everyone took time off to come all this way to attend our wedding. Some came from Canada, some came from Europe, some from Hong Kong and some from Singapore, I saw how much heart everyone put into it to attend our wedding. We truly are very grateful, very grateful."
She also revealed that she was very nervous before the ceremony, so much so that her stomach was in knots. "Today before the ceremony, I told Ka Wing to hurry and arrive at the church first because I didn't want him to see me in this wedding gown. He has never seen it before. When I put on this gown, suddenly my stomach was in knots. I was very nervous and my heart beat faster. When I got to the church and heard the music, I took a deep breath, took my daddy by the arm and walked in with him. At that moment I saw everyone on their feet to welcome us, the feeling of them being very happy for us. What we have planned has come to fruition! When I reached the end, I almost broke down. Yet when I looked at Ka Wing, he already shed a drop of tear. I never would have guessed that he would cry earlier than I would and I couldn't help but cry. So before the prayer I already had to grab tissues to wipe away my tears. Actually this feeling was a little real, when I really got to this moment I was very happy to have such a good husband, a husband who loves me so much. I also am looking forward to our future happiness. Although I felt marriage actually has many stages to experience, at that moment I already felt the happiest." The bouquet went to Grace's friend.
Kenneth Ma Kwok Ming, Natalie Tong Sze Wing, Stephen Wong Ka Lok, Jazz Lam Tsz Sin, Wayne Lai Yiu Cheung, Ben Wong Chi Yin, Raymond Cho Wing Lim and Michael Tong Man Lung arrived in Bali early on. Because the ceremony took place in the afternoon, the guess and the wedding parties relaxed a little first. For example Grace's friends Anjaylia Chan Ka Bo and Wink Lai Wai Ling took the chance to take photos in the beautiful scenery.
The couple held their wedding at a top Bali hotel BVLGARI. Grace's Chinese wedding dress was worn by her mother in 1984. Ka Wing bought the 4.18 karat ring on Grace's hand. Grace at the wedding also wore he BVLGARI Diva's Dream jewelry series necklace and earrings. As a gift for the guests, the bride chose Omnia Pink Sapphire light perfume.