courtesy of on.cc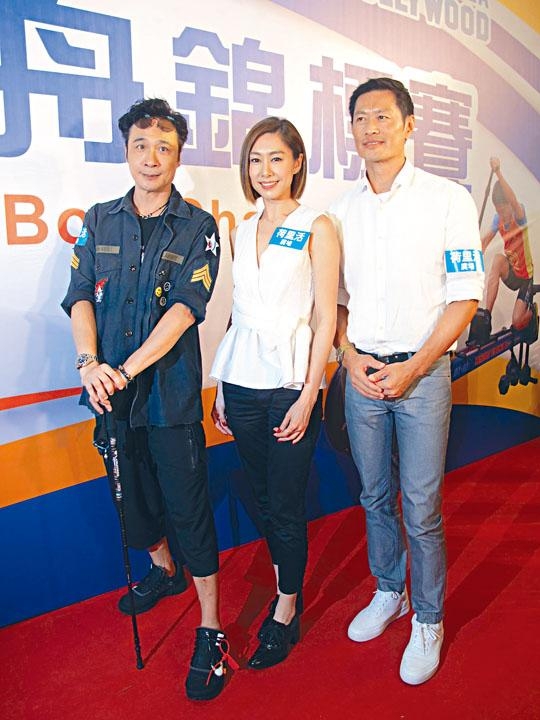 courtesy of singtao.com
courtesy of mingpao.com
The film MEN ON THE DRAGON (YIK LAU DAI SHOOK)'s Francis Ng Chun Yu, Nancy Wu Ting Yan, Ken Wong Tak Bun and director yesterday were guest presenters at the Hong Kong Indoor Dragon Boat Championship. Ting Yan and Tak Bun even tried indoor dragon boat on the spot and looked convincing. With an old wound acting up, Chun Yu walked around with a cane and joked that they could make WOMEN ON THE DRAGON (YIK LAU DAI SUM) for Ting Yan.
Chun Yu admitted that his old wound would act up every few years. The injury was from practicing a performance for TVB anniversary years ago. He was so used to the pain that he could laugh from it, because he could not do anything else.
Speaking of the film reaching HK$ 6 million at the film box office, Chun Yu said that for a non Lunar New Year film the performance and word of mouth was already great. "Earlier I even complained about the lack of cinema circuits for release, now we have to talk about not spreading ourselves too thin because we want to keep the 80% admission rate at every show." Chun Yu disagreed that now there is no Hong Kong film. As long as people would make movies for Hong Kong people then they would be Hong Kong films. As for whether he would continue to attend audience appreciation events to pump up sales, he said, "Of course I hope the box office would have equivalent value, otherwise every year we would just make Lunar New Year film. This time our release format is different. Even Korean film release has empty seats but ours has been red (sold out) every show. I hope it will be able to last until after the summer vacation." Did he feel that he made Hong Kong film proud? Chun Yu said that Hong Kong film has its value of existence. If this format is OK, it would attract even more people to make Hong Kong film.
Another lead Tony Wu Tsz Tung showed off his muscles to celebrate the HK$ 5 million box office performance earlier. What would he do for 6 million? Chun Yu and Ting Yan laughed and pointed at Tak Bun. Chun Yu said that Wu Tsz Tung would show off for even 50 bucks. He also admitted to show off his muscles when the box office would reach 10 million. As for whether she would make WOMEN ON THE DRAGON (YIK LAU DAI SUM), Ting Yan said, "Tak Bun and I have already talked about it, it would be called YIK LING DAI SUM (ANTI AGE AUNTIE) even though I am not at that age yet, haha."