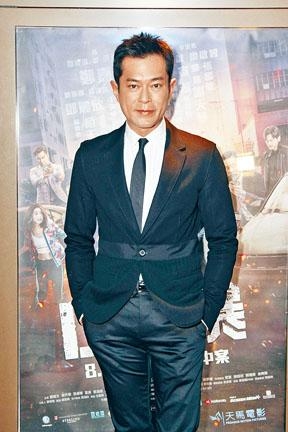 Louis Koo
courtesy of mingpao.com
In 2018, many celebrities passed away one after another. Louis Koo Tin Lok yesterday posted online, "2018 to the people of Hong Kong truly has been filled with the sorrow of parting. Truly too many giants have passed away, including earlier Mr. Liu Yichang and Mr. Charles K. Kao, several days ago Mr. Louis Cha and today film industry giant Mr. Raymond Chow Man Wai. They were all Hong Kong's real elite."
As the Performing Artist Guild president Goo Jai also expressed deep regret over Yammie Nam Kit Ying's passing. He stated that if needed the Guild would provide its full assistance. As for swindlers raising fund in the name of "Nam Kit Ying fan club", the actual Nam Kit Ying fan club yesterday revealed a statement to remind the general public. "Yesterday and today we discovered that someone started a 2D code donation, the fan club for now has not issued any call for donation. Beware of swindlers. If needed in the future the fan club would make an announcement online."