courtesy of on.cc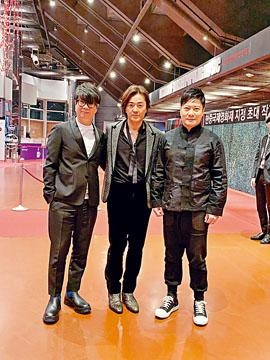 courtesy of singtao.com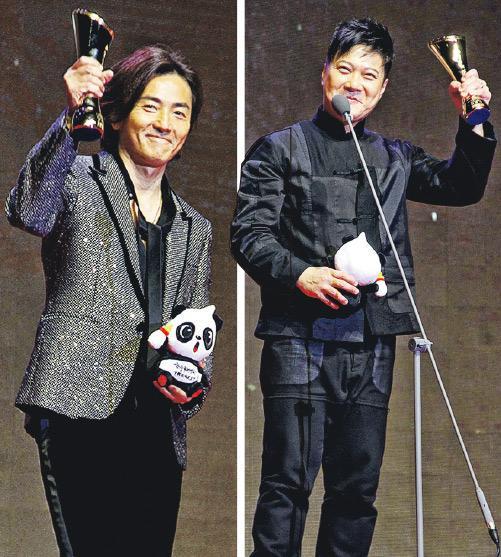 Ekin Cheng wins the Most Popular Male Star while Chin Kar Lok wins Best Action Director
courtesy of mingpao.com
The 2nd China Korean International Film Festival two nights ago took place at the Seoul Olympic Park Olympic Center. Hong Kong film THE GOLDEN JOB (WONG GUM HING DAI)'s Dior Cheng Yi Kin was the "Most Popular Male Star", director Chin Kar Lok the "Best Action Director" and film composer Chan Kwong Wing won the "OST" award.
Ekin revealed that about ten years ago before mobile phone was popular, he was already a spokesman for the first generation mobile phone for a brand there. When he accepted the award, he greeted everyone in Korean then gave a speech in Putonghua. "I believe this year I won this award because of the film THE GOLDEN JOB's success. Thank you to the team and everyone for your support. Today's weather is great, Korea's scenery is very beautiful." The film's music producer Chan Kwong Wing thanked his family and colleagues. He once recorded a commercial song with Korean star SE7EN.
Director Chin Kar Lok revealed that the first draft of THE GOLDEN JOB's scrip was cooked up in Seoul by him and producer Eric Tsang Chi Wai. He did not except for the film's first award would be won in Seoul as well. He felt very wonderful and happy. He greeted everyone in Korean and introduced himself. Although he was not fluent the audience applauded in support. He said in Putonghua, "Thank you to the event for giving me this award. It is a great encouragement for me. Thank you team as well as Big Brother Jackie Chan for his investment and support." In the end he again said thank you in Korean.
Director Chin thanked the event for its focus on action film directors. He even patted Ekin and said, "I hope my brothers would still be willing to make my action films, and not afraid of getting hurt." He also pointed out that Chan Kwong Wing was the sixth brother off camera for THE GOLDEN JOB. "At Ekin's concert I discovered his man love with Chan Kwong Wing. After working together on the YOUNG AND DANGEROUS concert I was even more certain that he really understood and love the five of us. Thus I told Tsang Chi Wai he had to score the film." Recently the film's original soundtrack record was released and well received. Ekin said that this time not only the film but also the original soundtrack record was released in Korea. Ekin said, "We brothers sang, performed concert, made a movie, released a soundtrack together, now we even won awards, it truly is quite happy ending."