courtesy of on.cc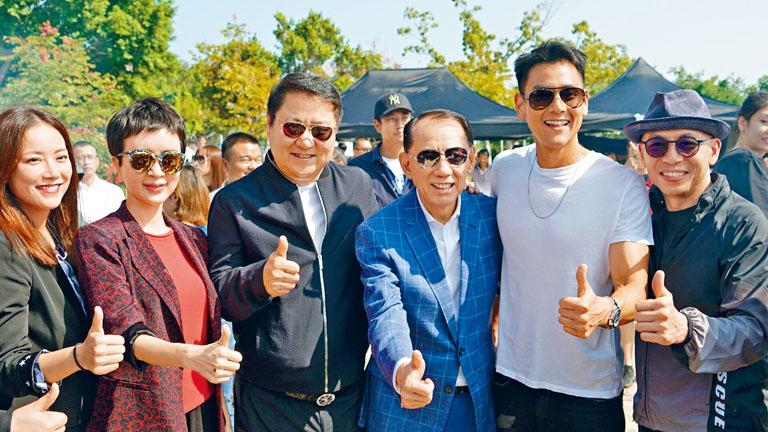 courtesy of singtao.com
The film GUNG GUP GAU WOON (EMERGENCY RESCUE) yesterday started production in Xiamen. Director Dante Lam Chiu Yin, producer Leung Fung Ying led the leads Eddie Peng Yu-Yan, Xin Zhilei, Ian Wang, Lan Yingying, Xu Yang, and Kenneth Lau Yik Shun appeared. Emperor Group chief Dr. Albert Yeung sau Sing, Bona Film Group founder and CEO Yu Dong, producer Li Yu, director of photography Peter Pau Tak Fun, art director Martin Laing all appeared.
Lam Chiu Yin two nights ago after celebrating with the OPERATION RED SEA team in Foshan arrived in Xiamen at 4AM. By 6Am he was ready. "I feel that the Xiamen location is great, after all the hardship the actors can have a comfortable environment to rest. This challenge will be several times more than RED SEA, it not only will have underwater scenes but also several very large scale scenes. Unlike RED SEA's guns and cannons type, GUNG GUP GAU WOON will have to display tension. It will feature scenes that will stimulate everyone and will have an unexpected feeling!"
As for the story, Peng Yu-Yan screamed first, "I can't talk about that!" Lam Chiu Yin added, "Now in the team only two people know how the stunts will be like. I have to keep great confidentiality for everyone to look forward to. Actors only got an oral description and absolutely would not have anything in writing." Having worked with Peng Yu-Yan four times, Lam Chiu Yin was asked what he liked about him. Director Lam said, "He is the one who likes me, he is always making my movies. He keeps asking what my next movie will be about!"